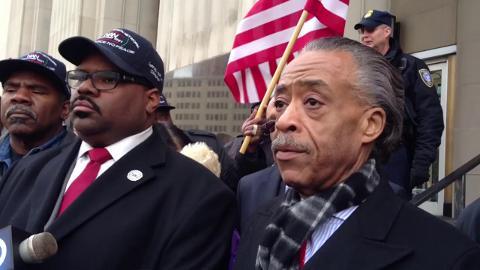 Rev. Al Sharpton and I at a press conference in Detroit, Michigan (photo credit: Joe Jones)
Gilbert Arenas, the relatively unknown basketball player who last played in Shanghai, is making moves to get back into the National Basketball Association (NBA) after a less-than-stellar career sent him into an undesirable status. Arenas recently made comments about the killing of St. Louis-area teen Micheal Brown by a local police officer and the reaction of the local community. Brown's death has sparked many protests and, in some cases, civil unrest. Many people have had many things to say about this issue, but none of the remarks have been as misdirected, ignorant, and racist as those of Arenas.
As reported by CBS, Arenas said:
too EVERY African American out there..how dumb are we really???every time we hear some bad news, the first thing we do is #RIOT #ROB #STEAL #BURN sh-t in our OWN neighborhoods..this racism fight has never been #blackvswhite, it's ALWAYS been #blackvsblack from what the stats.. About 10 riots from the black community over the years and the only thing damaged ,was the BLACK COMMUNITY by The BLACK COMMUNITY..only reason they issue riot police isssss just in case you actually got smart enough to walk 6 blocks ,YALL ain't f-cking up white rich sh-t smdh.
Firstly, Arenas makes light of the local community's pain and outcry in response to what was happening with the Brown case. No one can deny that a peaceful option is the best option, or that breaking the law in a violent way is wrong. However, instead of taking the opportunity to encourage a better strategy, Arenas goes into a rage:
FAMILiES of the victims pleaseeeeee stop asking #alsharpton to speak or ur behalf,you have a better chance having #caesar the monkey from #planetoftheapes to get justice for you....
Secondly, I'm a member of the National Action Network, and I also serve as an officer in Michigan and nationally. So, obviously, I take offense to his words, which characterize the strategy of our civil rights work as ineffective. A. Philip Randolph brought national attention to sleeping car porters; Dr. Martin Luther King Jr., Jesse Jackson and countless others brought national attention to the plight of African Americans. The point is that bringing national attention to issues is in the tradition of the civil rights movement, and oftentimes the resolution doesn't come until national attention is brought to an issue. Maybe Arenas doesn't know his history. He continues:
the stats also show AL [expletive] sharpton has not helped one situation he has protested at,he actually made it worst and because of him the jury goes the other way.
Lastly, the use of derogatory terms has no place in public dialogue, whether you are Donald Sterling, Don Imus, or anyone else. It doesn't matter if you are black or white; you must suffer the consequences of using terms that have a deep history of degradation and pain. So I believe the NBA commissioner should revoke Arenas' status as a free agent. Arenas shouldn't be allowed to get back on a team in the NBA.
#gilbertmustgo
To stay up to date and follow Rev. Charles Williams II, go to therevcw.com.
REAL LIFE. REAL NEWS. REAL VOICES.
Help us tell more of the stories that matter from voices that too often remain unheard.