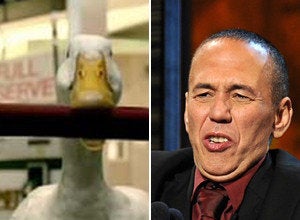 UPDATE: Gottfrield issued a statement of apology for his offensive tweets (via People):
"I sincerely apologize to anyone who was offended by my attempt at humor regarding the tragedy in Japan. I meant no disrespect, and my thoughts are with the victims and their families."
PREVIOUSLY:
With some wildly inappropriate tweets, the quack has been silenced.
"Gilbert's recent comments about the crisis in Japan were lacking in humor and certainly do not represent the thoughts and feelings of anyone at Aflac," the company, which does 75% of its business in Japan, said in a statement. "There is no place for anything but compassion and concern during these difficult times."
Gottfried's tweets certainly didn't show compassion. Buzzfeed compiled screen captures of the tweets, which were later deleted from the comedian's feed. Amongst the worst:
"I just split up with my girlfriend, but like the Japanese say, "They'll be another one floating by any minute now."
"I was talking to my Japanese real estate agent. I said 'is there a school in this area.' She said 'not now, but just wait.'"
Popular in the Community