Gilbert Gottfried is known, and often respected, for being the guy who will go dark when no one else will. At the Roast of Hugh Heffner, which was three weeks after 9/11, Gottfried famously joked about the terrorist attack, which drew boos from the audience. But instead of backing down, Gottfried launched into a telling of the legendary Aristocrats joke and won the audience back. Did he walk away a hero? Yes. Did people still feel like jokes about a recent tragedy were inappropriate? Probably.
But now, Gottfried has taken to his twitter feed to work out material on the earthquake and tsunami in Japan, and he's getting pretty much the same reaction as he did with his planes-flying-into-buildings gag at the Friar's. Buzzfeed has a post with top ten worst tweets, two of which are below. Of course, if you want to go directly to the source, you can follow Gottfried here.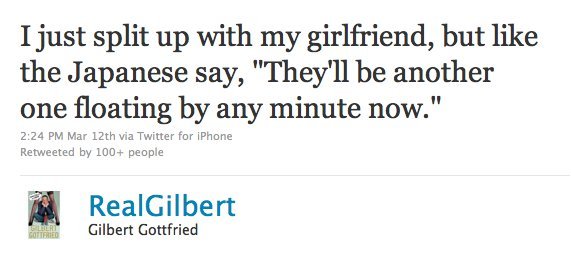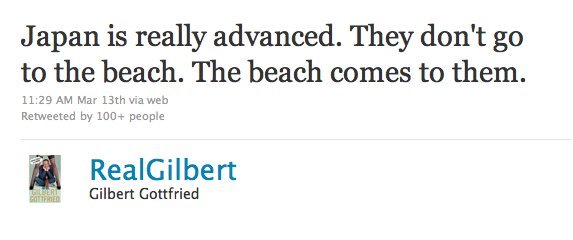 What do you think? Is it too soon for this kind of material or do you believe that in joking about tragedies we somehow rise above them?
Calling all HuffPost superfans!
Sign up for membership to become a founding member and help shape HuffPost's next chapter