 In late November a newspaper reporter phoned Gene Wilder to tell him that a Wisconsin chapter of Gilda's Club -- the renowned cancer support center named for the original Saturday Night Live cast member Gilda Radner who lost her battle to ovarian cancer at 42 -- is changing its name to accommodate younger patients unfamiliar with the organization's namesake.
The legendary actor managed a gracious, on-the-spot-response, despite his utter shock that the club's banner meant to bear his late wife's name for time immemorial would be renamed Cancer Support Community Southwest Wisconsin. But when Wilder hung up the phone he realized there was much more to say.
"[The reporter] told me about the name change and I said, 'I had no idea.' Then I pictured that Gilda was hearing it too and that she was really sad and asking me, 'How could they do that?' She would have cried," Wilder recently told us.
"As her husband I could have told [Gilda's Club of Madison] that 'I think it would hurt Gilda's feelings terribly if she were watching what you're doing and that there's no reason to hurt her or those who love her. There are millions of people who still love her."
Gilda Susan Radner was born on June 28th, 1946 in Detroit. Her mother Henrietta was a housewife and her father Herman was a successful and gregarious hotelier who exposed his youngest daughter to show business. He took her to Broadway musicals in New York and shows in nightclubs around Detroit. And though she showed an early talent for singing and dance, Gilda's early performances were relegated mostly to the living room where she entertained company.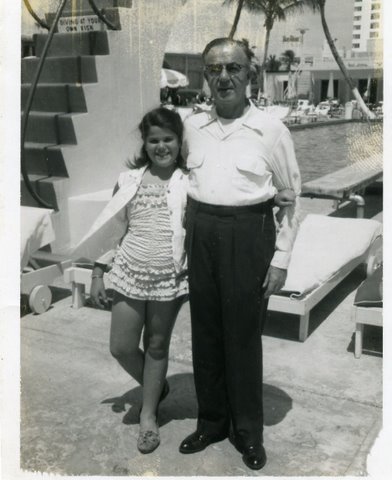 With father Herman Radner
"I wasn't paying a whole lot of attention to what this annoying little kid in my house was doing," Gilda's older brother Michael Radner said. "She was a little ham though."
The bond between brother and sister became stronger in the years following their father Herman Radner's death in 1960 and Michael became Gilda's greatest champion.
"We had this deal that she could call me no matter where she was or how late and I would come and get her," Radner said.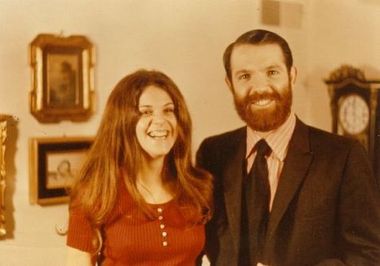 Michael Radner and Gilda
At the Liggett School in Detroit Gilda was an enthusiastic member of the drama club and was later accepted into the theater department at the University of Michigan in nearby Ann Arbor. She honed her acting chops in school productions, learned improvisation and then chose to follow a boyfriend to Toronto in 1969 instead of graduating. She eventually auditioned for and landed a part in the Toronto production of the musical Godspell.
"She knocked everybody out with her personality that day, singing 'Zip-a-Dee-Doo-Dah,' the simplest of songs, giving her 110 percent of cuteness and personality," said Paul Shaffer, the musical's conductor who auditioned Gilda that day in 1972.
Fellow Godspell cast member Dave Thomas, still a student at the time, was no less captivated by the lanky Jewish girl from just south of Windsor who seemed to burst at the seams with the kind of laughter and energy that invariably left instant admirers in the wake of meeting her.
"She was just so delightful and charming. She had those chocolate drop eyes and kind of reminded me of a young Judy Garland," Thomas told us.
Toronto in the early '70s was a breeding ground for a generation of actor/comedians that not only made up the future pantheon of sketch comedy gods, but where relationships, both personal and professional, were forged and continue to last to this day.
"It was a real confluence of talented people at the same place and same time and I think everybody knew that we all kind of stumbled on something special. Marty [Short] was dating Gilda at the time when I first met her and they were living together. It was a fairly significant house over the course of Godspell and Second City -- a real who's who of comedy: Marty, Eugene [Levy], Paul [Shaffer], Danny [Akroyd], Gilda, myself, John Belushi, and Bill Murray," said Thomas.
Musician Paul Shaffer was no exception to the regular goings at the infamous house at 1063 Ave Road in Toronto, and was inseparable from the group.
"We were all so close and would congregate at the house every Friday night," Shaffer said. "We called it Friday night services just to make each other laugh. Gilda laughed harder than anyone else, appreciating everyone else's humor. There was nobody like her."
Much of the Godspell cast, including Gilda, Eugene Levy, and Andrea Martin stayed in Toronto and joined the ranks of the Second City.
Then in 1974, another Canadian named Ivan Reitman invited Gilda to New York to join the National Lampoon Radio Hour, made up of future SNL cast mates Bill Murray, Chevy Chase, and John Belushi.
"The first time I met Gilda was when Ivan put together a cast called The National Lampoon Show (a sequel to Lemmings) in a basement of the Time Life Building on 52nd Street," said Anne Beatts, then a writer for the Lampoon Show.

"She used to do a bit where she played a Mary Tyler Moore type, only she was blind. She would flat out walk into a wall every night and fall down which I thought was pretty gutsy. She probably bruised the hell out of herself but she kept doing it. And it was funny, no matter how many times you saw it. She was very daring."
That same year, Tonight Show host Johnny Carson decided he no longer wanted to film the show on weekends and NBC executives scrambled to fill the important Saturday night time slot. The network chose to develop Lorne Michaels' brainchild: a weekly variety show featuring high-concept comedy sketches, and political satire performed by a cast of unknowns, all of whom in a year's time would become the darlings of late night television.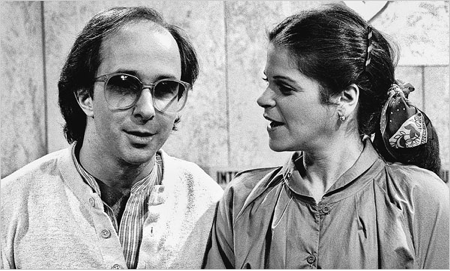 Paul Shaffer and Gilda
Saturday Night Live was born in 1975 and Gilda was the first of the show's "Not Ready for Prime Time Players" Michaels decided to hire.
"We both came to Saturday Night Live at the same time, her as a cast member and me as the pianist and other sundries," said Shaffer. "She even typed my immigration application for me when I had to get a new visa to work on the show."
For the next five years, Gilda exploded on television and into American homes every Saturday night, stealing the hearts of millions with her host of brilliantly eccentric characters -- now indelibly etched into modern memory -- like Lisa Loopner, Emily Litella, and the ornery Italian news commentator Roseanne Roseannadanna, widely known for her dubiously conciliatory catch phrase, "It's always something!"
"There were so few of us women and 'the girls' as Jane [Curtin], Laraine [Newman] and Gilda were referred to as, shared one dressing room for two or three years," said SNL writer Beatts, who along with Rosie Shuster (Lorne Michaels' then wife) rounded out the largely male staff of writers and cast members. "But everyone there became family -- sometimes a dysfunctional family but a family."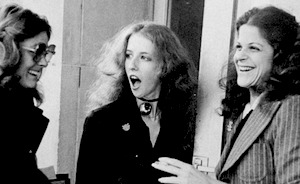 "The Girls" Jane Curtain, Laraine Newman, and Gilda (L to R)
As expected, a very proud Michael Radner looked forward to his weekly ritual of catching the show on TV from his home in Detroit and then talking to his sister (she would always call) on the phone after each show and offering her his notes.
"It was surreal watching [Gilda] live on television every Saturday and knowing exactly where she was and where she stood on the stage," said Radner. "I also worried about whether she was going to get home safely."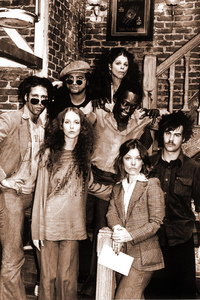 The Not Ready For Prime-Time Players
Gilda left the show in 1980 to concentrate on other artistic ventures such as stage, film and TV and made over 10 movies as well as appearing on many TV shows, including The Muppet Show, which she received an Emmy award for in 1978. She opened a successful one-woman Broadway show Gilda Radner -- Live From New York, incorporated the talents of SNL's Paul Shaffer, Don Novello, GE Smith (her first husband), and writers Anne Beatts, Alan Zweibel, Michael O'Donoghue, and Rosie Shuster.
Her next date with destiny came when actor/director Sidney Poitier was planning his next feature film, Hanky Panky in 1982 and cast Gilda opposite Gene Wilder.
"On the first night of filming near the Hudson River she looked at me and started to cry," Wilder said.
"I asked, 'why are you crying?' and she said, 'because I know I'm going to marry you.' I said, 'we're going a little fast here.' She was just so active about everything and the way she felt -- her crying, her laughing, everything. Then when the film was over and she was going to fly back home she kissed me and then said, 'if you ever want to get in touch with me tell my manager Bernie Brillstein, the ducks are in the pond.' When I got back home I suddenly dropped to my knees and started weeping that she wasn't there. So, I called Bernie and told him 'the ducks are in the pond.' He said, 'Ok, I understand' and we were together for a long time after that."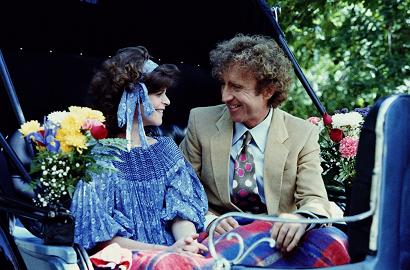 Gilda and Gene Wilder
Wilder and Radner married in France in 1984 and then went on to star in two other films together, Woman in Red and Haunted Honeymoon. Then sometime in 1986 she started experiencing fatigue and sharp pain in her upper thighs.
"Well, the doctors said, 'she's very excitable, a little neurotic, and it will go away,' Wilder told us.
"Then 10 months later she was given a blow, stage IV ovarian cancer."
After receiving chemotherapy and radiation treatment Gilda was told that she was in remission. She then seized the opportunity to write a memoir titled It's Always Something, chronicling her life and struggle with cancer. She appeared on various talk shows including Late Night with David Letterman and guest starred on Garry Shandling's It's Garry Shandling's Show to positive reviews.
"I think she did a lot for the fight against cancer by being so public about it. It was proactive and helpful," Beatts said.
"At the time [Gilda] was given this clean bill of health I was at the party at Laraine's that Gilda came to and Bill Murray jokingly carried her around and presented her to people. It was really funny."
The remission turned out to be a false diagnosis and in May 1988, doctors found that Gilda's cancer had spread to other areas of her body. Still, she and her loved ones remained positive.
"No matter what people said, no matter what doctors said, I said, 'she's going to make it," Wilder said.
She was admitted to Cedars-Sinai Medical Center in Los Angeles, California on May 17, 1989 for further tests and a CAT scan, despite her extreme fear that she might not come out of the hospital. To calm her down doctors gave her a sedative and she passed into a coma. Gilda Radner passed away on May 20th, 1989.
Her dying wish was to create a center for people with cancer to receive the kind of emotional and social support she received when she had cancer. And through the efforts of Gene Wilder and Joanna Bull (Gilda's psychotherapist), the first Gilda's Club was opened in New York City in 1995 -- its watchword "No one should have to face cancer alone."

"It took Joanna and I four and a half years to get the first one in New York going. It took a long time time to raise the money and get people to know about it," Wilder said. "I had originally thought 'Well, I could take a year out of my life' to do this but it took four years. But we had people from all over the world to help us."
Wilder remained active in cancer-related causes and helped found the Gilda Radner Ovarian Cancer Detection Center at Cedars-Sinai Hospital in Los Angeles. Then while preparing for his role as a deaf man in See No Evil, Hear No Evil he met Karen Webb, then a clinical supervisor for the New York League for the Hard of Hearing and a relationship developed between the two.
"We've been married for 21 years -- happier than I've ever been -- and we talk about Gilda a lot because [Karen] never met her," said Wilder. "Talking about Gilda as much as I wished hasn't bothered her."
For Paul Shaffer, whose 2009 autobiography We'll Be Here for the Rest of Our Lives: A Swinging Show Biz Saga featured a chapter called, "Loving Gilda" he has never stopped talking about her.
"Gilda seemed to know exactly where I was at. We bonded over everything," Shaffer said. I often think about a song I co-wrote with her, very early in Saturday Night Live. It was a number for Gilda, Laraine Newman, and Jane Curtin to perform in the style of The Supremes -- we both loved the Supremes so much and Gilda, like them, was from the Detroit area, too. We performed the song at dinner for the International Radio and Television Society Foundation and afterwards on the way out, Gilda paused to me at the piano and said, 'I did it for Flo,' which meant [Supreme] Florence Ballard whose death at too young an age we used to commiserate about a lot. What more can I say? She's missed. None of us have forgotten her, she's with us, just not here on a physical plane."
Of the 23 active Gilda's Clubs in the U.S. and Canada most have retained their original names, despite a 2012 merger with The Wellness Community, another popular cancer support center. And like the Gilda's Club in Madison, Wisconsin, other affiliates have also chosen to adopt the name Cancer Support Community in recognition of the merger.
"For someone known for making people laugh and helping with their emotional healing the name change is sad because it takes away her story and her legacy," said Michael Radner.
"But if you think about it, this couldn't have been a better publicity stunt because it's got people talking about her."
Support HuffPost
The Stakes Have Never Been Higher
Related
Popular in the Community