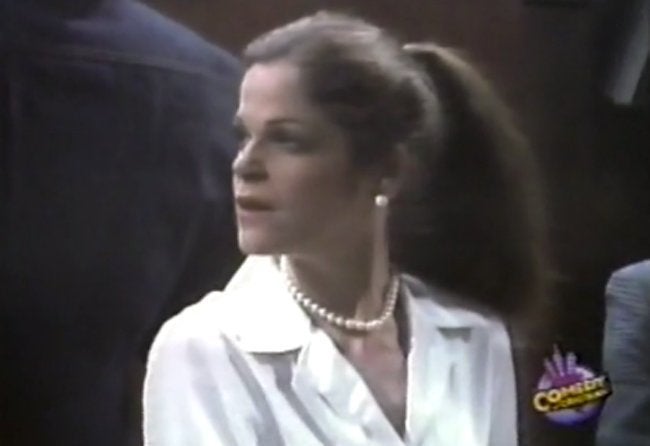 For all the wordiness of most "SNL" sketches, some of the most powerful moments in the show's history have involved no talking at all.
When the cast bid farewell to Kristen Wiig on Saturday, they did so under the masquerade of a final sketch. Dressed as graduates in caps and gowns, Mick Jagger dressed as himself, Wiig was introduced as "Tristan," a student set to leave this summer to "become a nun."
As Arcade Fire covered the Rolling Stones' "She's a Rainbow" in the corner, castmembers entered one by one to twirl Wiig around or, in Seth Meyers' case, to do some sort of spastic boogie. The song slowly morphed into an all out sing-a-long of "Ruby Tuesday," with Steve Martin, Lorne Michaels, and other former cast-members stopping by to offer goodbyes.
Wiig lost it just about halfway through and -- whether or not you liked Wiig's characters -- you probably got a little choked up, too.
The thing is, "SNL" does dancing right. It's been a part of some of the most underrated SNL sketches over the years, including the recent "Les Jeunes de Paris" group dance sketch, which always make me crack a smile.
But the Most Emotional Send-off Award might still go to original "SNL" cast member Gilda Radner. In 1989, Radner's cancer had returned. She passed away on a Saturday night, mere hours before Steve Martin was set to deliver his opening monologue as host of the program.
And rather than delivering his own eulogy, Martin chose to show a clip from one of their most famous "SNL" sketches together -- the entirely wordless "Dancing in the Dark."
And watch Wiig's goodbye, too:
REAL LIFE. REAL NEWS. REAL VOICES.
Help us tell more of the stories that matter from voices that too often remain unheard.
BEFORE YOU GO
PHOTO GALLERY
Kristen Wiig's Best 'SNL' Sketches