Known worldwide for luscious barrel-aged Tempranillo, Ribera del Duero is shifting its focus to architecture in addition to winemaking, ushering in a new era of tourism in the venerable wine region. In the last several years, buildings have begun to replace bottles as the icons of Ribera, especially in the "Golden Mile" centered around the town of Peñafiel. There are two new winery hotels, at Bodegas Pesquera and Vino Arzuaga, and the modern tasting rooms at Pago de los Capellanes, Legaris, Protos, Comenge, and Bodegas Portia offer guests a variety of tasting and touring experiences. Contemporary winery and hotel visits stand in sharp contrast to the traditional cuisine of northern Spain and to the region's longstanding winemaking history that is so vibrantly brought to life at the Castle of Peñafiel's wine museum.
Wines in the region are made in four styles, with strict labeling laws to ensure quality. Joven or roble will be the freshest and fruitiest wines, with a minimum of aging in barrels. Wines labeled Crianza will have a bit more wood on them and spent more time in oak, and Reserva and Gran Reserva will have increasing amounts of oak and barrel aging prior to release. It is a great idea to bring some bottles home to enjoy later, but Spanish aging requirements actually mean that the wines have aged appropriately and are ready to drink now. Reservations are recommended for winery visits, especially for English-language tours.

Where to sip:
Pago de los Capellanes: This modern gray stone edifice houses an art gallery with views to vineyards that were owned by the local capellanes, or chaplains, since the 14th century. Composed of three buildings that were built over time with respect to the natural landscape, especially eight ancient walnut trees on the property, this cutting edge winery offers guided tours that include tastings of its highly regarded wines.
Legaris: The light-filled Legaris winery is built in the shape of a cross that is centered on a Zen courtyard, around which all winemaking processes flow. An all-white tasting room provides the optimal experience to evaluate the color and quality of wine during a visit, while a more intimate wooden venue with bottles on all four walls offers a more traditional tasting setting for group visits.
Bodegas Protos: Seen from the ancient Castle of Peñafiel, just up the hill, Protos is a series of five vaulted terracotta roofs, whose colors match the ceramic tile of nearby villages. From within, the winery is an architectural wonder, with enormous planes of glass, stainless steel pillars, and a graceful curved wooden ceiling. A central courtyard offers unparalleled views of the castle, but your senses will most likely be much more focused on the glass of wine in your hand.
Comenge: A small family owned winery, Comenge sits in the shadow of the Castle of Curiel, within full view of the Castle of Peñafiel. Although the low-lying cube style architecture is firmly set in the modern era, winemaking leans towards the traditional, which is no surprise given that founder Jaime Comenge's father Don Miguel wrote a book on Spanish winemaking practices in 1947. In addition to wine tasting, horseback and carriage rides are offered.
Bodegas Portia: What appears to be a UFO rising from a hilltop is actually the work of British architect Sir Norman Foster, who created a three-pronged star to separately house the three main steps of the winemaking process. The red-lit barrel room is a sight to behold, but the winery's 134,000 square feet are brought into human scale during an intimate tasting lunch in the wood-paneled café with views over the vineyards.
Finca Villacreces: One of Ribera del Duero's best-kept secrets, Finca Villacreces is next door to one of the region's biggest names, Vega Sicilia. Their flagship wine, Pruno, is made in a distinctively modern style, with the addition of Cabernet Sauvignon to Tempranillo. Vineyard tours on electric-assisted bicycles are the second best thing on the visit, right behind the wine tasting.
Pesquera AF Hotel: Alejandro Fernandez, the founder of Bodegas Pesquera, converted an old stone industrial building into a beautiful contemporary hotel with a casual tavern, formal restaurant, and below ground wine cellar featuring the wines of the region. The small bridge over the fountain out front brings you into another world, and the large courtyard is a wonderful place to enjoy a glass of wine before heading out to dinner.
Hotel Spa Arzuaga: The large stone-covered winery and restaurant fronting the road between Peñafiel and Valladolid don't offer a hint to the newer building alongside that houses a state of the art hotel and spa whose large indoor pool looks out over verdant grapevines. Relax in the whirlpool or revel in a stress-reducing massage before savoring dinner featuring award-winning house wines and meat raised on owner Florentino Arzuaga Navarro's private game reserve.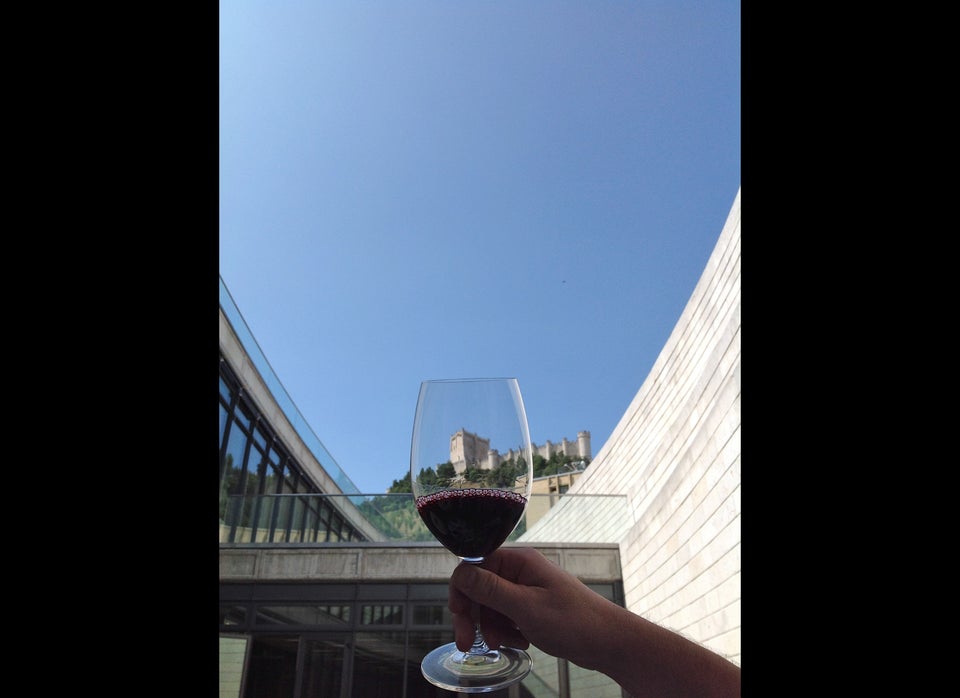 Old Meets New in Ribera del Duero