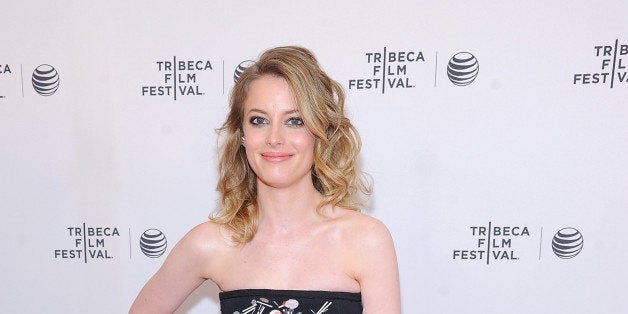 In "Life Partners," Gillian Jacobs plays the balanced and sensible Paige opposite Leighton Meester's free-spirited Sasha. The film is the latest in an onslaught of gal pal-centered stories to hit the big and small screens. In the vein of "Broad City" and "Frances Ha," "Life Partners" takes a modern look at female friendship, but with one twist: Jacobs' character is straight, while Meester's is gay. The plot borrows from the lives of director Susanna Fogel and her longtime writing partner, Joni Lefkowitz, both making their feature-film debut.
Jacobs, best known for her role on "Community," is joined by Adam Brody in the role of her new boyfriend who interferes with Paige and Sasha's friendship. Abby Elliott, Gabourey Sidibe and Kate McKinnon also pop up in memorable supporting roles, making "Life Partners" an ensemble piece about the changing tides of friendship throughout one's 20s. The movie had its world premiere at the Tribeca Film Festival on April 18. HuffPost Entertainment chatted with Jacobs the following day, when she explained why tales of female friendship are all the rage.
There have been so many gal-pal stories over the past few years.
Well, think about how many movies are about male friendship.
So this is the response to "The Hangover"?
Yeah, I mean, it's really exciting. Joni and Susanna have been writing partners for years. Obviously there are some autobiographical elements to this, and so it's really exciting to see women putting their own stories up on screen. It's a really funny, specific, relatable story about friendship that certainly resonated with me. But I think women and men will enjoy the film.
Have you watched "Broad City"?
I haven't seen the whole season, but I really loved it. There was that one joke when her roommate throws away the Bed, Bath and Beyond coupons, and he's like, "They were expired." And she's like, "They don't expire!" That's the same fight I've had with roommates and boyfriends because I hoard Bed, Bath and Beyond coupons. It doesn't matter what it says on there -- they will take it. And so I have totally had that fight before, and it was one of those perfect moments where you're like, "Yes!" And I turned to the person I was watching it with and I was like, "See! I told you!"
Do you have a similar rapport with a friend as you do with Leighton in this movie?
My best friend is a 50-year-old man, so we have a very close friendship, but it is not a peer-to-peer female friendship. I've been lucky to have a lot of really close female friends, but I think especially the movie touches on hitting a transitional phase of your life and how that affects your friendships. I definitely felt that at various times in my life, where either somebody gets in a serious relationship for the first time or you get a job and your career takes off, and it can put a strain on your friendships. It all works out in the end, but it's never quite the same as it was when the two of you just had each other.
So where will these characters be in 10 years if there's a sequel?
Maybe one of them has kids and the other is slightly annoyed by the fact that they have to do kid-related things.
You would have kids, I assume?
You don't know!
Unless the tables have turned.
Yeah, you don't know. Sands of time. Things could shift. But there would be conflict about having to do solely kid-related activities. It would probably be a Nicole Holofcener move in 10 years. It would be the baby version of "Enough Said." Did you see that movie?
Yes, what a great movie.
Isn't it so good?
I love everything Nicole Holofcener touches.
I know, it was so good. Maybe it'll be the junior version of "Enough Said."
Was it icky at all ...
[Laughs] I know where you're going.
... to stage a romance onscreen with your co-star's then boyfriend, now husband?
I wouldn't say icky because that would imply it's gross to kiss Adam Brody, which it's not. But I'm way more awkward than Leighton and Adam are. They're way more chill, cool, laid-back people who don't really get ruffled by things. I'm much more neurotic, so I would get very awkward and blush. I don't think I really had to kiss him in front of her. But they were far more chill about it. I'm like, "Ooooooh!" So it was a non-issue that I probably worked up in my head.
Did improv change any of the scenes?
Leighton and I would just end up touching each other all the time and end up humping each other, and they were like, "That's confusing! That's not the story. You're not gay, too, so stop humping Leighton." But we just had a very tactile friendship onscreen, and I think you can see that. I'm just happy because we look at ease around each other, and in truth we'd met only maybe three times before we started shooting the movie. So I consider that an achievement for us. In the scene where I'm saying I hate that he wears message t-shirts, Beth Dover's wearing one that says "Bitchin.'" And I improved saying, "Well, at least that's a positive message."
By my count, you have seven movies coming out in 2014. Was 2013 an absurdly busy year?
Yeah, last year I did five movies and a web series and 13 episodes of TV. That was a lot.
How do you pencil it all in?
On "Community," since we've only done 13 episodes for the last two seasons, we basically work from August to December. Then I have December to August off to do other things, so I'm trying to pace myself a little more this year. As you can tell by my IMDB page, I like to work. But I didn't take a vacation or a break last year. I only traveled for work and didn't really do anything for fun, so I felt like this year I should maybe take some more time off.
Which of those movies are you most excited about?
What I think is a really special movie is "Black and White" with Kevin Costner and Octavia Spencer, which Mike Binder directed. I got to see a screening of it, and I think Kevin and Octavia and Anthony Mackie and Bill Burr all give such beautiful performances in that movie. The little girl who plays Kevin Costner's granddaughter is amazing, Gillian, and I think that movie turned out so well and I can't wait for people to see it because it's the most vulnerable and moving Kevin Costner performance I'm seen in a long time.
You've been a guest chef on "The Chew" ...
Oh, I wouldn't say chef. Food mangler maybe.
... and a guest judge on "RuPaul's Drag Race." What is the reality show you're most ill-suited to appear on?
Did you see me on "The Chew"? I was terrible.
Shouldn't that be part of their schtick? Let's just get people who have no cooking sensibilities?
I was really bad. I'm a terrible cook. But anything sports related I would be terrible at. If I had to do anything physical, like I would love to, but I'd be really bad at a "Billy on the Street" obstacle course. Did you see the one that [Joel McHale] just did? About the Mo'Lympics?
I haven't, but he's had some great stuff this season.
Do you love the show? I love the show. I think I would be game for "Billy on the Street" because I would be so excited because I'm such a fan, but maybe I couldn't keep up with him running. But let's throw down the gauntlet. Let's see how I do on "Billy on the Street." We'll put that out in the universe.
Will you run around asking if people would have sex with you for $1?
Tell Olivia Wilde she's pretty? Would you have sex with Paul Rudd? Any of those. So good. What did he have Rashida Jones do, guess if people are Jewish or not? I love that show so much. I would shovel dirt for Billy.
Well, with that offer ...
Right? Because you always need dirt-shoveling on a TV show.
In New York City, especially.
Find the dirt first, then shovel it.
How about a big-budget "Hunger Games"-type project?
Ya know, sure, yes, why not? I'm a trained actress. I can do anything. That's what they tell you in drama school. Yeah, that would be fun. I think Elizabeth Banks is great in "The Hunger Games." What the fuck? Sure. I could run and shoot an arrow.
To close, I'm going to give you a superlative and two of your co-stars. You tell me which one you'd select. First, who'd you rather as your boss: Steve Carell or Joel McHale?
Oh god, Steve Carell. Joel McHale is a terrible person.
Your way-too-young stepmom: Cameron Diaz or Elizabeth Banks?
Oh, that's a tough one. They're both so awesome. Maybe Cameron Diaz because she doesn't have children in real life, so she would extra spoil me. Elizabeth has real kids, so she would have more rules. She'd have more structure; Cameron would probably let me eat as much candy as I want to.
Who would you go to for advice: Adam Scott or Adam Brody?
Adam Scott because he's got kids, he's been married for longer and for no other good reason than that. He could give me child-rearing tips. [Adam Brody] doesn't have any kids yet.
Who you'd most trust with a secret: Yvette Nicole Brown or Jim Rash?
Oooooh! You know what, I trust both of those people. Guess I'll have to go with Yvette, but you know what, that was a tough choice you picked. Those are two really trustworthy people. Well done.
This interview has been edited and condensed.
REAL LIFE. REAL NEWS. REAL VOICES.
Help us tell more of the stories that matter from voices that too often remain unheard.
BEFORE YOU GO
PHOTO GALLERY
Tribeca Film Festival 2014