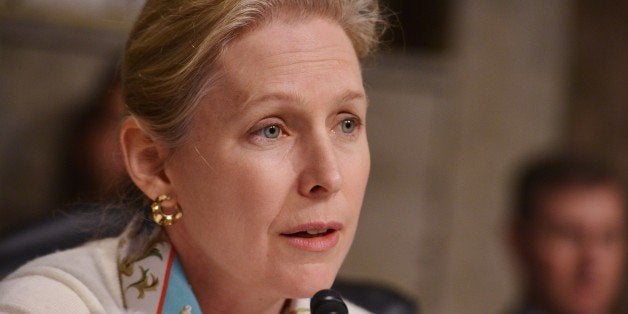 Sen. Kirsten Gillibrand's (D-N.Y.) proposed military sexual assault reform fell short on Tuesday of the 60 votes it needed to pass in the Senate, for the second year in a row.
Gillibrand's bipartisan amendment to the National Defense Authorization Act would have removed sexual assault cases from the military chain of the command and established an independent justice system to handle those crimes. Gillibrand said military rape victims are afraid to report their crimes because they don't trust the chain of command not to retaliate against them for doing so. According to the latest Department of Defense survey, three out of four servicemembers don't trust the system enough to report their assaults, and one in seven military sexual assault survivors said their perpetrator was someone in their chain of command.
"Our sons, our daughters, our husbands, our wives are being betrayed by the greatest military on earth," Gillibrand told her colleagues before the vote.
The amendment had bipartisan support. Senate Majority Leader Mitch McConnell (R-Ky.) and Minority Leader Harry Reid (D-Nev.), along with Sens. Elizabeth Warren (D-Mass.), Ted Cruz (R-Texas) and other unlikely allies, voted in favor of Gillibrand's measure. But the amendment failed by a vote of 50-49. Last year, the legislation fell five votes short of overcoming a filibuster in the Senate.
Sen. Claire McCaskill (D-Mo.), one of the most vocal opponents of Gillibrand's amendment, said she opposes taking military sexual assault cases out of the chain of command because it does "nothing to combat retaliation."
"The majority of retaliation does not come from commanders, it comes from peers," Gillibrand said. "This is a cultural problem."
McCaskill noted that the Department of Defense report shows some progress from Fiscal Year 2013: The reporting of sexual assaults in the military has risen by 11 percent, and the incidence of unwanted contact has dropped, suggesting the reforms Congress already passed are having a positive effect. She said she and Gillibrand have the "same heart" on the issue and the same goal of throwing military rapists in jail, but an "an honest policy difference over which system would better accomplish those goals."
Popular in the Community