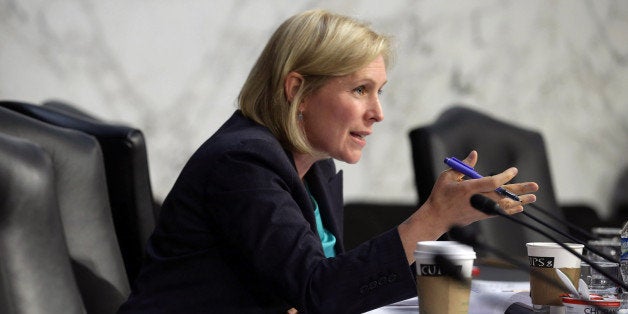 Does it really matter which of the 50 senators made inappropriate comments to Senator Kirsten Gillibrand? What does matter, as stated by Evan Osnos in the New Yorker, is "that the Senate, which takes pride in its courtly traditions, exists in a world unto itself, seemingly unencumbered by the basic protections afforded by an H.R. department."
In her book Off the Sidelines, Gillibrand recounts remarks her colleagues made about her weight. Some have called for her to name names or to retaliate. If she did so, she would not be able to continue being effective at her job.
Gillibrand partially excuses her treatment by saying "It was all statements that were being made by men who were well into their 60s, 70s or 80s." Age does not excuse bad behavior. These men have been around long enough to know that comments about appearance are no longer acceptable in the workplace.
She is not the first female politician to confront unwanted comments or actions. My experience as assistant minority leader for the New Hampshire Legislature corroborates Gillibrand's. Colleagues were constantly putting their arm around me and calling me by my family diminutive, Ruthy.
Of course, that happened to me in the 1970s; it is now 2014. American men have had almost 40 years to learn that invading personal space, making comments about women's looks and figures just don't cut it in the workplace anymore. If our senators have not gotten the message, maybe we are electing the wrong people.
Our senators seem to have missed the memo, which they themselves had a part in creating. Perhaps they need more practice in interacting with women as equals. We, the electorate, can provide them the opportunity! At any rate, they should be held to the same standard as other co-workers.
Americans are tough on their politicians. Maybe voters in all democracies are. Politicians understand part of the job involves being assaulted with nasty comments in public. All politicians know that this is the price to pay for the privilege of public service. It takes a while to learn to handle personal attacks.
For female politicians, these remarks often have sexual components, such as the guy who said to me in the midst of a policy discussion when I was campaigning, "Are you faithful to your husband? You got a nice shape." In 1968, Theodore White noted in The Making of the President that politics is a sexy business. For far too many male politicians, this leads to easy extramarital affairs. For women politicians it leads to annoyance and sexual innuendo.
We endure these comments, because we believe we can make a difference if we are elected. It would be a relief if the legislative chambers were a safe haven. They are not, but our laws say they should be.
Gillibrand has reignited the debate on women's treatment in the workplace. For that, all of us should be grateful. Millions of women are desperately trying to figure out how to both do their job and be treated respectfully. It's Gillibrand's prerogative to decide the best way to both raise these important issues and protect her ability to get her job done. Women are entering every aspect of politics, including running for the presidency of the United States. Certainly they should be treated with dignity and respect.