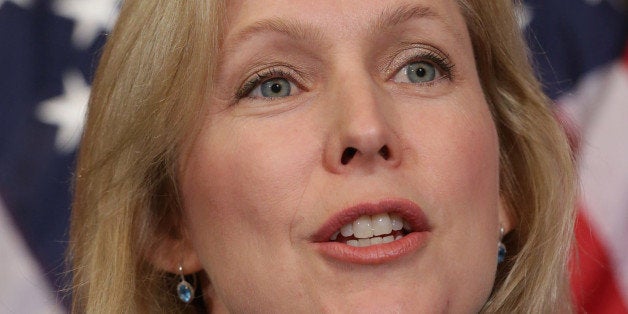 If there was any question as to whether sexual harassment exists among members of Congress, Sen. Kirsten Gillibrand (D-N.Y.) confirmed the answer in a new interview with People magazine.
According to excerpts from the interview obtained in advance by the New York Post, the congresswoman recalled multiple male colleagues making disparaging comments about her body as she struggled with her weight after having a child.
"You know, Kirsten, you're even pretty when you're fat," an unidentified Southern congressman told her in the House chamber.
"Good thing you're working out, because you wouldn't want to get porky!" another male colleague told her in the House gym, to which Gillibrand responded, "Thanks, asshole."
Acknowledging that she was too heavy for her health, Gillibrand lost 50 pounds while she served in the House in 2009. But the comments followed her into the Senate the following year.
Gillibrand said an older senator once grabbed her waist from behind and said, "Don't lose too much weight now. I like my girls chubby."
It seems that Gillibrand's male colleagues could not make up their mind about her appearance. In 2010, Senate Majority Leader Harry Reid (D-Nev.) referred to her as "the hottest member" of Congress at a fundraiser.
The New York senator is not the first to point out sexism in the halls of Congress. When former Arkansas Gov. Mike Huckabee (R) made the infamous comment about women learning to "control their libidos," House Minority Leader Nancy Pelosi (D-Calif.) told HuffPost Live that she hears comments like that from her male colleagues all the time.
"This is a statement so from the past that I'm almost embarrassed for him, but understand it doesn't stand out as anything unusual from what we hear our members say here," Pelosi said. "You don't have a long enough show for me to go into what you hear around here from the members of Congress."