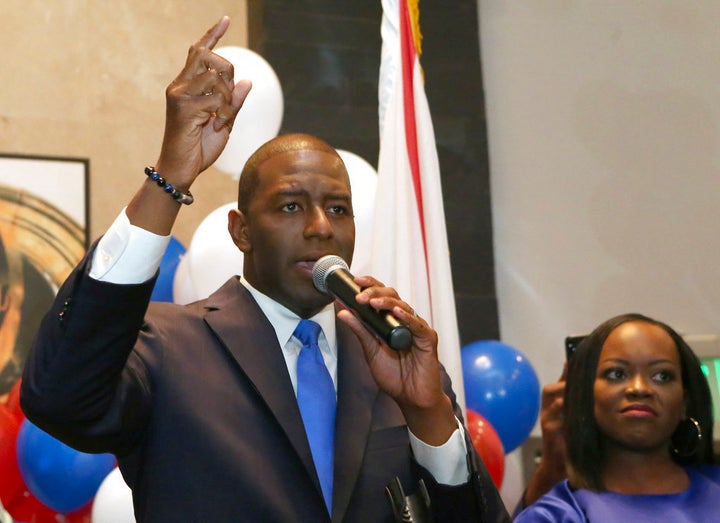 Florida Republicans and Democrats both got the opponents they most wanted to face in the governor's race ― due in part, ironically enough, to the interventions of two Mar-a-Lago denizens.
On the Republican side, Agriculture Commissioner Adam Putnam had been the state party's favorite until Mar-a-Lago owner and U.S. President Donald Trump threw his weight behind North Florida congressman Ron DeSantis.
Among Democrats, billionaire club member and gubernatorial candidate Jeff Greene spent upwards of $15 million of his own money on attack ads against the two Democratic front-runners, Gwen Graham and Phil Levine, in the closing weeks. He was trying to boost his own chances in the race, but ended up helping Tallahassee mayor and progressive darling Andrew Gillum slide past them to victory.
"Greene was making in-kind contributions to Andrew Gillum," laughed Mac Stipanovich, a longtime GOP strategist who dislikes Trump.
Stipanovich supported Graham because he believed she was most likely to win in November ― Gillum's positions are too far left, he said ― and he characterized both parties' nominees as "the most extreme" candidates.
"It's further evidence that the center in American politics and Florida is disintegrating," he said.
While "extremeness" may lie in the eye of the beholder, Florida voters now have a governor's race with two wildly contrasting candidates.
This is a change from recent decades. Stipanovich ran the campaign of and served as chief of staff to former Gov. Bob Martinez, who in 1986 defeated the last truly progressive ― or "liberal," as it was called then ― Democratic nominee for governor, a state legislator from Jacksonville named Steve Pajcic.
"He was not an unashamed liberal. He was ashamed. And he tried to conceal it," said Stipanovich. "It was like the movie 'Marathon Man.' It was not safe for a liberal."
Seven gubernatorial elections and only two Democratic victories later, progressives in Florida and nationally have decided that nominating center-left candidates has failed to motivate young and minority voters. The best way to win midterm elections, the thinking goes, is to nominate someone young and engaging ― like Gillum.
For Republicans, despite the success of conservatives ranging from Jeb Bush to Rick Scott, GOP primary voters decided that a "mainstream" Republican like Putnam did not love Trump sufficiently, and nominated a Harvard-trained former Navy prosecutor who essentially campaigned from a Washington, D.C., TV studio via his frequent appearances on Fox News.
The result: The next governor of Florida will be either A) a Republican who has put forth almost no detailed proposals about how he would govern but who has dressed his infant in a "Make America Great Again" onesie for a TV commercial, or B) a Democratic mayor with questionable personal finances and whose city hall is under FBI investigation.
Gillum has refused to answer detailed questions about his outside income while serving as mayor of Florida's capital city. He does say the FBI has told him he is not under investigation, even though a lobbyist friend of his has been subpoenaed in the probe. While some news organizations have delved into those issues, his Democratic opponents did not bring them up in debates or in negative ads. One reason was that Gillum had never polled high enough to make them worry he could win; the other was a concern that attacking the only African-American in the race would undermine attempts to boost black voter turnout come November.
"I think Gillum's about to get schooled about right-wing Republican campaigns," Stipanovich said. "He got a pass in the Democrat primary. I think that pass expired last night."
Kevin Cate, a Gillum consultant, said the candidate has a ready answer for whenever the attacks start: "Andrew Gillum has been doing everything possible to root out corruption in Tallahassee," he said. "Meanwhile, Ron DeSantis and Donald Trump are doing everything possible to impede the FBI from investigating his obstruction of justice."
Just as the FBI investigation and Gillum's stated positions ― universal health care, abolishing the Immigration and Customs Enforcement agency, legalizing marijuana ― made him the most desirable candidate for Republicans to run against, so did DeSantis' positioning himself as a Trump clone make him the desired candidate for Florida Democrats.
They believe their best opportunity to win is to remind registered Democrats, independent voters and even some Republicans about Trump's volatile temperament, his serial dishonesties, his history with women, his self-dealing, the ongoing special counsel's probe into possible Russian collusion with his presidential campaign ― and tie all of that to DeSantis too.
Cate said that approach would also let Gillum rake in campaign contributions, something he struggled to do during the primary. "People don't want Donald Trump as governor of Florida," he said.
During the primaries, Gillum's largest supporters were liberal billionaires Tom Steyer and George Soros. It is unclear how much they will contribute to Gillum for the November race, and how that would stack up to the tens of millions of dollars DeSantis is sure to raise and spend from GOP donors.
Marissa Barrow, with the Progressive Change Campaign Committee, said her group would continue helping Gillum connect with grassroots donors.
"We're not really scared about Republicans throwing money at Andrew Gillum," she said.
A number of Florida political consultants noted the irony of Gillum's frequent talking point that he was the only nonwealthy candidate in the race. Supported by the billionaires Steyer and Soros, Gillum was aided in his path to victory by his billionaire opponent Greene going after the millionaires Graham and Levine.
Stipanovich, who in 1994 ran Bush's first but unsuccessful run for governor, said GOP statewide candidates have been able to disqualify Democrats in recent decades by tarring them as "liberal" ― but that Gillum's win could mean those days are over.
"This is possibly great news for Democrats," he said, because the progressives could be correct and there might be no need to win over independents and moderates if they can just turn out more Democrats. In either case, with Gillum facing off against DeSantis: "You've got the starkest of choices."
He said he had personally decided to vote for Graham over DeSantis in the general election, and he may wind up voting for Gillum. Either way, he definitely won't be voting for DeSantis.
"Tax cuts, the sort of health care we have are important," Stipanovich said. "But they're not as important to me as a functioning, healthy American democracy. I believe that Donald Trump and his acolytes pose a threat to that."
Ariel Edwards-Levy contributed to this report.
Popular in the Community