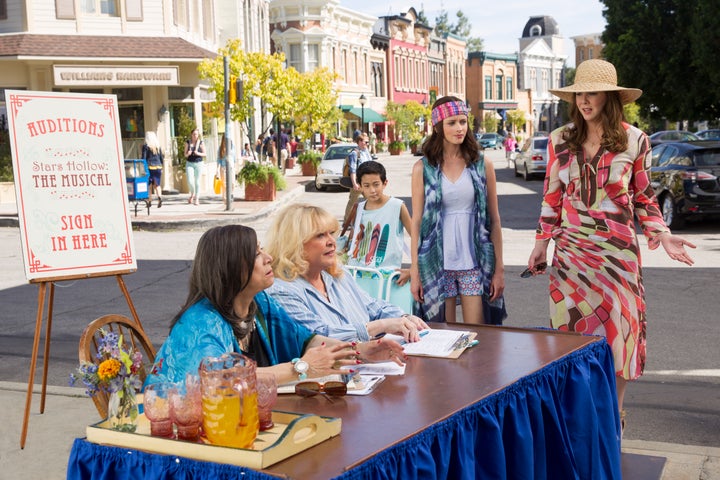 Stars Hollow has never been a particularly political place. If Babette was registering voters in the town gazebo or had some secret past as a member of The Weather Underground, "Gilmore Girls" chose not to show it. 
So when the revival debuted on Netflix last week, it was no surprise that "Gilmore Girls: A Year in the Life" didn't mention the election. In fact, the closing moments of the finale revealed that the series ended on Nov. 5, three days before Donald Trump became the president-elect. 
We might never know where the residents of Stars Hollow fall on the political spectrum, but series creator Amy Sherman-Palladino shared her thoughts on whether the fictional Connecticut town voted Trump in interviews with multiple outlets after the revival's release. 
"People are reading a lot into that wedding date," Sherman-Palladino told TVLine on Thursday. "To be totally honest with you, we did put it before the election, but [beyond that] there's not a lot of significance there."
"It's very difficult for me to talk about this election without launching into a cynical, 'The world is ending.' I've now gotten myself to say, 'Well, there's a 50/50 chance the world will end.' I'm giving us a 50/50 chance of making it through this Trump administration. I think that's high," she continued. "I don't think we could've ever foreseen that the world would've gone insane and [Trump would've won]. And we didn't want to focus on Hillary because what if she [didn't win]. These movies were written way in advance [of the election]. So it was weird for us to predict where we would be in November. Because if we [get it wrong] then ['A Year in the Life'] will feel dated by a political moment in time. I wanted it to stand on its own."
In an interview with Vulture released the same day, executive producer Dan Palladino echoed his wife's sentiments, but the two agreed to disagree on whether Stars Hollow went red. 
"Amy and I are dyed in the wool liberals and very left-wing. But the show, we always wanted it to be bipartisan and Stars Hollow is a — probably voted for Trump, mainly," he said, before Amy interrupted him with a "No. No, no, no, no."
"There is no evilness in Stars Hollow," she rebutted. "Do not put that out there, I do not accept that. Absolutely not."
According to voting results for the town that inspired the hamlet of Stars Hollow— Washington, CT — overwhelmingly voted for Hillary Clinton, with 59.65 percent of its residents supporting the Democratic candidate. 
REAL LIFE. REAL NEWS. REAL VOICES.
Help us tell more of the stories that matter from voices that too often remain unheard.
BEFORE YOU GO
PHOTO GALLERY
The 18 Most Important "Gilmore Girls" Episodes