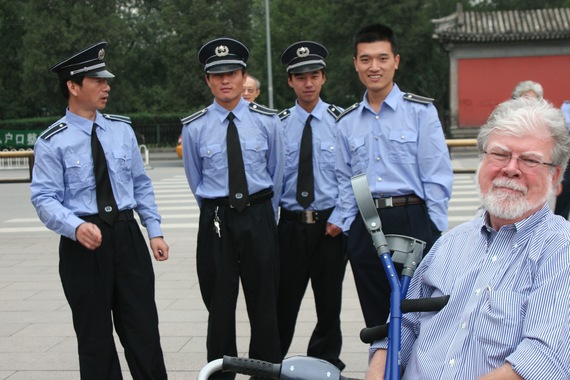 We are a couple of married middle-aged travel sluts. We live to see new things, meet new people, check the boxes off on our individual bucket lists, and encounter the beautiful and the weird. Taste it, touch it, and throw caution to the winds. But one of us is mobility challenged and that puts a crimp in our style.
My husband Michael has MS and needs a scooter to get around. But get around we do. Together we've been to the Galapagos, to China and Crete and Athens; to Vienna, Prague, and Dresden; and to Thailand, Spain, Paris and Switzerland, and all across the US. We've learned a few things about traveling when you are handicapped, or even just finding it hard to walk long distances, and we'd like to share some of the lessons we've learned along the way.
Mostly what we've learned is while nothing is easy, being flexible and embracing the imperfect and the impromptu on the road makes travel both possible and pleasurable. A sense of humor helps too.
Our trip to China tested and refined every one of our assumptions about travel. We had an amazing time. We heartily recommend the journey. But it wasn't a cakewalk. Or even a rice cake. We use it here to illustrate to joys of exotic travel destinations and how to use humor and ingenuity to overcome to overcome the bumps.
Like everyone else, we arrived in Shanghai and couldn't resist the comparison to the Jetsons. Our hotel room was on the 70th floor, and the vista of the Shanghai nightscape - the neon filigree outlining the fantastical architecture -- the sheer size of the urban footprint, the shining river. Oh my god. We made it. We are actually in China, ready to begin. We arrived a day or two in advance of the rest of our tour group, hoping to acclimatize a little before we hit the ground running. Metaphorically speaking, for with MS running is just a metaphor.
We had done our research. Made the phone calls, sent the emails, done all the things on our checklist before we booked the once-in-a-lifetime trip to China with a wonderful company that assured us that, yes, handicapped guests were always welcome and well cared-for. The guides were savvy, we were assured; the tour buses accessible, and the graceful cruise ship that would carry us down the Yangtze River, entirely safe. No worries at all, just send us your AMEX number and sign all the waivers.
What we hadn't counted on was China. What we hadn't counted on were the Chinese functionaries who eyed my husband Mike's battery charged electric scooter and decided it was a subversive device.
It was a little dicey at the airport, but in our experience, it is always dicey at the airport, handicapped traveler or not. A little confusing to get a taxi that would countenance our mound of luggage plus the scooter. (How could a taxi driver know that the scooter collapsed and fit easily in a car trunk)? And for goodness sake, we were in China, which is not Paris or Berlin or Disneyworld. We expected things to be a tad challenging.
Our first day we had decided to visit the Shanghai Expo cruising to its finale a few weeks later. We'd hired a handicapped accessible guide (We were so smart!) from a special website that seemed professional, and bought special access passes to boot. When "Jimmy" arrived to meet us, he seemed perplexed, as if he hadn't gotten the handicapped part of the assignment. Things like looking for curb cuts (more about this later) and taxis with a reasonable trunk befuddled him. Okay, whatever, we thought. The day is young. We wanted an adventure. That's why we selected China. (Plus Mike had an invitation to give a lecture at Peking University a few weeks later, after the grand tour).
We arrived at the entrance (or possibly one of about 8 entrances) at the Expo site. Huge. Fun. Wonderful. With Jimmy trotting behind Mike rolled up to the entrance kiosk holding out our pre-paid tickets. The young military officer jumped in front of the scooter. No, he motioned. The scooter could not enter. "Not allowed." We could leave it with him and use the rickety wheelchair he offered. We could get the scooter back when we left the park.
This wasn't going to work for us at all. We hadn't come from Boston with a fancy travel-enabling mobility device, just to leave it unguarded at a ticket counter in Shanghai. What was wrong with the scooter, we wanted to know? "Not allowed in China." But all the parts are made in China, we explained. "No. No. Not allowed." I asked to speak with his supervisor. Please.

Our guide, "Jimmy" was trying very hard to be invisible as a second officer came out. This one had two gold stars on his shoulder. Not allowed, he explained, jiggling the handle of the flimsy wheelchair to make it a more attractive sell. I asked for his supervisor. An officer with three stars came out, as did a growing crowd of Chinese visitors who were avidly snapping photos of the scooter. After a little more back and forth, three-star came back with a four-star, a general we gathered, by the behavior of our new cheering section. Not to be trifled with. Mike started showing him the selling points of the scooter - it's small footprint, its peppy little lithium battery. I'd like the record to state that I remained calm and never did I raise my voice.
By this point, the crowd was swarming around us. Mike and his scooter had to pose for photos with innumerable children and grandparents. He smiled and so did his photo-mates. The four-star was overwhelmed and we passed through the gates. We'd learned a lesson that would be useful for the remainder of our visit in China: people in any kind of hierarchy are afraid to make decisions that might carry a risk. It is our job to help them make a decision "safe". Smiling and staying calm are crucial. No temperament. A useful lesson in traveling with a handicapped companion. Helpful in museums, domestic airports, in the Forbidden City - at the Panda zoo, with the warriors of Xi'an. Standing calmly up to "authority" -- and occasionally winning.
We were a big hit at the Shanghai Expo. Hard to miss us, being perhaps two Westerners out of perhaps thirty visiting that day among 100,000 Asian visitors. Mike is hard to miss in most circumstances. Big and smiling, with a full silver head of hair and beard, and electric blue Irish eyes. But I think the scooter was the real attraction. The Expo was fascinating and crowded. A sort of Disney Epcot center without the magic fairy dust. Early in the day, we lost our guide Jimmy, never to be found again. We hadn't thought ahead to exchange cell phone numbers, but unlikely we'd have heard the ring given the crowd surrounding us all day long. And it didn't matter at all.
People were falling over themselves all day trying to be helpful, and mostly succeeding in making us feel thrilled to be in China, where yet again, we were reminded that people are wonderful. Compassionate, curious and willing. Often, several wanted to lift Mike, scooter and all over stairs and barriers -- I said no but loved the gesture. A wonderful, serendipitous travel day for the two of us, buoyed up by the unexpected warmth of strangers who wanted to help. With just a few bumps in between.
We made it back to the hotel having had a pretty perfect immersion experience in Shanghai for first time visitors, and given the jet lag and the excitement of the day, we chose to eat in the hotel and soaking up the amazing sunset to nightscape from 360 degrees of glass on the 8oth floor.
The trip continued with spectacular hits and a few misses. There were spots Mike simply couldn't visit. We were on a lovely river cruise and the boat itself was easy, but dis-embarking at the docks along the way? Several stops were simply not possible. I racked my brain, wondering what questions I might have asked in advance.
But there was so much that did go right. We figured out (again, with the help of compassionate strangers), how to visit the Great Wall, the Forbidden City, Xi'an, and navigate all the by-ways of University of Peking. Amazing that the extraordinary engineering minds that built the huge dam on the Yangtze River couldn't figure out how to construct handicap ramps with a slope less than 90 degrees. Some un expected plusses: when we couldn't join our tour group at a n evening of Chinese Acrobats, we were drinking German beer and munching pretzels at an impromptu wild-west Oktoberfest karaoke night at the Kempinski Hotel in Xi'an, complete with a chorus of Chinese girls in white cowboy boots and sundry hotel guests belting out "You Light up my Life" and Stand By Your Man. (At least that's what we thought they were singing.)
As a handicapped accessible destination, China was more challenging than we expected. But we wouldn't have missed for all the tea, in, you know, China. It is a huge country with more than enough to see, with some creative accommodation and spots of luck we gimped gaily along.
Instructive though. And this trip more than many, helped us think through the cardinal rules of accessible travel. Research, flexibility, human warmth, curiosity, and gratitude for all the things that delighted us. Traveling is about not getting stuck on a plan, embracing the unexpected. Enjoying the road ahead. We
We've developed a few rules/caveats that work for us.
1) The Internet is your friend. Research exhaustively on-line, and in advance.
Search all the words and organizations that make sense for your mobility issues - accessible, adaptive, handicapped. Many city destinations have maps developed for travelers with mobility issues (we've had good luck in Jerusalem, Prague, Paris, Barcelona and Vienna). Some have central resources to hire private guides that are knowledgeable about making their locations accessible. Many cities also have organizations that can rent you wheelchairs, power chairs, scooters and other medical equipment.
2) Use the telephone. Do research the old-fashioned way: Call people.
Even if it's to a general manager at a hotel that is located so far away that you are confused by the time zone. Ask questions about hotel rooms, showers, elevators, guides, airport transfers and pick-up possibilities. Spend your time and money in advance rather than waste precious travel time in avoidable frustration.
3) Be skeptical. Ask questions and more questions.
Challenge authority and assumptions. Someone else's view of "accessible" may not be yours. Have a plan B in mind. Maybe you won't visit that architectural wonder, or dine in the hottest bistro. Maybe you'll have to switch to another hotel. Pick an outdoor café. Smell the roses in the garden instead of climbing the turret. Be flexible and open to unexpected pleasures. Talk to the people at the table next you (but not in an obsessive way.) Our view is that travel is all about creatively adapting to an environment that is beyond your control.
4) Have an advance team.
It works for us to have at least one member of our party be the scout. Check out where the curb cuts are on the next block, find the handicapped entrance (challenging to find even at national museums and monuments), and identify which table at which restaurants can work. (Side note: some restaurants, even those that sit side-by-side on the street have different attitudes about hospitality to handicapped diners. If the host seems flustered or unreceptive by the proposition, try the bistro next door instead.)
5) Be both generous and candid with your feedback.
Give constructive feedback to hotel staff about simple, positive suggestions to make a room, a hotel bathroom, or hotel entrance more accessible. (See our pet peeves section.)
6) Share the good and bad news.
Post nice reviews when deserved on Trip Advisor and any other travel site you frequent. Use the same sites to warn future handicapped travelers off venues and locations that may be troublesome. (Recognize that not every person with a mobility issue has the same limitations you do.)
7) Love people and trust people.
Human compassion is your greatest asset as a handicapped traveler. People want to help. Let them. They don't always know the best way to help you, so be clear with your directions and always thank them warmly. Occasionally someone's desire to be helpful will trump common sense and your safety. Thank them too. That's how we make the world a better place and make new friends every day.
8) Admit when you are scared. This holds true equally for the handicapped person and the traveling companion. Fear is a smart travel companion. If something looks too steep, too dark, too uneven, too crowded, just say no.
Another rewarding experience will be just around the corner.
9) Love cities. For us, city destinations (paved streets, indoor attractions like museums, elevators and street floor eateries) work better than rural locations. O the other hand, we've had some amazing and successful visits to archeological sites in Greece and outdoor beauties in the Galapagos.
10) Never give up. Never stop. Be inventive, never discouraged. Enjoy both the journey and the destination.
Visit us on Facebook at Curb Cut Chronicles