This Monday, as you stand with friends and in-laws on your freshly-mowed lawn, tearing up as charcoal smoke from the burger-bedecked Weber assaults your eyes, you'll probably have a beer in your hand. A Budweiser or maybe, if your cousin from Brooklyn is there and offered to bring drinks, a Dogfish Head. But what you'll really want, and what you should really mix yourself, is a gin and tonic.
It's the perfect drink for Memorial Day. Refreshing enough to fight the humidity, but not frivolously summery. It's classy yet no-nonsense, making it appropriate for a holiday that commemorates dead soldiers.
In particular, it's the perfect drink for Memorial Day this year -- because, according to the New York Times Dining section, 2013 is year of the gin and tonic. A burst of enthusiasm for G&T's at high-end restaurants in Spain, of all places, has inspired mixologists at cool bars across the U.S. to rethink and rejigger the classic drink using artisanal ingredients and garnishes like strawberries and cucumbers. Some even concoct their own tonic water.
We certainly don't expect you to do that on Sunday before your barbecue. But you can also do better than the dusty, half-empty bottles of Schweppes and Seagram's that have been moldering in your liquor cabinet since 2003.
HuffPost Taste recently conducted a taste test to find out the best recipe for gin & tonics using readily-available brands of gin and tonic water, much as we did with margaritas a few weeks ago. We mixed up 26 different combinations of nine kinds of gin and three kinds of tonic water, adding ice and lime wedges to each one to keep things realistic, then rated each on palatability. (We used a ratio of two parts gin to three parts tonic water, if you care.)

Click through below to see our favorite and least favorite gin and tonic recipes, then scroll down further to read some trends I noticed: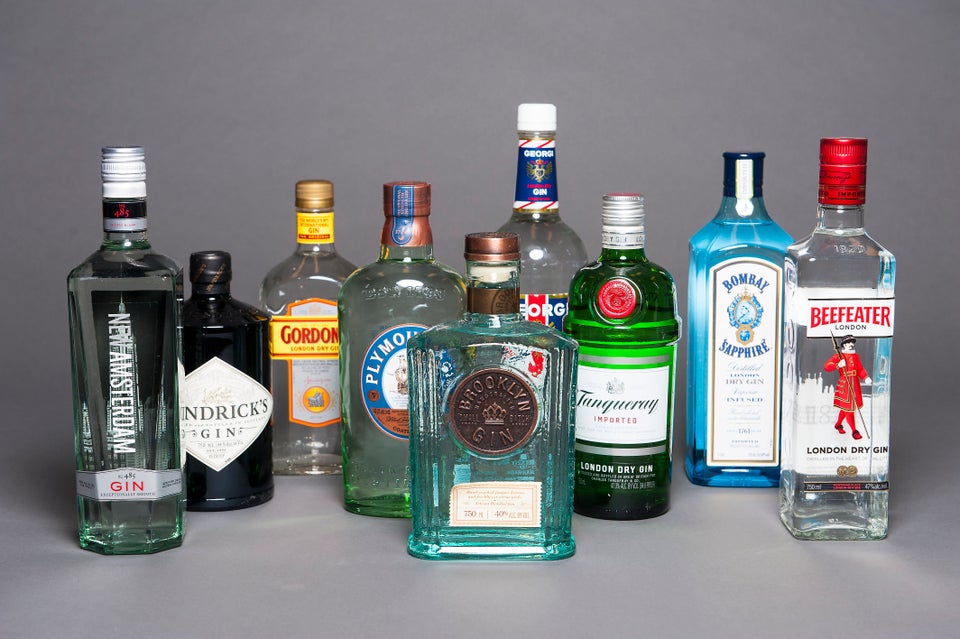 Gin And Tonic Taste Test
I expected our results to differ considerably from the results of our margarita taste test, and that everyone would prefer fancy gins to cheap ones. I was wrong. The gin and tonic that got the very best reactions was one of the very cheapest. And some of the most expensive gin and tonics we tested were some of our least favorite.
Looking at our testing data, one trend jumps out above all: tonic matters at least as much as gin.There was plenty of disagreement on the best gin, but tasters seemed to reach something of a consensus when it came to their feelings about the three brands of tonic.
Nobody liked Q tonic, one of two high-end tonic waters we tried. It has a powerful, herbal taste that dominated every gin we mixed it with, from the most expensive to the least. Most of us were turned off by that particular taste. But not everyone would be. If you wish tonic water tasted less like seltzer, and more like bitter butterscotch soda, you should get ahold of a bottle of Q. Whole Foods sells it.
Our tasters liked the other two, Fever Tree, which costs about as much as Q, and Canada Dry, which costs much less, for different purposes.
Fever Tree has a bolder flavor than Canada Dry. It pairs well with cheap gin; it masks the astringency of a brand like Gordon's while highlighting the herbal notes underneath. But Fever Tree tended to clash a bit with more expensive, complex gins, obscuring their flavors. Canada Dry is milder; it tastes a lot like sweetened club soda. That made it a perfect wingman for aromatic gins like Hendrick's.
In other words? If you buy cheap gin, buy expensive tonic water; if you buy expensive gin, buy cheap tonic water. And if you make your own tonic water, we're guessing you don't need our advice.
This story appears in Issue 58 of our weekly iPad magazine, Huffington, in the iTunes App store, available Friday, July 19.
Related