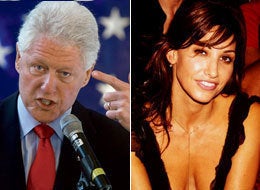 TMZ reports that Hollywood actress Gina Gershon has had her lawyers pen a demand letter to Vanity Fair, and they have a copy:
Vanity Fair just published a pretty scandalous story about Prez Bill Clinton. The demand letter claims the article "outrageously insinuates that Ms. Gershon has had an inappropriate sexual relationship with President Clinton. This is absolutely false."

The letter demands "a retraction and correction."

Gershon's lawyers from the bulldog firm Lavely & Singer noted that "Gershon has only been in the same room as President Clinton on three occasions," all with many others present. The lawyers take a shot at Vanity Fair, claiming, "Rumor-mongering was substituted for fact-checking."
Over the last few years, aides have winced at repeated tabloid reports about Clinton's episodic friendship and occasional dinners out with Belinda Stronach, a twice-divorced billionaire auto-parts heiress and member of the Canadian Parliament 20 years his junior, or at more recent high-end Hollywood dinner-party gossip that Clinton has been seen visiting with the actress Gina Gershon in California. There has been talk of a female friend in Chappaqua, a woman in a bar at a meeting of the Aspen Institute, and a public sighting of Clinton, Bing, and a ravishing entourage in a New York elevator that, a former Clinton aide told me, led a business leader who saw them to say: I don't know what the guy was doing, but it was so clear that it was just no good.
As for Gershon's three times, one of them was with Ron Burkle, according to her demand letter:
Ms. Gershon has only been in the same room as President Clinton on three occasions, during which she was always in the presence of anywhere from approximately a dozen people to several hundred or more. Specifically, Ms. Gershon was once one of several hundred or perhaps a thousand guests at a charity event at the White House while President Clinton was in office, which she attended as a guest of the Shrivers. On another occasion, Ms. Gershon attended a dinner in New York honoring Bono, where President Clinton was among the several hundred or more in attendance. On a third occasion, Ms. Gershon was a last-minute addition by one of the other guests who attended a dinner at the California home of Ron Burkle, with 10-15 people in attendance, including President Clinton.
Popular in the Community