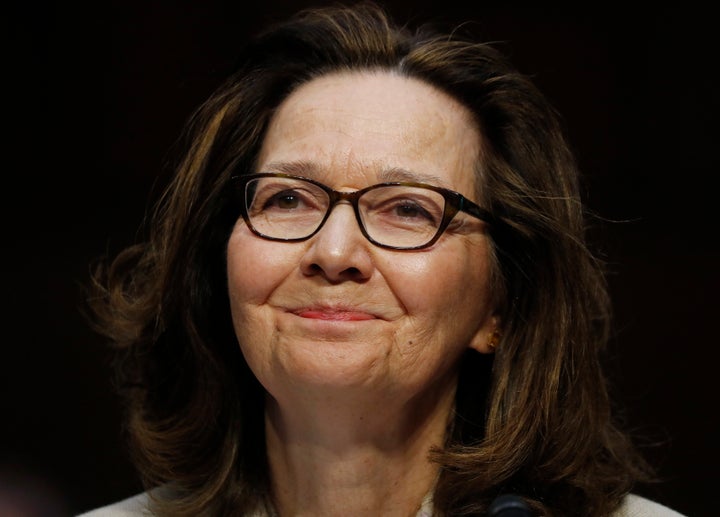 WASHINGTON ― Gina Haspel is on track to become CIA director after two key Democratic senators announced they intend to support her confirmation.
Sen. Mark Warner (D-Va.), the top Democrat on the Senate Intelligence Committee, said Tuesday that he will support Haspel because she had satisfied his concerns in public and behind closed doors about her views regarding the CIA's so-called enhanced interrogation program, which she helped oversee in the aftermath of the Sept. 11 attacks.
In a letter to Warner on Monday, Haspel wrote that the agency shouldn't have undertaken the controversial program ― in which agents used waterboarding against terror suspects during interrogations. Such methods, she said, "did damage to our officers and our standing in the world."
Warner, a centrist whose home state of Virginia houses the CIA's headquarters, called his decision to support Haspel "difficult," and said he respected the views of his colleagues who disagree with him.
"I believe [Haspel] is someone who can and will stand up to the President if ordered to do something illegal or immoral—like a return to torture," Warner said in a statement.
Shortly after Warner's announcement, moderate Sen. Heidi Heitkamp (D-N.D.) also said that she intended to support Haspel as CIA director. 
"Ms. Haspel's involvement in torture is deeply troubling," Heitkamp said in a statement. "However, Ms. Haspel explained to me that the agency should not have employed such tactics in the past and has assured me that it will not do so in the future."
Later in the day, Sen. Bill Nelson of Florida became the fifth Democrat to announce backing for Haspel's confirmation.
Warner, Heitkamp and Nelson joined Sens. Joe Donnelly (D-Ind.) and Joe Manchin (D-W.Va.), who said last week they will vote to confirm Haspel. The group of Democrats would put Haspel's nomination over the top, even if Sens. Rand Paul (R-Ky.) and John McCain (R-Ariz.) continue to oppose her confirmation.
Heitkamp, Nelson, Manchin and Donnelly all face what analysts rate as tough re-election battles this year in states President Donald Trump carried in 2016. 
The announcement by the three Democrats on Tuesday capped a contentious debate about America's use of torture, which became newly relevant after Trump pledged during the presidential campaign to bring back waterboarding and "much worse." The news is reminiscent of the debate over Mike Pompeo's nomination to lead the State Department ― when moderate or vulnerable red-state Democrats sided with Republicans to ultimately confirm him as the top U.S. diplomat. 
Democrats own the fact that they helped secure the votes needed to confirm Haspel.

Elizabeth Beavers, of the progressive group Indivisible.
Haspel's initial reluctance last week to condemn the CIA's past interrogation techniques during a public hearing with lawmakers spurred McCain, who was tortured while in captivity during the Vietnam War, to announce his opposition to her nomination. But he failed to sway many of his GOP colleagues, who pointed to Haspel's large list of endorsements from the intelligence community.
"I think it would have been helpful if John had been here in the [private, classified] sessions to get the full story," Senate Intelligence Committee Chairman Richard Burr (R-N.C.) told HuffPost last week about McCain's stance on Haspel.
McCain remains at his home in Arizona, where he is battling brain cancer.
Sen. Angus King (I-Maine), who also sits on the intelligence committee, lamented that McCain's colleagues felt his absence.
"It's one thing to vote [when] John McCain is in Sedona, it's another thing to look him in the eye and tell him you're not going to vote with him," King, who plans to vote against Haspel, told The Boston Globe. "There's no one in the Senate who has even remotely the credibility he does on an issue of this kind."
Warner, who will be up for re-election in 2020, had faced particular pressure from liberal activist groups in recent days to oppose Haspel's nomination. Indivisible, a progressive group working to resist Trump's agenda, held demonstrations in Virginia and also urged its members to call the senator's office to urge him to come out against Haspel.
"This was an opportunity where if Democrats had stuck together, we could have blocked her nomination, and Democrats didn't do that," Indivisible foreign policy manager Elizabeth Beavers told HuffPost. She added that the group's members are "incredibly upset" by Warner's decision.
While Trump picked Haspel to lead the CIA, Beavers said, "Democrats own the fact that they helped secure the votes needed to confirm Haspel."
This story has been updated with Sen. Nelson's backing of Haspel and comment from the progressive group Indivisible.
Calling all HuffPost superfans!
Sign up for membership to become a founding member and help shape HuffPost's next chapter