WASHINGTON ― Gina Haspel, President Donald Trump's nominee to head the CIA, says the agency shouldn't have used its infamous enhanced interrogation techniques, a week after she repeatedly refused to take a stand on the program's morality at her Senate confirmation hearing.
In a letter sent on Monday to Sen. Mark Warner (D-Va.), the top Democrat on the Senate Intelligence Committee, Haspel said that the controversial methods that sought to gain information from terrorism suspects in the aftermath of the Sept. 11 attacks "did damage to our officers and our standing in the world."
"While I won't condemn those that made these hard calls, and I have noted the valuable intelligence collected, the program ultimately did damage to our officers and our standing in the world," Haspel said in the letter, first obtained by CNN. "With the benefit of hindsight and my experience as a senior agency leader, the enhanced interrogation program is not one the CIA should have undertaken."
Warner on Tuesday said he now plans to support Haspel's nomination, virtually assuring her confirmation by the full Senate.
At her confirmation hearing, Haspel told lawmakers she would not restart the agency's torture program ― which included waterboarding ― if confirmed as the CIA's director. But she repeatedly dodged the question of whether it was appropriate.
According to CNN, Haspel refrained from doing so in the public portion of her hearing because "she did not want to be seen as publicly criticizing her colleagues at the CIA."
Haspel's reluctance to condemn the interrogation techniques spurred Republican Sen. John McCain, who was tortured while in captivity during the Vietnam War, to announce his opposition to her nomination. McCain made the announcement from his home in Arizona, where he is battling brain cancer.
McCain's move, in turn, prompted an embarrassment for the Trump administration when a White House aide at a private meeting jokingly dismissed the senator's opposition because "he's dying anyway." The White House has resisted calls for a public apology over the remark.
In her Monday letter, Haspel said that she would refuse "to undertake any proposed activity that is contrary to my moral and ethical values." The statement appeared to be aimed at skeptical senators who asked Haspel whether she would restart the program if ordered to do so by Trump.
The letter comes ahead of Wednesday's committee vote on her nomination ― which she is expected to clear, thanks to the support of at least one Democrat ― Sen. Joe Manchin of West Virginia.
Warner had been facing pressure from liberal activist groups to oppose Haspel. But he has praised her qualifications, and said last week during the public portion of her confirmation hearing that she needed to make the kind of disavowal of torture she made Tuesday.
Warner told reporters on Tuesday that Haspel's disavowal of the program gave him more confidence about how she would perform as CIA director.
"The letter better reflected some of the conversations that I've had with her on an individual basis," he said. "I wanted to make sure where she [stood] in terms of that this program won't happen again and that she would stand up against this president if he tries to [engage] the country in an illegal or inappropriate matter."
In a statement announcing his support for Haspel, Warner said, "I acknowledge that this has been a difficult decision."
While saying he wished she "had been more open with the American public during this process," he added that he had been impressed with the backing Haspel enjoys "among rank-and-file members of the intelligence community and from intelligence community leaders who served" under President Barack Obama.
Sen. Angus King (I-Maine), another member of the intelligence committee, told HuffPost that Haspel's letter did not change his view that she should not be confirmed.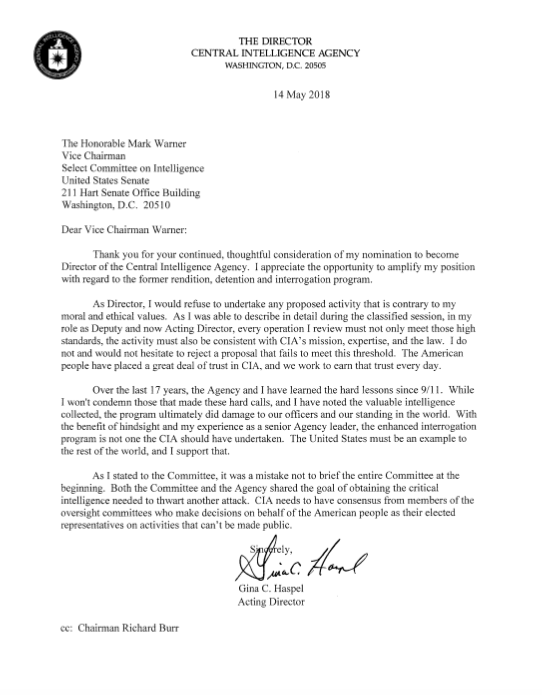 This story has been updated with Sen. Warner's announcement of support for Haspel and comments by him.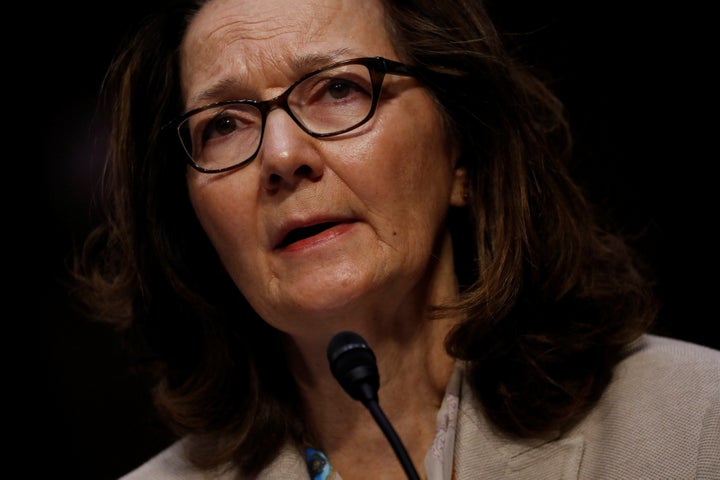 Popular in the Community