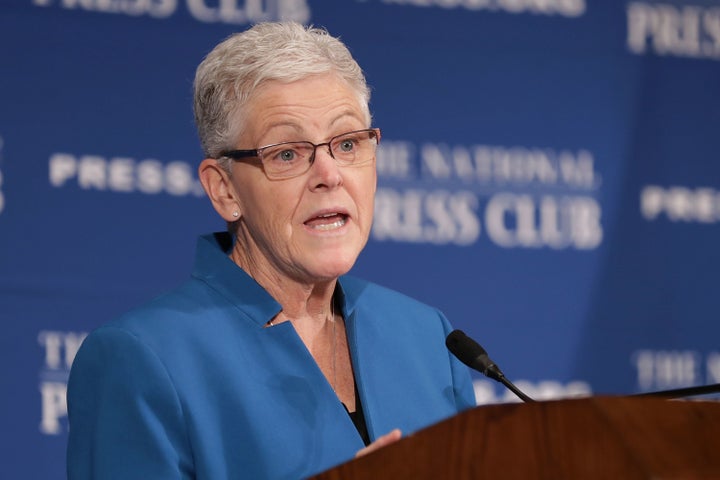 WASHINGTON ― Environmental Protection Agency Administrator Gina McCarthy wanted to talk about the Obama administration's legacy. Reporters wanted to know about the scorpion.
McCarthy was speaking at the National Press Club luncheon on Monday. The dessert plate included cookies decorated with the EPA logo, but one was off-brand ― a blue arthropod, its claws trained on the agency acronym. The reporters wanted to know what was up with the scorpion cookies.
EPA staffers in the room said they didn't know what it was. The chef said it was supposed to be a lobster, since McCarthy is a Boston native. (It was definitely a scorpion; my best guess is someone in the kitchen pulled it from the internet without realizing it was not the environmental agency's logo. Instead, it appears to be the logo of a Venezuelan home improvement superstore.)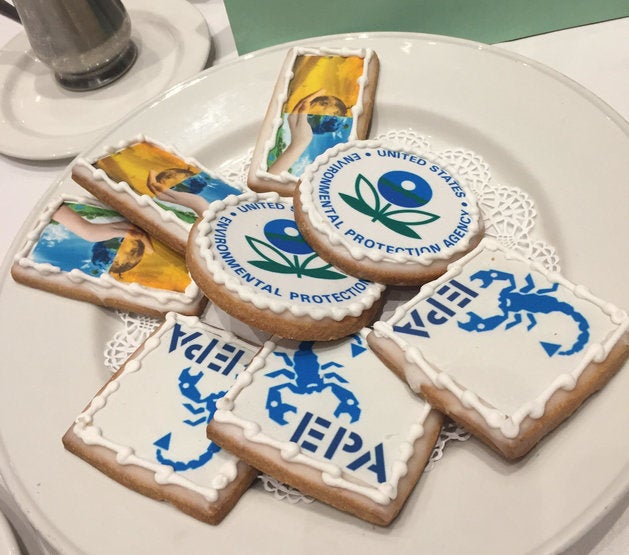 McCarthy got a few angry yelled questions from the audience ― a Dakota Access pipeline opponent who wanted to know why she hadn't spoken about it and a Pennsylvania resident worried about groundwater contamination from hydraulic fracturing. But for the most part, she stuck to upbeat talking points about how the agency's work will continue because the American public values clean air, clean water and public health.
McCarthy was also asked about a memo she sent to staff after Trump's election indicating their work would continue through the end of the administration. "As I've mentioned to you before, we're running—not walking—through the finish line of President Obama's presidency," McCarthy wrote, as InsideClimate News reported.
She declined to elaborate about what, exactly, the EPA would like to get over that finish line on Monday. "I don't have any secrets. Our agenda is out there," she said. "We have a lot of work to do."
"There's one president at a time, and I'm working for this one," she continued. "And I'm going to continue to do it. We're focused on the work ahead and the work we have to do."
Do you work in a federal agency? Email us at scoops@huffingtonpost.com and let us know what you're seeing and hearing, and if you're thinking of staying in government for the next administration.
Popular in the Community