Gina Rodriguez may be on the brink of stardom thanks to the CW's new series "Jane The Virgin," but the actress is more preoccupied with changing the face of television.
The Chicago-born Puerto Rican actress, who starred in the 2012 film "Filly Brown," has already garnered plenty of praise for her role as Jane, a 23-year-old woman who, despite her unwavering belief in saving herself until marriage, is accidentally inseminated with her boss' only hope for a child.
The CW series is an adaptation of the Venezuelan telenovela "Juana La Virgen." Accordingly, it has plenty of wacky and surreal twists and turns that had some people doubting the success of the series in the U.S. But as Monday night's premiere (9 p.m. EST) neared, "Jane" began to receive rave reviews, even being named one the most promising series of the Fall season by the Television Critics Association.
Rodriguez, 29, spoke to The Huffington Post about her role as Jane and opened up about why more stars don't speak up about the lack of diversity on television.
"Jane the Virgin" is in English and will surely have a different format than "Juana La Virgen," but how different are the plots between the series and the telenovela?
Well, Daniela [Alvarado] plays a 16-year-old girl that gets accidentally pregnant in a hospital [in "Juana La Virgen"]. ... She's younger and in different transformative years than Jane is in the adaptation. Because Jane is 23 years old, she's about to get married, and her life is in a whole different phase than the original Juana La Virgen. It's a different life entirely.
Oh, God willing! So the man that was responsible for "Ugly Betty," [Executive Producer] Ben Silverman, is the man that is responsible for "Jane the Virgin." So he's pretty good at transforming the format to American style. ... He's done it before, and I have a lot of trust in Ben.
You know the "Ugly Betty" comparison comes up, and I think it's more so because it's one of the only other American Latino shows, outside of like George Lopez. You know, it was about a girl and centered around a girl and her life and her being American and having a Latino background. We share that with "Ugly Betty," an idea that it's a Latina lead who is from America, grew up here and just happens to have that dual identity. But the show is very different … a very mother-daughter story, the illusion, the surrealism, and it kind of just stands on its own because of what is getting done to it.
In the beginning of the show, the audience sees that Jane's feelings about her virginity come mainly from to her grandmother's religious lectures and her mother's mistakes. Did you ever get a lecture like that at home?
Yeah, for sure. Puerto Ricans? Oh my God -- crazy Puerto Rican women raising me, it was all about being good to your temple, saving your temple for the right person and knowing what you're worth, knowing the worth of that temple, not just giving it out willy nilly. That was my grandma: "Don't give it out willy nilly!" I'm like "OK, all right grandma. I won't give it out willy nilly."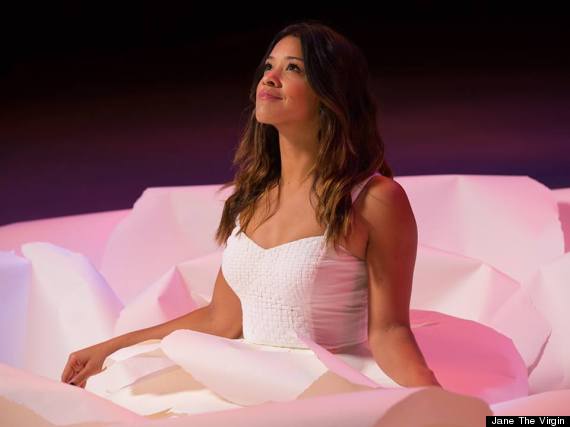 In July, you were asked during the Television Critics Association press tour about why you chose to take a part in "Jane the Virgin" over "Devious Maids." You gave an inspiring answer about Latinas' underrepresentation in Hollywood. You don't often hear Latina actresses speak so candidly about the lack of diversity in Hollywood. Why do you think that is?
Because of fear. I mean, you don't think I'm afraid when I have to speak the truth, when I can't keep my mouth shut? I feel it brewing inside of me like, "Must say what I feel. Must tell the world. Here's your platform -- don't be afraid." Because it's terrifying.
I didn't choose "Jane" over "Devious Maids," I just decided to pass on "Devious Maids," and that was two years ago. That was way before I knew "Jane" even existed, but I knew that you practice what you preach and sometimes that comes with sacrifices you wish you didn't have to make. There were times when I was like, "Why am I pulled so strongly to be a voice, to not keep my mouth shut? Why can't I just keep my mouth shut, take the job, take the money and walk like everyone else?" Because it's scary. You're afraid people are not going to want to work with you. You're afraid people are going to think things about you for speaking up.
But then, you know what, when I was younger my father used to say,"Everybody that created change pissed somebody off." ... And he's right, and it's scary. But if I don't do it, then what? I'm going to just keep wanting somebody else to? If I don't speak up, I'm just going to what? Sit around and complain and hope that somebody else will? No. I wasn't raised like that. If I want change, then I've got to do it. And if I want to do it, I've got to be that change. And that takes sacrifices that sometimes don't pay the bills, you know? And I'm OK with that.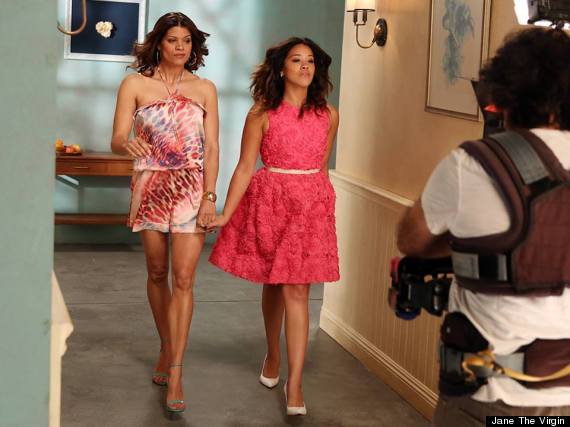 Other than that need and fear to speak up, what has your experience in the entertainment industry been like as a Latina actress?
Well, I think I've had the same kind of experience as anybody else had, in the sense that you come up against trials and tribulations of putting your foot down for certain things -- teetering that line of speaking up for yourself -- and people calling you a diva. Which is a very dangerous line. It's like "No, I know what I need in my life and I know what I stand for" versus being rude and cruel to other people. Especially in an industry where everyone's like "Yes! Yes! Whatever you say is great! Yes! Yes!" And you're like "No, not everything I say is great." You've got to hold yourself accountable, and you've got to have people around you that hold you accountable.
But you know, I've never really looked at my brown skin or my curvy curves to have hindered me. Because the second you start looking at things as though they are hurting you, you're not able to get over those humps. "Oh no, I'm not going to be able to do it because of this. I'm not going to be able to do it because of that. The only reason I didn't get it was because I'm brown." It's like cry me a river. Keep trying. Come on. Yes, there are 150 doors that are going to slam in your face, but there's going to be the one with a little crack in it, and you're going to bust that bitch down.
And it's patience, it's fate and it's not allowing the things that the outside forces tell you you should be fearful of, the factions that are created around you ... I don't even allow them to exist because I don't want to live in that life. I want to live in the present and enjoy everything that is going on and not waste time worried about the things that have stopped me. But more so, figure out a solution for those things that have stopped me.
CORRECTION: A previous version of this article identified Gina Rodriguez as Mexican-American. She was born in Chicago and her family is Puerto Rican.
Before You Go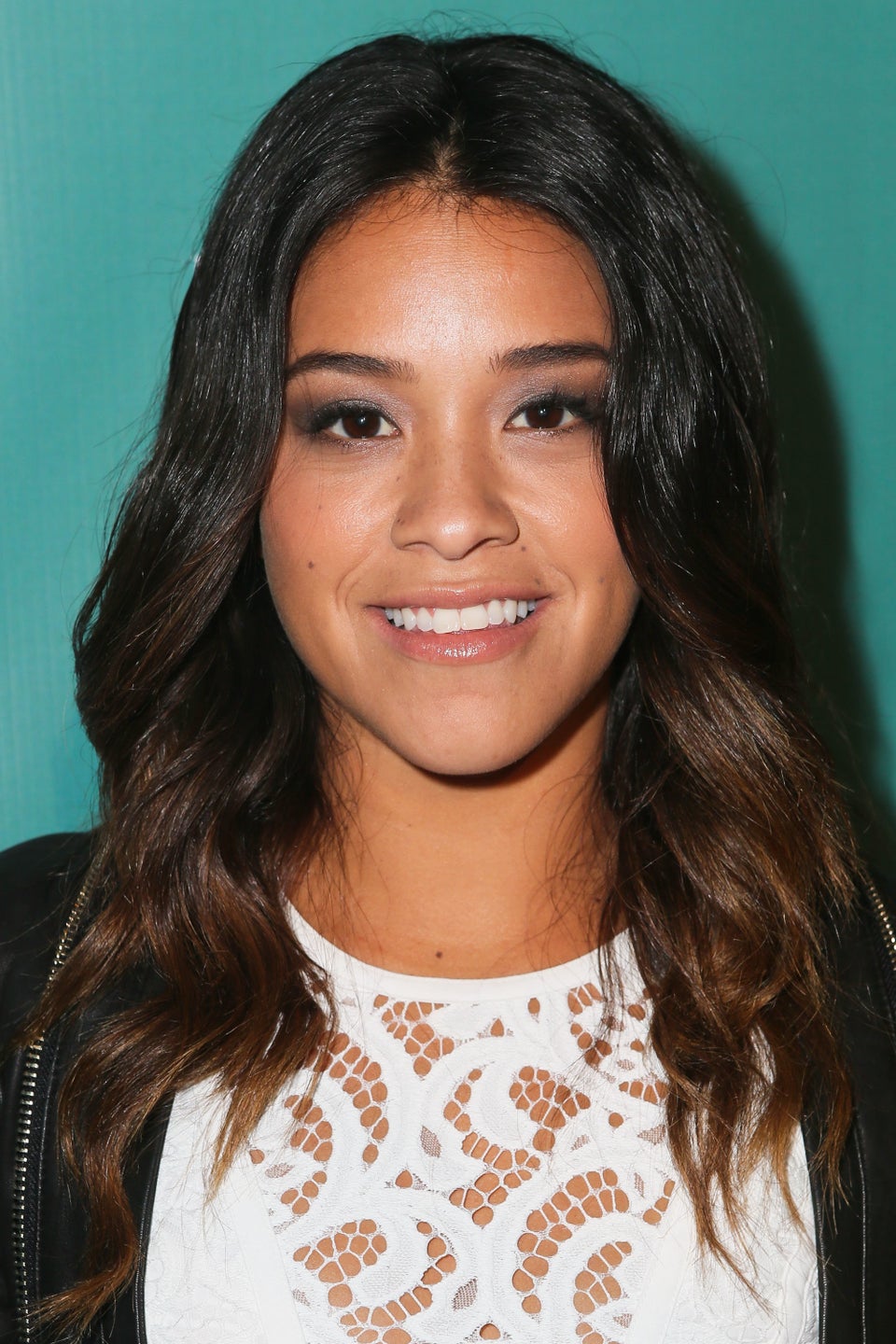 Gina Rodriguez