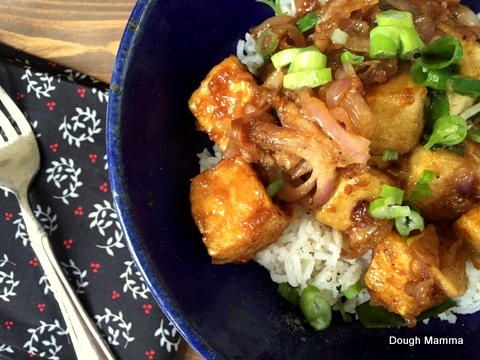 My husband was raised a vegetarian, a fact I have always found quite endearing. The way he tells it, he was a "poor little herbivore" with too many peanut butter-n-jelly sandwiches and loads of pasta. He will lament how his peers would look at his lunches with disgust, eliminating any possibility of a decent trade. When Easter rolls around every year, I get to hear the story of how he and his siblings received carob chips instead of chocolate - oh the savagery! Despite his "hardships" living a vegetarian lifestyle, he has a deep appreciation for fruits, vegetables and of course, tofu.
His healthy background remains influential today, as he is often the one to order salads and veggie burritos, while his dainty little wife orders the baby back ribs. We often get confused looks from the waiter when he arrives at our table, only to find "the Mrs." ready to pony-up to a meaty hamburger and fries, while "the Mr." lovingly eyes the salad.
This lovely little dish is adapted from one of my favorite cookbooks, Plenty by Chef Ottolenghi. Even if you appreciate your meat like I do, this tofu dish is hearty and satisfying. Umami flavors dominate, with caramelized shallots, garlic, ginger and soy shining brightly; this is one tasty vegetarian entree. Considering my picky eater inhaled his meal in a matter of minutes, I recognize this as a true testament to this dish's wide audience. I solemnly swear to all the omnivores, you won't be craving a burger after this delicious vegetarian meal.
Enjoy!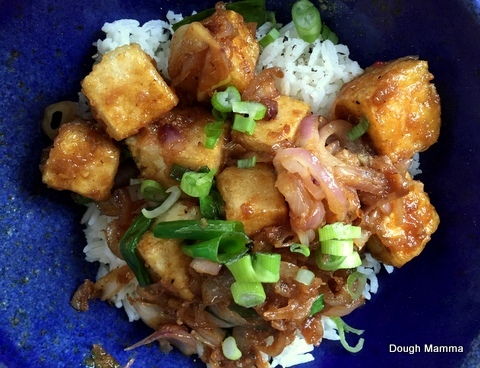 Title: Ginger and Garlic Tofu
Author: Adapted from Plenty
Prep time: 30 mins
Cook time: 30 mins
Total time: 1 hour
Serves: 4
Notes: There is a lot of garlic in the original recipe. If you love garlic, there is no need to adjust. However, if you are going to the gym the following day and don't want to offend your neighbors, by all means, cut the garlic down to about 3 Tbsp. I also added some shredded carrots when I made this dish again the other night which added a nice crunch as well as color. If you would like to add carrots, just add towards the end, cooking for only about 2 minutes. This recipe is originally titled "Black Pepper Tofu," but since I was serving this to children as well as adults, I limited the pepper to about 1 tsp.
Ingredients
2 lbs Extra Firm Organic Tofu
Vegetable oil for frying (Non-GMO preferred)
Cornstarch to dust tofu
8 Tbsp of butter (original recipe calls for 11 Tbsp)
12 oz of shallots thinly sliced
1-3 medium spiced red chilies (depending on spice level preferred)
4 Tbsp of crushed garlic (original recipe calls for almost ¼ cup of garlic)
⅛ cup of crushed ginger (original recipe calls for 3 Tbsp)
½ cup of soy sauce
2 Tbsp of sugar
1 tsp of crushed black pepper (original recipe calls for 5 Tbsp)
1 cup of chopped green onions, white and green parts
½ cup of shredded carrots - optional
Instructions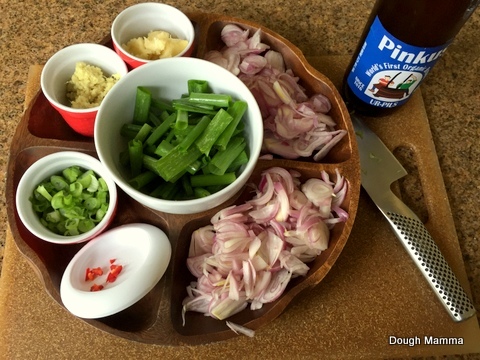 Cut the tofu into one inch cubes. Toss them in some cornstarch so they are lightly coated. Shake the remaining starch off. Set aside.
Heat oil in a large frying pan over medium-high heat. Oil should come ¼ inch up the sides.
Toss in a hand-full of tofu at a time and fry until a light golden brown and a thin crust forms. Remove from pan with a slotted spoon and place on a plate lined with paper towels to drain grease. Continue until all the tofu has been fried.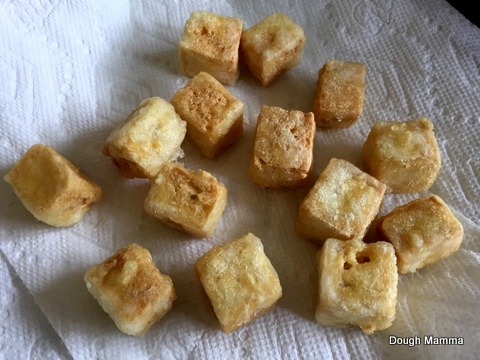 Remove the oil and any segments from the pan. Add butter to pan and heat over medium-heat. Add the chilies, shallots, garlic and ginger. Saute for about 15 minutes, stirring occasionally until the ingredients are soft.

Add the soy and sugar and stir, then add the crushed pepper.

Add the tofu and shredded carrots (if using) to warm up (about 2 minutes). Add green onions and allow to heat for another minute or so.

Serve over Jasmine rice.