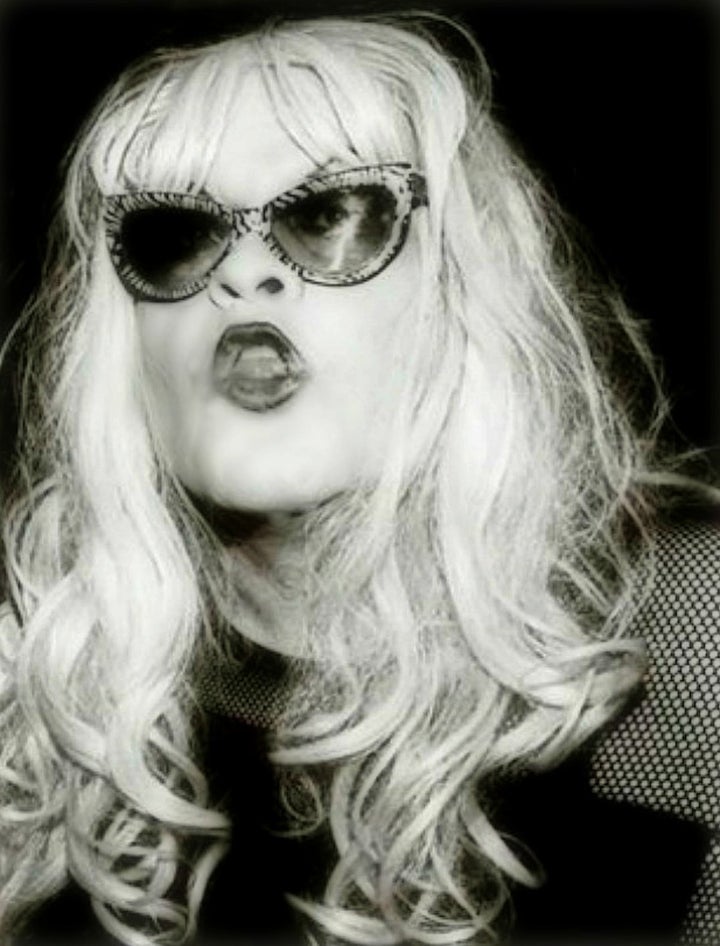 Punk rock is the music of the underdog carving out a path that defies cultural norms. The true punk is not a person to be afraid of nor is a true punk a misfit. The true punk rejects the idea of anyone being deemed a misfit. The true punk is a force to be reckoned with, intelligent, refusing to fit into 9 to 5 conformity while genuinely cutting out a unique path for him or herself. Hypocrisy is more often than not loudly called out. The true punk is often accomplished and the most interesting person in the room if you seek them out. It's about meeting challenges head on.
Ginger Coyote is a true punk. Her dedication to punk rock is unquestioned as well as is her dedication to the underdog. Ginger is a life-time fighter for equality for everybody with a firm belief in the value of rejecting of stereotypes. In 1977 while living in San Francisco Ginger started a xeroxed 'zine, pages hand-stapled together, called Punk Globe to give exposure to punk bands who were ignored by local taste-makers. She gave first exposure to Jello Biafra and The Dead Kennedys, Faith No More, and Joe Jackson among many others. She became friends with Joey Ramone and Debbie Harry early on in their musical careers. Jim Carroll, author of "The Basketball Diaries", wrote a poem called "Ginger Coyote". Ginger is much appreciated by the people who know her. Punk Globe is still going strong today as an on-line publication. In 2015, "The Best of Punk Globe" was published in book form to celebrate the longevity of the magazine. It's available on Amazon and in it you will find a collection of insightful compelling articles about talented people who are not household names and many who you have heard of such as Pauley Perrette, Boy George and Debbie Harry. There's also Village People's Randy Jones and Nick Hawk of the Showtime hit "Gigolo's". You can keep up by reading the current monthly issue on-line. When I asked Ginger about the work that goes into this considerable undertaking she shrugged and said "well you do what you have to do" in true punk fashion. As Ginger points out Punk Globe requires a team working together with a high level of precision and gives credit to the nucleolus of The Floydian Device (Marc Floyd) who does the fantastic covers each month, coding and layout by Matthew Coleman and Sharla Cartner along with the talented group of writers the Punk Globe would not get out each month.
Ginger's band, The White Trash Debutantes, was started in the late 1980's at the urging of Joey Ramone. In true punk style the band has appeared in films, recorded an impressive catalog, been on TV more than once, toured in the States and abroad and even asked Tonya Harding to join. The White Trash Debutantes was invited by Joey Ramone to take part in his "Circus of the Perverse" held at the Ritz in New York City in 1990 appearing with Joey, Debbie Harry, Lemmy, Ronnie Spector and Bebe Buell among others. Once again Ginger met a challenge and the result was a successful punk band that is still gigging today.
I recently met Ginger in a Mexican bar-restaurant, The Velvet Margarita, in Hollywood. We've known each other since 2011 but it was the first time we met. I was in Los Angeles for Grammy week-end. I'm a voting member of The Recording Academy. I opted to meet Ginger instead of attending the televised ceremony. While sitting in the black and red décor of The Velvet Margarita I thought about the clash of two worlds in my life. Talking with Ginger made me glad I chose as I did. After I returned home I remembered that The Recording Academy honored the musical achievements of The Ramones with a two-part exhibition at The Grammy Museum in LA that wraps up February 28, 2017. The Velvet Underground, ground zero for every punk band that ever plugged in a guitar, received a Grammy Lifetime Achievement Award this year. To every young true punk; take the challenge and don't back down. You have a lot of great examples out there and Ginger Coyote looms large among them.