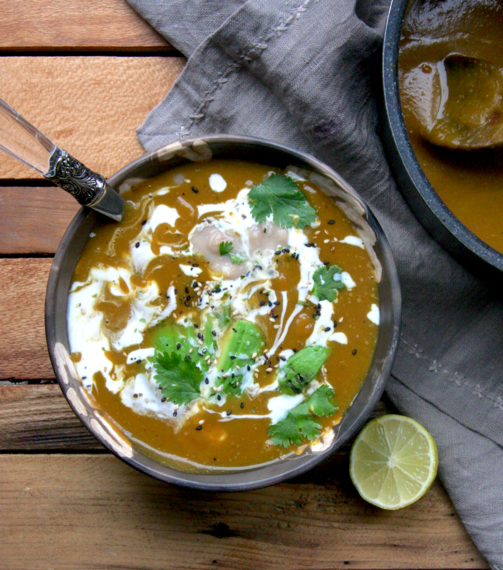 I do find, when it comes to soups, if you add the yummy filling extras like beans and avocado and nuts and all sorts, you're less likely to reach for that bread! And in January, we don't really want to be having stodgy bread, do we? This wonderful recipe for squash soup is packed with flavour, using cumin seeds as the base, and a lovely fiery kick from the ginger. The coconut milk lends it a luxurious creaminess and then you've got the avocado and beans to bite into. Lots going on for a beautiful hearty meal.
¼ butternut squash, around 400g
2 teaspoons coconut oil
½ teaspoon cumin seeds
1 onion, roughly chopped
3 cloves garlic, chopped or grated
2-3 inch piece ginger, grated
1 teaspoon Himalayan salt
4 cups hot water, around 1 litre
½ cube vegetable stock, optional
1 tablespoon honey, optional
5 tablespoons coconut milk, from tin
Garnishings
½ avocado
1 tablespoon butter beans, or can use any beans
few coriander leaves
a little furikake mix or sesame seeds
thick coconut milk, from tin
lemon or lime wedge
Start by roughly chopping the butternut squash into square or small pieces. Melt the coconut oil in a medium pan, add the cumin seeds and let them brown in the oil on a low heat before adding the onion pieces.
Once the onions are light brown, add the garlic and ginger, stir quickly and then all the butternut squash. Add the salt and stir together. Leave this to cook on a low to medium heat for around 10 minutes, stirring occasionally (some of the squash pieces might become charred which is perfect). Now add the water (preferably hot) and the vegetable stock if using.
Leave to boil on a low heat for another 10-15 minutes until all the squash is soft and cooked. Blend in a high speed blender in batches.
Pour into the pan again and taste for sweetness. Add honey if you like it sweeter. Add the coconut milk and boil when ready to serve. If you like ginger, I would suggest grating a little more ginger, squeezing the juice from it and stirring into the soup now, when boiling before serving.
To serve, pour into bowls, then garnish with a selection of toppings, adding a spoon of beans, avocado slices or pieces, few coriander leaves, some sesame seeds and a drizzle of coconut milk.