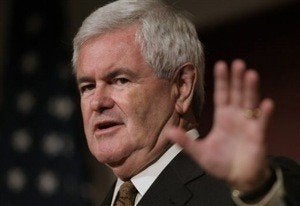 Physicians across the country were greeted these past few weeks with a mysterious fax purporting to be from former House Speaker Newt Gingrich.
There was some good news to share. Gingrich had settled on the 100 or so doctors who would receive his "2010 Champions of Medicine." An email informing his staff as to who had "made the cut" was pasted onto letterhead and sent to the award winners. The subsequent pages included an invitation from Gingrich's conservative group, American Solutions, to an election night event in Washington D.C., were recipients could take in returns and toast the beginning of the end of the president's health care law.
"I am having a party in Washington at the historic Ronald Reagan Building on Election Night, November 2 to honor you and a few of the others who have been selected to receive this prestigious honor," the letter from the "Desk of: Speaker Newt Gingrich" reads. "I decided to have this ceremony on Election Night for two reasons. First, I wanted you to meet a few of my close friends who will be in attendance. But most importantly, I wanted to surround myself with the best and brightest this country has to offer on the night that we set the wheels in motion to repeal Obamacare and replace it with real, meaningful reform."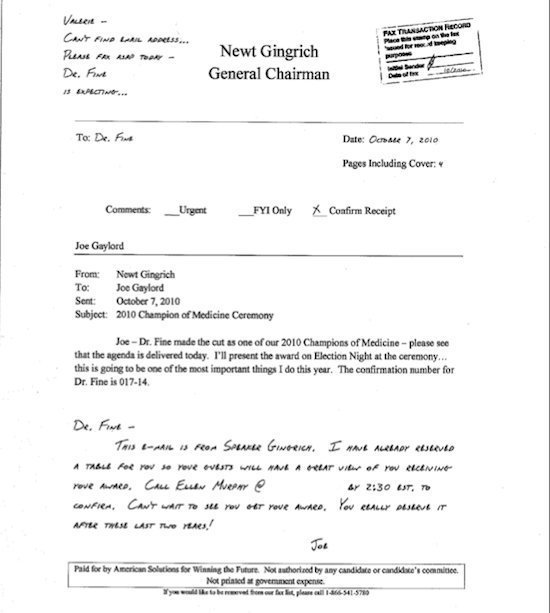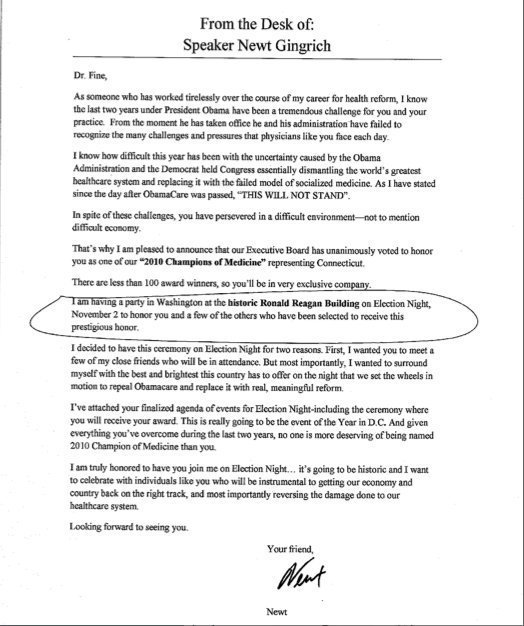 Attached is an image of a plaque, embroidered with the American Solutions title, sitting on a desk, with the words "This would look great in your office" scribbled above.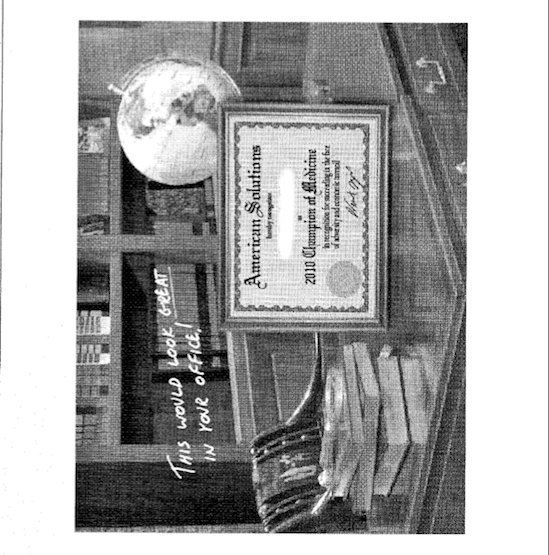 With the promise of proximity to power and the allure of mutually shared disgust for Obamacare, the invitation is framed as a celebration of the private health care over government intrusion. It's also a bit of a sham. There is no mention of the fact that attendance at the event costs $5,000. Nor, for that matter, is there an explanation as to what merits qualifies someone for the 2010 Champions of Medicine" honor; or that hundreds, if not thousands, have received the same fax.
That information is pushed on you once you call American Solutions for additional details, as instructed on the fax and as I did after my mother, a doctor, received her own copy. "She will be honored at the party during a recognition ceremony," a spokeswoman for the group explained to me. "It will be a historic night and a lot of fun. Newt will be broadcasting nationwide from the Ronald Reagan building with minute-to-minute updates on the election."
The spokesperson went on. If I wanted to bring seven other people with me, I was told, I could reserve a table for a bargain-basement price of $15,000. As for accommodations, Gingrich had "reserved a block of rooms at the Willard Hotel," which I'd have to jump on fast.
"If she attends, it will be great for her practice and allow her to spend some quality time with Newt," I was told. And if I attended along with my mom, "You should wear a dark-colored shirt so you will look good on camera."
An official agenda and itinerary was attached to the fax, noting that Gingich would be taking photos from 6:00 p.m. to 7:00 p.m. The Business Roundtable, an association of chief executive officers at large U.S. companies, is hosting an event beforehand at the Willard. Afterwards there would be "exclusive networking opportunities with America's top business owners & physicians." Whether or not elected officials would be there wasn't clear. "There may be but I don't have that information," said the spokesperson. "His closest friends and advisers will be there. Some of them may be candidates, some of them may be in the House or the Senate."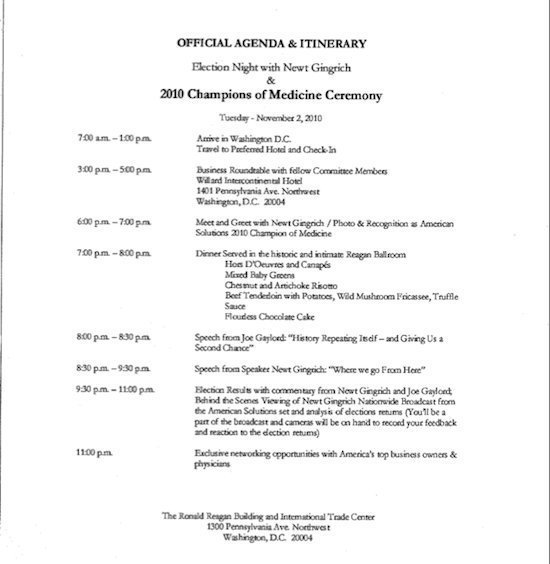 Despite carrying the tinge of a tired used car-salesman's pitch, solicitations like these are not uncommon in the shadowy world of fundraising and politics, though usually they are done with a bit less pretense.
Gingrich, it should be noted, is seemingly a fan of the blast-fax, fake award fundraising method. He's used it in the past. In September 2009, Gingrich's group sent alerts out to an unknown group of businessmen and women alerting them that they had been named "2009 Entrepreneur of the Year." Embarrassingly, a Dallas topless club owner was among the recipients, forcing American Solutions to retract the invitation.


Popular in the Community