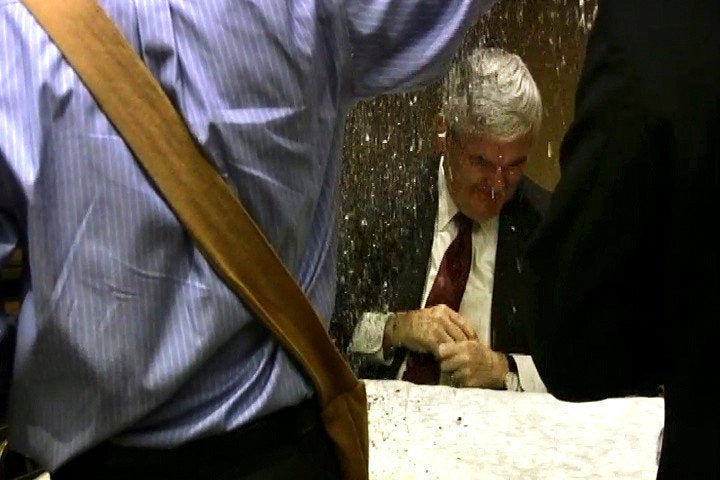 WASHINGTON -- It hasn't been the best week for presidential candidate Newt Gingrich. But political activist Nick Espinosa, the man behind the prank that will leave Gingrich finding glitter in his hair for days, is having a great time.
"Of all the pranks I've done so far, this has been the most fabulous," he told The Huffington Post. "Getting a Republican candidate for president is a pretty good prank."
Video of the encounter quickly went viral and became another embarrassment for Gingrich, who is trying to convince fellow Republicans that he is a viable, disciplined candidate for the 2012 presidential campaign.
Espinosa told The Huffington Post he decided to approach Gingrich because of his "anti-gay positions." Gingrich was in Minneapolis to speak to the Minnesota Family Council, a group that opposes equality for LGBT individuals.
"Anyone telling people who they can and cannot love is offensive, especially coming from a serial adulterer like Newt," said Espinosa. "I didn't want to stand by while he continued to treat the GLBT community like second-class citizens."
The Gingrich glitter prank wasn't Espinosa's first brush with the national spotlight. In 2009, going by the name "Robert Erickson," he took over the microphone at an anti-immigration rally and launched into a satirical tirade about European immigration.
Last year, Espinosa pranked Minnesota's GOP candidate for governor, Tom Emmer, who had advocated reducing the minimum wage of service workers in his state. At a public event, Espinosa dumped a bag of 2,000 pennies inches from Emmer's face and said, "I have a tip for you too, Emmer!"
Espinosa came up with the idea for his latest prank Tuesday morning, after checking his Twitter feed and seeing an announcement for the Minnesota Family Council event. His little sister accompanied him to the hotel and filmed the encounter.
"I think glitter's a lot of fun," added Espinosa. "I think it definitely makes an impact. The way that his campaign is going on this week, he was in need of a makeover. ... I only used two of the three bags of glitter I bought, so I was thinking that for his next wedding, I could give him the third bag as a wedding gift."
When asked what he's planning for his next prank, Espinosa hinted that he may have plans for 2012, especially with two of his homestate politicians, former Minnesota governor Tim Pawlenty and Rep. Michele Bachmann (R-Minn.), thinking about jumping in the presidential race.
"I will definitely be keeping an eye out for opportunities," said Espinosa. "We'll see what happens. I know there are a few people from Minnesota who are thinking of running for president who have also have really extreme views, whether they're anti-gay, anti-immigrant, anti-union -- across the board. The right wing is getting pretty out there. So I think that they're ripe to have some response from people they're attacking."
Popular in the Community