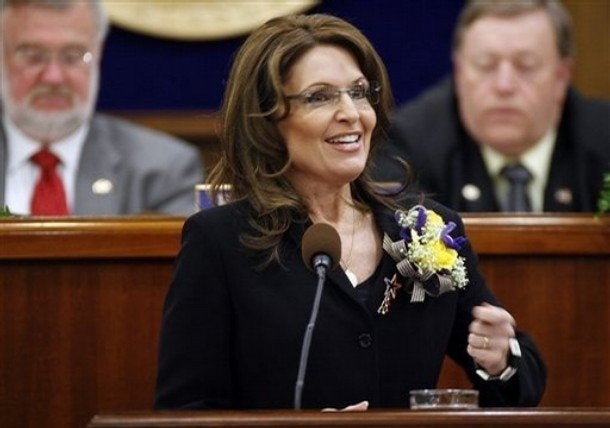 WASHINGTON -- Alaska Gov. Sarah Palin is out, and former House Speaker Newt Gingrich is in as keynote speaker at a Republican dinner this spring.
Palin, the party's 2008 nominee for vice president, had been slated to address the annual Senate-House Dinner in Washington on June 8. The dinner, sponsored by the House and Senate Republican campaign committees, is one of the GOP's biggest fundraisers.
Palin will be replaced by Gingrich. Both are popular figures with the party's base.
A spokesman for the Senate GOP committee, Brian Walsh, said Palin's team informed the campaign committees that her responsibilities in Alaska prevented her from committing to the speech until the end of the legislative session.
"We completely understand and respect Governor Palin's focus on her official state business; however, there is obviously an enormous amount of planning that goes into this annual event. For that reason, we invited and are honored to have former Speaker Newt Gingrich join us as our speaker," Walsh said in an e-mail.
A spokeswoman for Palin denied that she had ever confirmed her role as a speaker, even though the NRSC and the NRCC issued a joint press release two weeks ago trumpeting her appearance.
"Enthusiasm during a scheduling meeting among SarahPAC members to discuss events that we thought the governor should consider attending was misinterpreted as a confirmation of attendance," Palin spokeswoman Meghan Stapleton said in an e-mail.
A GOP official trashed Palin to Fox News and insisted that her camp wasn't telling the truth. "She was a disaster," the source said. "We had confirmation."
Palin catapulted to fame last year as Republican presidential candidate John McCain's running mate and is widely believed to be eyeing a presidential bid in 2012. The leadership committee is intended to help serve as a vehicle for Palin's political activities.
Asked about possible miscommunications between the leadership committee and the governor's office, Stapleton said: "We are always working hard to make sure the bright line exists between official and unofficial business as we respond to thousands of requests for Governor Palin's time."
Popular in the Community