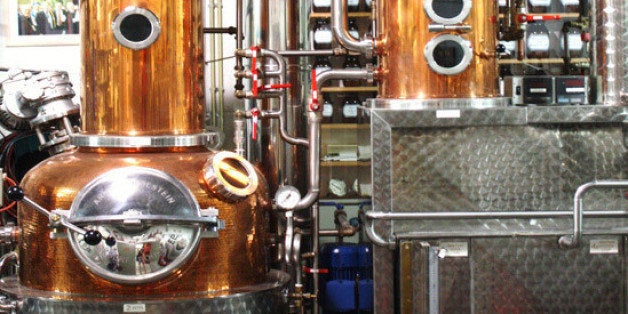 Gin is an indispensable ingredient in the classic cocktail arsenal, yet even a brief perusal at pre-Prohibition cocktail books like Jerry Thomas' How to Mix Drinks or The Savoy Cocktail Book tells another story. Sure, gin cropped up in a fair number of drinks, but genever--often called the great granddaddy of gin--was the favored spirit. Fast forward to the 21st century, and we are rediscovering why.
Rooted in a 15th-century medicinal tonic from the Low Countries (basically today's Holland and Belgium), genever evolved into a heady spirit made with a "malt wine" base. "Wine" is a misnomer, however. This base is produced from malted grain (barley, rye and others), which is fermented into beer, then distilled into "malt wine" at 50 to 55% ABV. Aging often follows. Another distillation adds juniper and often other botanicals, and then grain neutral spirit. Depending on the style, aging often follows.
Many progressive bartenders today see genever as a bridge between the aromatics of gin and the headiness of whiskey. The Big G's singular character makes it a cocktail chameleon: It can add its unique profile to everything from an Old Fashioned to a Lemon Drop to a tiki drink. While you won't see genever in every bar, it is making noticeable inroads amongst those who focus on craft cocktails and the reinvigoration of lesser known spirits.
Up until a few years ago, there were only a few genevers available in the United States, including Bols and Boomsma (both of Dutch origin) along with Genevieve, the genever-style gin from San Francisco's Anchor Distilling. Now, with the explosion of craft spirits, a diverse collection of genevers is sneaking into cocktails across America.
Diep 9's name refers to both the "deep" history attached to the spirit, as well as the nine botanicals used in the blend. Imported by Belgian-born Veronique Beittel, Diep 9 is the first modern Belgian genever available in America. Beittel sought out Belgium's smallest grain distillery, Stokerij De Moor, to produce the genever, which is bottled in the traditional clay jugs historically used for genever production. Distilled from rye, wheat and malted barley, Diep 9 is available in both the oude (meaning old-style and whiskey-like) and jonge (meaning young, more like a rich vodka) styles.
Though genever is a spirit born of the Belgian and Dutch Lowlands, several American distillers have been drawn to the drink's unconventional marriage of botanicals and whiskey-like distillation.
Merrylegs genever-style gin from Oregon Spirits Distillers is very much a product of place. It is made with 100% organic barley and local juniper both grown in Oregon, where some of the world's largest juniper forests are located. The use of a single grain here creates a distinctive spirit that tastes almost like lavender honey on biscuits. Says distiller Brad Irwin, "We love distilling grain. Barley has a flavor profile that is amazing."
In Chicago, the Publican Restaurant, known for its European beer-hall ambiance, felt that its cocktail arsenal wasn't complete without a genever made expressly for them. After three years of collaboration with Few Spirits' Paul Hletko, the restaurant's Few Publican genever-style gin has arrived. Bartender Matt Poli recalls, "We knew gin was back in style, so instead of focusing on something there was a plethora of already, we made something we see very little of on back bars: genever." To achieve a spirit that could be either sipped or mixed, the bar team blended Pilsner Malt and Two-Row Malt, which resulted in a fatty caramel-chocolate foundation. To that, they added an abundant amount of juniper, as well as lemon and orange peel, angelica root, green coriander and rose hips. The three different bottlings include an un-aged, a jonge (aged 6 months) and an oude (aged 10 months).
Down south in Tennessee and Kentucky is whiskey country, which may as well be genever's second home. After all, both whiskey and genever are created from malted grain. Made at its Kentucky distillery, Corsair genever was born in 2010 and was only a limited production spirit. In 2012, thanks to the burgeoning modern cocktail movement, the distillery went into full-scale production, and Corsair genever is now available in close to thirty states. An all-malt mash bill consists of mostly malted barley with botanicals added in the second distillation. The result is a funky product with whiskey-like undertones. Why genever? Distiller Clay Smith explains it like this: "We're always coming up with new takes on traditional styles of spirits; that's kind of our bread and butter."
Tradition is, on many levels, the watch word here: Regardless of the producer, all of these distillers are striving to respect the past. Still, just pulling a Lazarus on a dead spirit isn't enough to make genever work for modern-day drinkers. Cocktail insiders are plenty excited about the drink's malty rebirth. The trick will be convincing everyday drinkers to have that same sort of affection.
Lesley Jacobs Solmonson is co-author with David Solmonson of The 12 Bottle Bar (Workman Publishing, 2014), based on their Saveur-nominated 12BottleBar.com, a site dedicated to making classic cocktails accessible to the home bartender. Her book Gin: A Global History was published in 2012 and she is currently writing Liqueur: A Global History. She is the spirits/wine writer for the LA Weekly and on the editorial staff of Chilled magazine, as well as a member of the advisory board for the Museum of the American Cocktail.
Popular in the Community