The late Supreme Court Justice Antonin Scalia was once asked how in the world he and Justice Ruth Bader Ginsburg, with such clashing ideologies, could remain such good buddies.
As Ginsburg recalled Thursday, Scalia responded, "I attack ideas. I don't attack people. Some very good people have some very bad ideas. And if you can't separate the two, you gotta get another day job. You don't want to be a judge. At least not a judge on a multimember panel."
The memory was one of many Ginsburg reflected on while speaking at the annual Second Circuit Judicial Conference in New York. She described her dear friend as a "man of many talents, a jurist of captivating brilliance, high spirits, and quick wit, possessed of a rare talent for making even the most somber judge smile."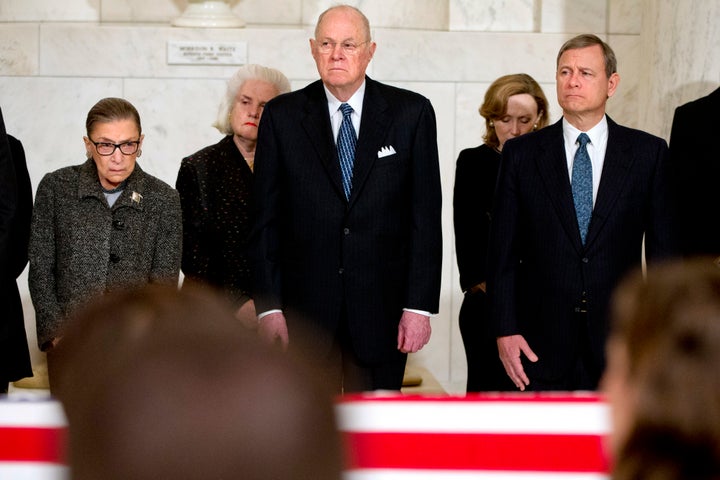 On a June morning in 1996, Ginsburg was preparing to leave the court to attend the Second Circuit Judicial Conference at Lake George when Scalia entered, holding an opinion draft. Ginsburg said Scalia tossed the pages onto her desk and said, "Ruth, this is the penultimate draft of my dissent in the Virginia Military Institute case. It's not yet in shape to circulate to the court, but I want to give you as much time as I can to answer it."
Ginsburg said she read the dissent -- a "zinger" that took her to task on things both large and small -- while on the plane to Albany. "Among the disdainful footnotes: 'The Court refers to the University of Virginia at Charlottesville. There is no University of Virginia at Charlottesville, there is only the University of Virginia,'" she told the conference. 
Ginsburg said she spent the weekend crafting appropriate responses and ended up with an improved final draft "thanks to Justice Scalia's searing criticism."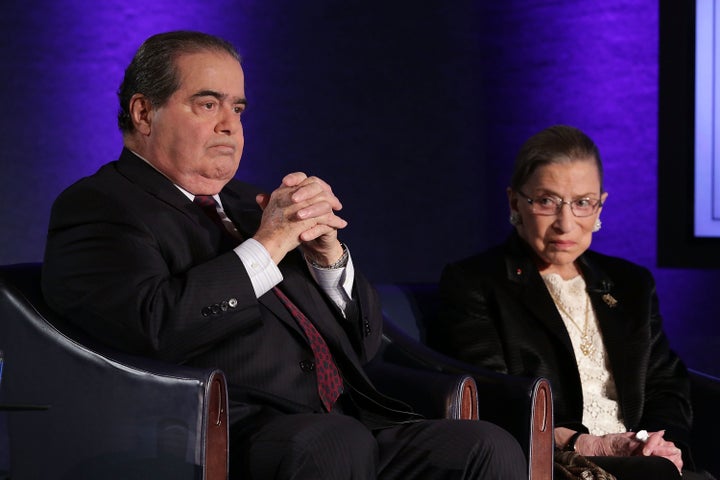 Another "indelible memory," Ginsburg said, was Dec. 12, 2000, the day of the Supreme Court's landmark 5-4 decision in the Bush v. Gore case that effectively solidified the outcome of that year's presidential election. As was typical, Ginsburg and Scalia found themselves on the opposite sides of the vote.  
"The court did the right thing, he had no doubt," Ginsburg said. "I strongly disagreed and explained why in a dissenting opinion. Around 9 p.m., the telephone, my direct line, rang. It was Justice Scalia. He didn't say, 'Get over it.' Instead, he asked, 'Ruth, why are you still at the court? Go home and take a hot bath.' Good advice I promptly followed."
Though Ginsburg clearly has many fond memories of her late friend, she said one of her favorites was his response to a question in 1993, when President Bill Clinton was trying to decide who to nominate to the Supreme Court after Justice Byron White retired.
As Ginsburg tells it, "Scalia was asked: 'If you were stranded on a desert island with your new court colleague, who would you prefer, Larry Tribe or Mario Cuomo?' Scalia answered quickly and distinctly: 'Ruth Bader Ginsburg.' Within days, the president chose me."
"I miss the challenges and the laughter he provoked, his pungent, eminently quotable opinions, so clearly stated that his words rarely slipped from the reader's grasp, the roses he brought me on my birthday, the chance to appear with him once more as supernumeraries at the opera," Ginsburg said. "The court is a paler place without him."
REAL LIFE. REAL NEWS. REAL VOICES.
Help us tell more of the stories that matter from voices that too often remain unheard.
BEFORE YOU GO
PHOTO GALLERY
Reactions To Scalia's Death