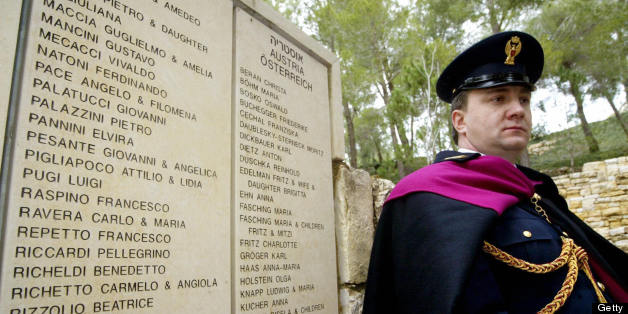 In a controversy that has embroiled many of the leading Holocaust remembrance organizations, a man once hailed as the "Italian Schindler" may have actually been a Nazi collaborator who did little to save the lives of imperiled Jews.
For decades, Giovanni Palatucci has been heralded as a hero who died fighting against Benito Mussolini's fascist regime in Italy, and who used his status as a police chief to save thousands of Jews in his hometown.
But according to research conducted by historians at the Centro Primo Levi at the Center for Jewish History, very little of this legacy is based in reality. According to the researchers, Palatucci was a relatively low-level officer who worked with the Nazis to help identify Jews who would eventually be shipped to death camps.
This alternative version of Palatucci's life made international headlines earlier this month after the Centro Primo Levi sent a letter to the United States Holocaust Memorial Museum in Washington, apprising them of the fact that an exhibit contained inaccuracies about Palatucci, reports The New York Times.
This letter summarized the Centro's research -- gathered with the help of more than a dozen scholars reviewing hundreds of documents -- and prompted the museum to remove Palatucci from the exhibit, according to The Times.
In an email to The Huffington Post, Centro Primo Levi Executive Director Natalia Indrimi said that while it's possible Palatucci was "a kind person" who may have helped a few people, records show he "was an executor of the racial legislation ... and pretended not to know that the information he provided was used to take Jews to their death. He was one like many others."
Indrimi noted that the information about Palatucci's life and death was always available -- people just didn't take the time to look at it.
The mythology surrounding Palatucci's good deeds may have been a product of several poorly sourced biographies, as well as the testimony of Bishop Giuseppe Maria Palatucci, Giovanni Palatucci's uncle, and his father, Felice Palatucci, according to Corriere della Sera Online.
The policeman's reputation may also have been embellished as a way to portray Italians in a positive, anti-Nazi light, reports Corriere della Sera Online.
Over the years Palatucci has been posthumously honored by New York City, declared a martyr by Pope John Paul II, given an award in his name by the Anti-Defamation League and listed on Israel's Righteous Among the Nations list of Holocaust heroes. But in the wake of the newly reported information, several organizations have said they will be conducting their own investigations.
The Anti-Defamation League released a statement saying it would no longer honor the Italian and will drop his name from an award given out to law enforcement.
"We thank the historians for their efforts to bring the truth to light, and as a result of their research we have decided to disassociate our law enforcement award from his name," wrote Abraham H. Foxman, the Anti-Defamation League's National Director and a Holocaust survivor.
Yad Vashem, Israel's Holocaust memorial, which had added Palatucci to its "Righteous Among the Nations" list, will examine the research, according to the Times.
Vatican spokesman Rev. Federico Lombardi told the paper that the Catholic Church was also looking into the matter.
"Finally celebratory myth and historical research have been placed one next to the other and institutions that represent the civil society must reconcile the discrepancies," Indrimi told HuffPost. "Our center will continue supporting research on fascism and giving visibility to Italian historians working on the dictatorship and the persecutions."
Calling all HuffPost superfans!
Sign up for membership to become a founding member and help shape HuffPost's next chapter
BEFORE YOU GO
PHOTO GALLERY
Holocaust Remembrance Day 2013