Denmark's Copenhagen Zoo posted a video of the new giraffe's birth to YouTube on Friday, showing the young animal exiting the mother's body and quickly gaining footing as onlookers cheered.
That giraffe, named Marius, was not inbred. However, zoo officials said his genes were too common in the zoo population and thus he would be of no use for breeding.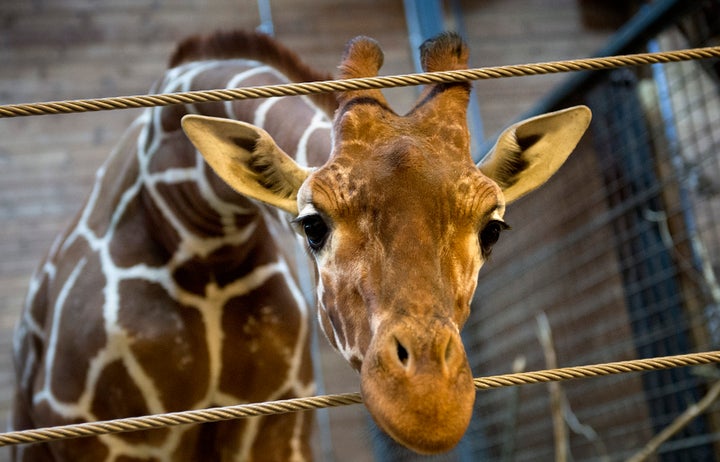 Zoo workers later publicly dissected Marius' body for an educational demonstration. They fed meat from the body to the zoo's lions, which was the reason they shot him instead of using lethal injection, according to the Guardian.
The decision sparked outrage from rights groups and animal lovers around the world, who felt killing Marius was cruel and unnecessary ― especially since some other zoos, including Yorkshire Wildlife Park in the UK, offered to take him.
Zoo spokesman Jacob Hoeck told The Huffington Post in an email that it is "still too soon to say" whether the newborn giraffe could end up with the same fate.
"It will stay with the rest of the giraffes for the next couple of years though," Hoeck said. "But when the giraffe is about 2 years old it will be moved to another European zoo."
Killing an animal was not a one-off event for the zoo.
Workers killed four lions — a breeding pair and their young offspring — weeks after Marius' death in order to make way for a new male lion coming to the zoo to form a breeding group, CNN reported at the time. In 2012, the facility used lethal injection to kill two leopard cubs for the same reason they killed Marius — their genes were "overrepresented" in the zoo's population and they would have been of no use for breeding.
And those are just the animals that got media attention. The zoo's conservation director, Bengt Holst, told the BBC that the zoo culls 20 to 30 animals every year for the purposes of managing populations.
Some zoos, especially in the United States, administer contraception to animals to avoid having "extra" offspring, according to The New York Times. And Times reporter Leslie Kaufman noted in 2012 that "it might seem suspiciously convenient" when a zoo kills an animal "just after it has completed its most adorable phase." After all, zoogoers love seeing baby animals.
But Holst told the Times that the reason Copenhagen Zoo avoids contraception is because allowing animals to breed is more "natural." Euthanizing some of the offpsiring also mimics nature because in the wild, many young animals die of predation, injury or other natural causes, he added.
"We'd rather they have as natural behavior as possible," he said. "We have already taken away their predatory and antipredatory behaviors. If we take away their parenting behavior, they have not much left."
Copenhagen Zoo's animals are part of an international breeding programme which aims at ensuring a healthy animal population in European zoos. This is done by constantly ensuring that only unrelated animals breed so that inbreeding is avoided. If an animal's genes are well represented in a population further breeding with that particular animal is unwanted. When an animal's genes are well represented in the breeding programme and there is no place for the animal in another zoo, the European Breeding Programme has agreed that the animal is to be euthanized. This is a situation that we know from other group animals that breed well. When breeding success increases it is sometimes necessary to euthanize.
Copenhagen Zoo is not the only European wildlife center that deals with "surplus" animals. Dr. Leslie Dickie, executive director of the European Association of Zoos and Aquaria, told the BBC shortly after Marius' death that between 3,000 and 5,000 animals are "management-euthanized" in European zoos each year. That number includes smaller animals, like tadpoles, she said, noting that when it comes to larger animals like lions and bears, she estimates the number drops to "less than a few hundred" annually.
This article has been updated with comments from zoo spokesman Jacob Hoeck.
Before You Go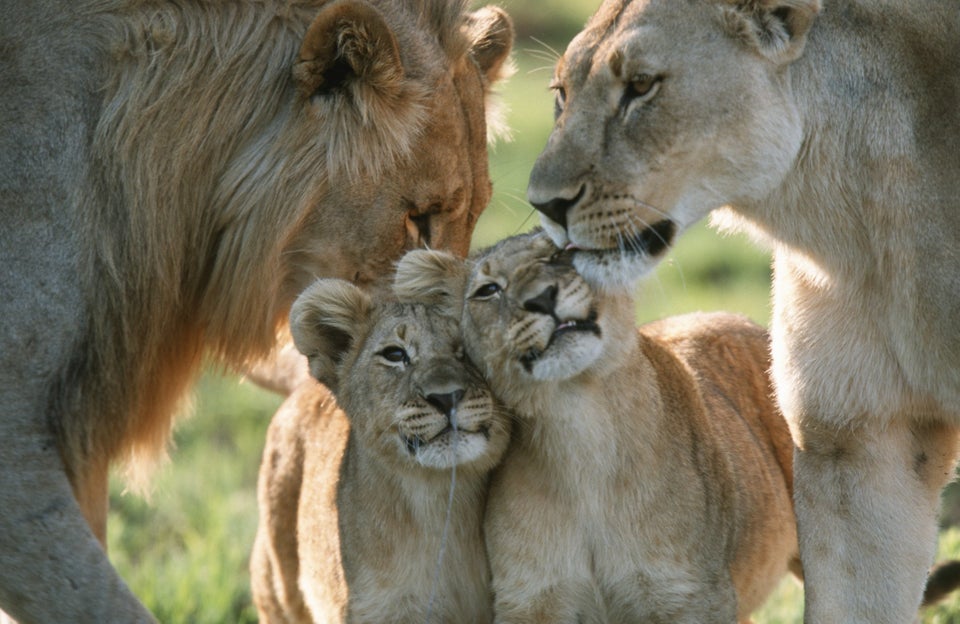 Regal Lions
Popular in the Community