More than 40,000 giraffe parts have been imported into the United States in recent years to make luxury pillows, cowboy boots and other items even as populations of the gentle giant have plummeted throughout Africa, according to a report released Thursday.
The Humane Society of the United States discovered a thriving market for giraffe trophies around the country as part of an undercover investigation into a currently unregulated market. The organization found retailers hawking a custom-made giraffe jacket for $5,500, hide pillows for $200, a duffle bag made from the animal's skin for $400 and leather Bible covers for $400. The most common items were Western boots and bone-handled knives.
"Giraffes are strikingly beautiful animals, with distinct patterns and long legs and necks," the Humane Society wrote in a release. "Unfortunately, that beauty has also made them a 'new exotic' and sparked a market in giraffe leather, bone and trophies, especially as other wildlife products, like elephant ivory, have been regulated."
Investigators said several makers of giraffe products told them the animal parts come from trophy hunters. The main threats to the creatures are habitat loss and poaching for meat.
Populations have fallen by as much as 40 percent since the 1980s in what's been dubbed a "silent extinction," according to a 2016 report by the International Union for Conservation of Nature (IUCN). There are now fewer than 100,000 giraffes left in the wild, and some subspecies have seen population numbers sink by 50 percent or more.
"We can't afford any additional pressure amidst what experts have dubbed the silent extinction," Adam Peyman, a manager of wildlife programs at Humane Society International, told The New York Times. "These are products that most people wouldn't be interested in, but I think it's important to raise awareness among the public to the fact that these things are sold across the country."
The animals are not listed under the Endangered Species Act but are classified as vulnerable by IUCN. The group notes that giraffes have been historically "overlooked in terms of research and conservation, but in the past five years, considerable progress has been made in compiling and producing a species-wide assessment of population size and distribution."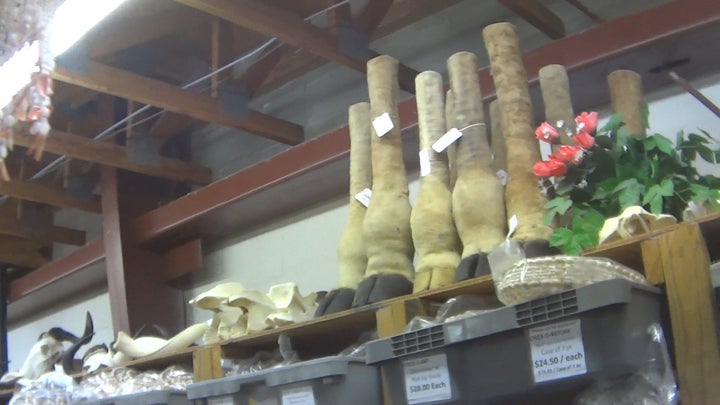 The agency has not yet responded to the petition.
"Americans expect their government to be a leader in conservation, and it is high time that the USFWS acts on the petition to prevent a further decline in the world's giraffe population," The Humane Society said. "With more public awareness, we can make this deplorable trade in giraffe parts and products extinct, and save this gentle giant from extinction."
Popular in the Community