October 11 is the International Day of the Girl Child, a United Nations day of observance to call attention not only to girls' rights, but also to the struggles they face around the world. This year's theme is: The Power of the Adolescent Girl: Vision for 2030.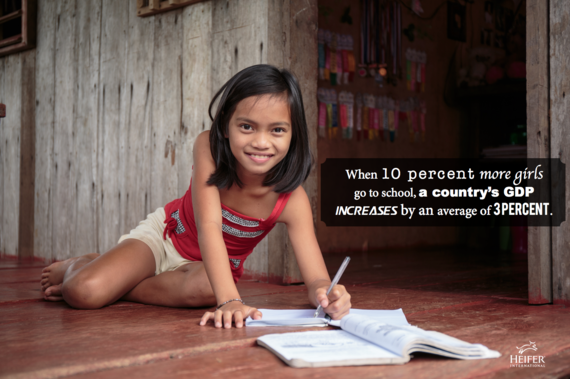 Apple Kate Senarillos,10, of the Philippines, writes in her notebook while doing homework. Photo by Olivier Asselin, courtesy of Heifer International. Source
This is an important day for me. I was a girl child; I am raising a girl child; I have witnessed the challenges and successes experienced by girl children in communities where Heifer International works. And I recognize how fortunate I am to have been born in a place and environment where I was able to harness opportunity and flourish. I didn't worry about daily hunger, access to education or feeling safe. And as an adolescent, I was able to express my thoughts and opinions and exercise my rights and ability to participate fully in my family and community. This is not a universal reality. Far from it.
Adolescent girls have innate power. But 37,000 child marriages happen every day, and 50 percent of all first births in developing countries are to adolescent girls. This means that rights, access to education and that very power is stripped from them, or under-cultivated, and the result is a weaker society for us all. Hunger and poverty are two serious culprits, as is a lack of formal education.
Did you know that 62 million girls--half of whom are adolescents--worldwide aren't getting the education they deserve?
It is sadly common that, when a family's resources are limited, the girls are the ones left behind. Heifer Bolivia participant, Mathilde Condori said, "My father only let me go to school up until the second grade. I don't want my children to be like me. I'm very happy for them to study."
At Heifer International, we strive to change these circumstances for girls globally. Building strong families and individuals requires an international effort to enable change at the community level. The catalyst of our work begins with understanding the needs of the community, placing living assets and then building social capital and gender equity. As families increase their incomes, they can better afford to send their children to school. As communities deepen their understanding about the critical value and importance of women and girls, families overcome historical bias and educate their daughters.
Sharmila Adakari lives in Nepal and wants to be a doctor when she grows up. Her parents are Heifer project participants, and they pay for Sharmila's school fees with the money they earn from their farm. I cannot tell you how thrilled I am to know our donors have helped make Sharmila's dream an achievable possibility. She now has hope, possibility and future of endless opportunity.
REAL LIFE. REAL NEWS. REAL VOICES.
Help us tell more of the stories that matter from voices that too often remain unheard.