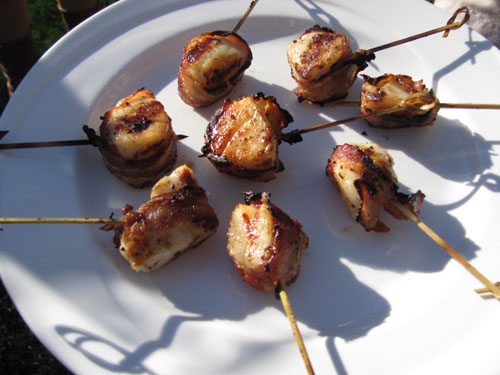 Oak, apple or alder wood? Gas, Weber or... Tuscan Grill? Baste or dry rub? Grill, barbecue or smoke?
I have a secret, one I've never shared until now.
I can't grill. Or barbecue. And I certainly cannot smoke.
I'm a food writer, cookbook author and kids' cooking instructor, but for years, I have lived in fear of being found out for what I am: a fraud, a phony... a hack. Oh, sure, I can whip up Julia's Boeuf Bourguignon or a Martha-perfect meringue at the drop of a hat, but that means nothing when you take me out of the kitchen. I shudder at the sight of an outdoor grill.
This dirty little secret causes me shame for two reasons. The first is obvious: I should presumably know about the oldest form of cooking in order to teach cooking, right? The second is that I am from Oklahoma, home of some of the best barbecue in the country, arguably better than the barbecue found in Kansas or Texas. I said "arguably," people.
But my lack of grill power may be all about my girl power. It seems that all my life, the menfolk have taken over the "Q duties." As a child, it was my dad who grilled our Oscar Meyers on the beat-up Weber in our Iowa backyard, while I helped my mom in the kitchen. Decades later it was my husband who disappeared into the backyard to grill New York steak, chicken burgers and prawns, ultimately emerging sweaty and red-face, though triumphant. Even if my kitchen duties hadn't kept me away from the grill, the idea of getting all sticky and hot in front of dinner guests was no encouragement. That grill was hot, he always reminded me.
So I remained clueless as to the ways of outdoor cooking. Until now.
Last weekend I attended a Barbecue Boot Camp at Alisal Guest Ranch in Santa Ynez, California where just under 50 barbecue aficionados and barbecue-challenged gathered to learn all about the art of grilling from two accomplished master chefs with two entirely different perspectives. Pascal Godé, Executive Chef of Alisal, a warm, sophisticated teddy bear of a man who hails from the South of France, but learned the art of barbecue in Texas, never marinates or bastes. Rather, once the steak or fish comes off the grill, he brushes it with a flavored oil or butter, such as a velvety gorgonzola butter, the perfect accompaniment to a hunk of aged Tri-tip. Alternatively, Frank Ostini, the friendly, down-to-earth chef/owner of the now legendary Hitching Post II Restaurant (made famous in Sideways), is a proponent of Santa Maria-style barbecue, in which meat is grilled over a red oak fire while constantly basted with a red wine vinegar and oil mixture. The one thing they did agree on: no gas grills!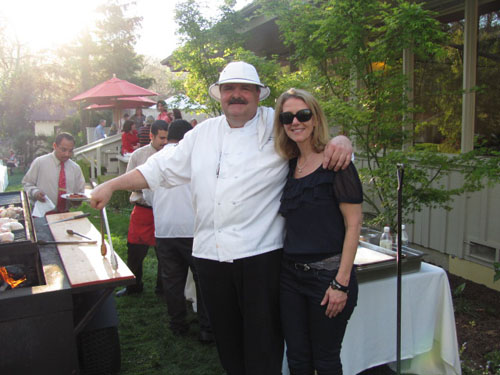 Over the weekend, we learned the art of wood fire grilling, its roots tied to the Santa Ynez band of Chumash Native Americans, using an adjustable ironwork grill brought by the Spanish to California in the 1800s. We learned how to flavor the smoke (and our meat), how to light a fire without lighter fluid, how to create the perfect wood coals, what temperature to grill at -- and so much more. We indulged in a "make your own seasoning" class in which supposedly mature adults became children again, eagerly creating "secret potions" to be used later that evening at the barbecue. I liked to think that my exotic "Reve de Maroc" blend, delicious on my grilled salmon later that evening, was coveted by all; that is, until I tasted my friend Lynne's New York steak with her smoky blend of Ancho Chiles, garlic and who knows what.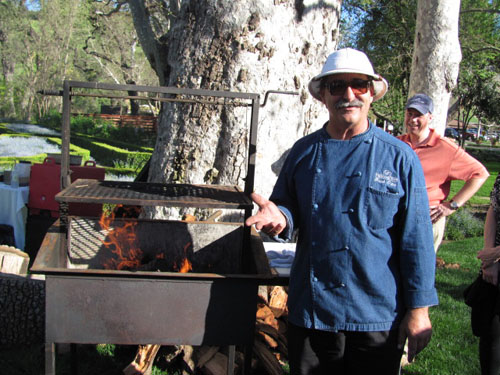 We watched the two chefs fire up the grills, and were the happy recipients of their "dueling grill" cook-off, which included home cured bacon-wrapped scallops, grilled prawns, spicy sausages, and grilled artichokes, accompanied by warm lentil salad with pancetta and duck leg confit, stuffed pasilla chiles and Santa Maria baked beans -- all washed down with rosés, chardonnays, pinots and syrahs of local vineyards such as D'Alfonso-Curran Wines and Hartley Ostini Hitching Post Wines.
When we weren't eating, we were left to explore the ranch's gorgeous lake, or partake in one of the many activities, including fishing, boating, tennis or bicycling. On the last morning, we met early for a "breakfast ride," an hour-long horseback ride over the lush green hills to the Old Adobe, where we were taught how to make buttermilk biscuits over the campfire in a Dutch oven.
Though I easily gained five pounds in just three days, I can now safely say that I am no longer barbecue illiterate. I know when the coals are ready for the meat by simply holding my hand over them, I know at what temperature to grill each cut of meat, and I finally know how to actually build the fire (without lighter fluid or store-bought briquets, thank you very much). What's more is that I'm armed with Ostini's phrase, should anyone dare to comment on my own red face the next time I host a barbecue. "If you can't stand the heat, go back to the kitchen."
Related