Edited By: Senior Editor Uri Carraway, TheVisionaryWoman.com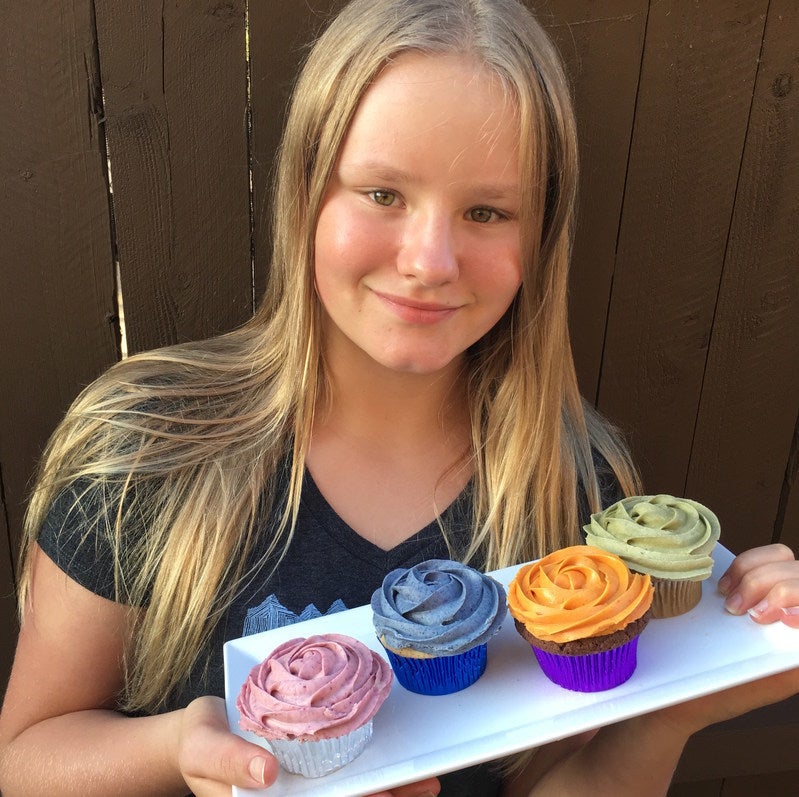 Kids love birthday parties, but 13-year-old Nina Warda found herself in a quandary recently when she was at a friend's birthday celebration and beautiful, colorful cupcakes were served. Rather than craving a sweet and flavorful cupcake, however, all she could think about was the artificial dyes, pesticides and GMO's the kids would be ingesting. She politely declined, and for a good reason: Nina had been educating herself about living a healthy lifestyle for many years, and she had no intention of taking toxic substances into her body.
But this got her thinking about the subject more deeply. Kids (and adults, too) are always going to want to have fun foods to celebrate with on special occasions, and (in moderation) for snacks too. Expecting people to cut these kinds of things out of their lives completely is probably unrealistic, she reasoned. Was there any happy alternative? Nina soon found an answer. Trained as a Nutrition Coach, Plant-based and Raw Food Chef, the determined youngster went into the kitchen and started experimenting. Her goal was to make healthier cupcakes that would be great tasting and decorated in bright, lively colors. Using only organic ingredients and natural superfoods, she created organic cupcakes that are much healthier than what you would find on a store shelf or in most bakeries. And now Nina wants to share her message with the world.
Nina's Organic Cupcakes, a franchise she is in the process of launching, is about far more than just cupcakes. It's also about promoting awareness of the many dangers inherent in the foods that we eat these days, and letting people know that there are better, healthier alternatives. As the aspiring entrepreneur and advocate points out, most of the American public has no idea just how harmful so many of the ingredients that we ingest every day can be. A phalanx of truly nasty substances, including the widespread usage of GMOs (genetically modified organisms) and dangerous artificial colorings (so popular on birthday cakes and other foods geared towards kids), are seriously threatening our health. Poor food choices and bad nutritional habits have led to a society where millions of people are badly out of shape, and unnecessarily suffering from often preventable health conditions. Many formerly "middle age" ailments, such as high blood pressure, diabetes, obesity, heart disease and even cancer are now alarmingly prevalent in children as well. Raising awareness and thus helping people live a healthier lifestyle is Nina's top priority.
Of course, living "healthier" without ever eating fun foods is almost always short-sighted. If people start thinking that, by changing their diet, they can never again enjoy the simple pleasures of something as basic as a cupcake, they may very well soon abandon their new health-conscious approach and revert to their old self-destructive ways. Once people realize, however, that eating healthier and actually enjoying the food they eat are not mutually exclusive, they will embrace the good habits and more likely incorporate them into their life (and their family's life) for the long haul.
For Nina, these delicious cupcakes provide a great opportunity to educate the public about the importance of knowing and understanding everything that they choose to eat. Just as she, as a 13-year-old, with the right education and food facts knew that the birthday cupcakes contained harmful ingredients, we all can become smarter, better-informed consumers. She wants people to know that it doesn't mean they need to undergo the extensive training that she has received. They just need to keep their eyes open when it comes to nutritional choices and use some common sense, too.
Her ideas for Nina's Organic Cupcakes are bold and ambitious. She sees it not only as a sound investment, but also as a launchpad for bigger and more far-reaching concepts. As word spreads about the cupcakes, Nina expects, it will prompt people to come up with their own ideas, and foster conversation about eating healthier and taking better care of our bodies. Learning about nutrition and preventing disease should not be something that only doctors and health experts research. Nina believes that people today, with access to so much helpful information literally at their fingertips, have a golden opportunity to enjoy life to the fullest, with plenty of energy and far less sick time. She has produced videos (see links) that provide a lot more information about her ideas and goals.
Making organic cupcakes may not change the world. However, if she can just get people to at least start thinking sensibly about what they eat, and realize how much fun it can be to live a healthier lifestyle, then Nina will know that she is making a positive difference in people's lives, even at such a young age. She wants herself and her friends to celebrate many more birthdays together for decades to come. She sees Nina's Organic Cupcakes as just the beginning of what promises to be a delicious future.
Follow Nina's Amazing Work At:
Nina's Call To Action video:
Intro to Nina's Organic Cupcakes & The BIG WHY explained:
Portfolio for Nina's Organic Cupcakes:
REAL LIFE. REAL NEWS. REAL VOICES.
Help us tell more of the stories that matter from voices that too often remain unheard.
This post was published on the now-closed HuffPost Contributor platform. Contributors control their own work and posted freely to our site. If you need to flag this entry as abusive,
send us an email
.