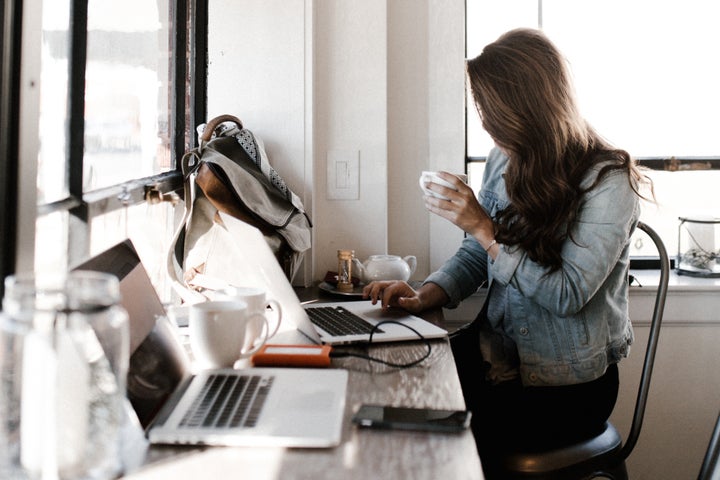 The stats on remote working are hard to ignore. From increasing productivity to using less "sick time", remote working has changed the game in relation to productivity and employee happiness — but it doesn't stop there. Along with enjoying all the usual perks of working from home, women are seeing what is potentially an even bigger benefit: the ability to raise a family while establishing a career in tandem.
According to the the U.S. Department of Labor Blog, there are 74.6 million women working in the U.S. civilian labor force, making up nearly 47% of the working field. The World Bank confirms that many other countries aren't far behind (some even surpassing these stats!) with female employees making up at least 40% of the overall work force. France, Germany, Australia, The Bahamas, Brazil, Poland, Portugal, South Africa, Spain, and dozens of other countries are included in this mix.
However, just because women are largely contributing to the overall work force, that doesn't mean that there aren't still noticeable gender gaps occurring in various fields, particularly that of tech. Catalyst reports that the top female-dominated U.S. occupations are as follows: secretaries, childcare workers, receptionists, teacher assistants, registered nurses, accounting clerks, maids, home health aides, personal care aides, and office clerks. Didn't see web developers, data scientists, software developers, technical engineers, designers, mobile developers, or system administrators in that list? That's because these fields are dominated by men — or at least have been… we're crossing our fingers for a more diverse future.
56% of women in the tech industry leave their jobs mid-career
51% of women say being a working mother made it difficult for them to advance in their careers
33% of women left the tech industry because it did not allow enough flexibility for a healthy work-life balance
So what can be made of these numbers? We'll give you a hint. It starts with "mother" and ends with "hood". All three of these statistics have clear correlations to women raising families. As the typical "heart of the house", as well as the ones able to create, grow, and eventually give birth to children, women in the work force have a lot on their plates, both inside of the office and out. That being said, let's take a look at what truly is stopping women from being able to juggle being both a mother and a career woman.
The answer is a simple one: flexibility, or lack there of. When women are subjected to traditional and archaic work systems of remaining in the office from nine to five (or, if we're being realistic, more likely nine to six, seven, or even eight), there's simply no way for them to nurture their family life — and that becomes a big problem when it comes to assessing the gender gap in technology jobs.
If you haven't guessed by now, remote working benefits women who are wanting to begin families by providing them with the physical flexibility and time self-management options that they need. Women shouldn't have to choose between having a career in the tech industry or having a baby, and remote work makes it so they don't have to.
76% of female tech professionals think businesses offering remote work would be more likely to retain top talent
The issue of the gender gap in the tech world is a frustrating one, but it's not one that's impossible to solve. Far from it, in fact. More and more companies are embracing remote employees with every passing day, and if the tech market wants to continue to recruit and keep some of the world's most talented female workers, they're going to have to get on board.
Originally written by Chelsey Grasso on Remote.com
Popular in the Community