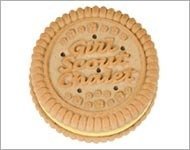 A girl scout cookie recall was announced today by girl scout cookie maker Little Brownies Baker due to an off smell and taste for some cookies.
According to the Better Business Bureau, lemon chalete cremes cookies have been recalled due to complaints, though they are reportedly safe to eat.
The Louisville, Kentucky-based company said that no bacteria was found in the cookies and they are simply "not up to our quality standards."
Those who have purchased one of the affected girl scout cookie boxes can call 1-800-962-1718 or visit www.littlebrowniebakers.com for more information.
Related
Popular in the Community