In perhaps the greatest display of entrepreneurial spirit in modern history, a California Girl Scout has been selling cookies outside of a San Francisco marijuana dispensary.
Danielle Lei, 13, set up shop in front of The Green Cross on Monday, selling a whopping 117 boxes in just two hours, according to Mashable. That's about one box per minute.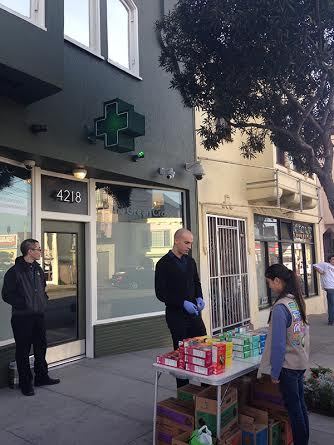 The Green Cross told The Huffington Post that Lei's mother contacted the dispensary beforehand to ask for permission to set up a table outside. The owners welcomed the girl with open arms and reportedly bought several boxes.
The move may raise a few eyebrows: Medical marijuana is legal in California, but users must be over 18.
But a representative for the Girl Scouts of the USA told HuffPost that the decision of where to sell cookies is ultimately up to the parents.
"Our number one concern is the safety of girls," said the representative. "As long as they're following our safety guidelines, we trust our parents to make decisions for their daughters based on the communities that they live in."
This policy seems to differ from that of the Girl Scouts of Colorado, which issued the following tweet after the earlier rumor spread:
If you are wondering, we don't allow our Girl Scouts to sell cookies in front of marijuana shops or liquor stores/bars.

— Girl Scouts of Colo. (@GSColo) February 12, 2014
According to the box of dulce de leche cookies currently circulating at the HuffPost office, the Girl Scouts sometimes award Cadette Marketing Badges to scouts who successfully create a business campaign. Well, ladies, I think we've found your nominee.
CORRECTION: A previous version of this post misstated the name of the national organization. It is Girl Scouts of the USA, not Girl Scouts of America.