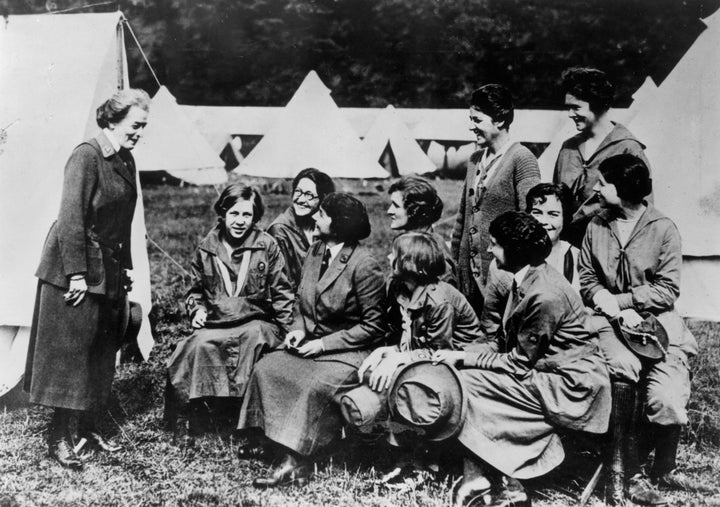 When Low created the Girl Scouts organization in 1912, her purpose was "to train girls to take their rightful places in life, first as good women, then as good citizens, wives, and mothers."
"The brief tale is he said, fine, we'll divorce. We'll separate. Then he got very ill ... Daisy said, well, I can't divorce you because you are ill and dying so she called off the divorce, was going to tend to him, to nurse him," Cordery said on the "The Diane Rehm Show" in February 2012. "And then he got better and was seen with Anna Bateman again."
Juliette Low then moved to reinitiate the divorce. But while preparations for divorce were underway, her husband died, leaving everything in his will to his mistress.
"So the lesson that Daisy learned from this ... is that life was not predictable. And even though you've done everything right, you'd grown up in good circumstances, you'd married the man you loved, you'd been faithful and loyal, sometimes you wound up cuckolded and then widowed," Cordery said.
After her husband's death, the 45-year-old Low felt like a failure. At the time, she wrote to her mother, "I am just an idle woman of the world with no real work or duties. I would like to get away from the world somewhere to work at sculpturing -- start to do some work in life."
For several years, Low searched for something useful to do with her life. She eventually met Robert Baden-Powell, founder of the Boy Scouts and Girl Guides in England. Impressed with Baden-Powell's youth movement, an invigorated Low took up the cause. After leading groups of Girl Guides in the U.K, she formed the first troop of 18 American Girl Guides -- as the Girl Scouts were first known -- on March 12, 1912.
According to Cordery, the failure of her marriage helped set the standard for what the Girl Scouts of Low's day would learn. Though Low emphasized the domestic skills needed for homemaking -- cooking, running a hygienic kitchen, taking care of sick children -- she also emphasized vocational training, with patches handed out for flying, telegraph skills, typing and farming.
"By every standard of her day, Juliette Gordon Low at the age of 45 was a failure. She had failed at motherhood (in that she had not become a mother), she had failed at being a wife. But [those failures] also play a role in her saying, 'You know, one of the things I like about [scouting] is that there's a Plan B here for girls,'" Cordery told the Christian Science Monitor on Monday. "From the very beginning there was that equal emphasis on domestic skills, housekeeping, the things that are important to women, from flower arranging to invalid nursing. But there's also that avenue of what we would today call career training that was pretty radical and cutting edge at that time."