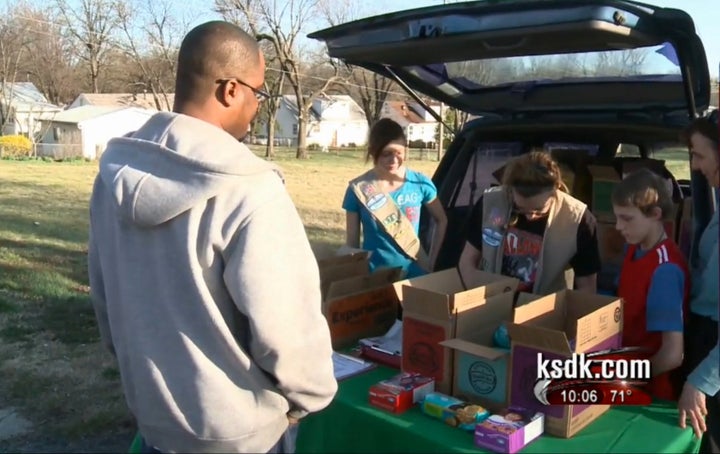 Most girl scouts earn badges for their behavior as upstanding junior citizens, and for selling sugary treats far and wide. But in Missouri, two scouts are instead standing up to a law they they feel is unjust -- and threatens their cookie sales.
According to court documents, 16-year-old Caitlin and 14-year-old Abigail Mills of Hazelwood, Mo., are girl scouts who have sold cookies in their driveway for the last six years. This year, when the girls tried to begin their sales, city officials told their mother, Carolyn Mills, that the girls must shut down their stand as it violates city ordinances. As reported by KMOX, the St. Louis CBS affiliate, a neighbor complained anonymously about dogs barking at all the people and traffic backing up for the cookie stand.
Before the stand was closed down, the station reported that the girls sold an estimated 1,700 boxes this year.
"It never even crossed my mind that my girls might need to get permission from the city before setting up their cookie stand," their mother said in a brief accompanying the official court filing. "I was even more shocked when city officials told me that you couldn't even get a permit for it."
This case is not the first of its kind, said the girls' attorney and Freedom Center of Missouri Director of Litigation Dave Roland. When speaking to local television station KDSK, Roland cited many comparable cases where cities banned child-run businesses across the country.
"It's time that there was a case that addresses the question, because it keeps popping up," Roland told KMOX. "We're trying to find out what can you do on your property without the government's permission."
On Monday, a judge denied a petition to dismiss the case, so it appears a Missouri court will be hearing arguments on the scouts' constitutional rights to cookies.
Related
Popular in the Community