"She adjusted to everything and just accepted everything," the girls' mom Andrea Gorsegner told The Huffington Post in an email. "I remember this one time when Hannah had just gotten home from school, I was making dinner for the girls when Natalie began vomiting blood (with blood steaming out of her nose as well). Hannah was only 5-years-old at the time, and instead of crying along with Natalie being totally freaked out, she held Natalie's hand next to me, stroked her head and kept saying over and over, 'It's okay sweet girl, mommy is right there with you.'"
Now that Natalie is finishing up her chemotherapy treatment and is in remission, 7-year-old Hannah has decided to do something really powerful to support her little sister. Last week, the New Jersey second grader shaved her head and donated her hair to Wigs for Kids.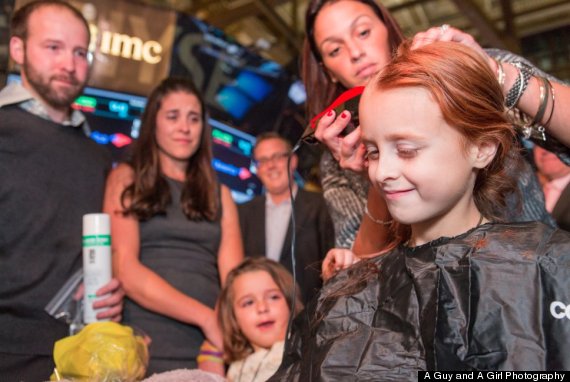 "This is one of the ways I can help kids with cancer and inspire them to be brave," Hannah told the "Today" show. At the Arms Wide Open Childhood Cancer Foundation's "Shave for a Cure" event at the New York Stock Exchange, the 7-year-old girl emerged from a crowd of mostly Wall Street men and young boys to shave off all of her long red hair. At the end, everyone cheered and poured glitter on her newly bald head.
"If there is a word stronger than proud, then that is how I feel about Hannah," Andrea said. "I've always been proud of her as Hannah's constantly doing things to help others, or to make others happy, but this just blew me away. I have never seen Hannah so confident … the pride she feels within herself is boundless which makes me so happy and honored to be her mother."

Although Andrea and her husband Dan supported their daughter's desire, they felt the need to warn Hannah that other kids at school might not understand why she shaved her head and tease her for looking different. But according to Andrea, "She quickly reacted by saying, 'I don't care, I'm beautiful just the way I am.'"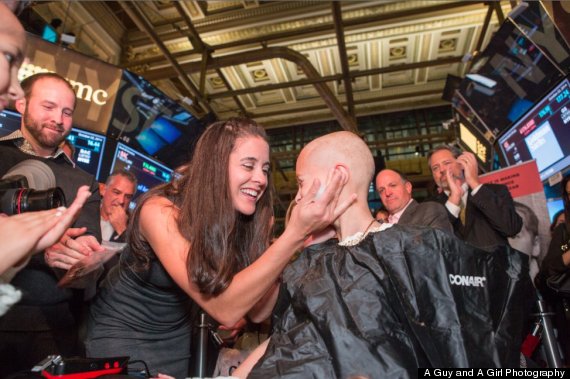 When the big day arrived, Natalie had a moment of panic about her big sister's decision, crying that she didn't want them to "take Hannah's hair off," Andrea said, adding, "But right then the stylist asked Natalie if she'd like to help … so she picked her up and Natalie buzzed a few of Hannah's red locks off. That seemed to do the trick because moments later Natalie stopped crying and began picking up some of Hannah's fallen hair to take home and keep. Now she loves it, rubbing Hannah's head all of the time and saying how Hannah looks just like she did when she didn't have any of her hair."
Throughout Natalie's ordeal, Andrea says both of her daughters showed an amazing amount resilience. "We hear it all of the time as parents, that children are tougher than you think, but you can't really understand the meaning behind that phrase until your family is thrown into what feels like an impossible situation ... Kids are SO much stronger than we are, smarter too!"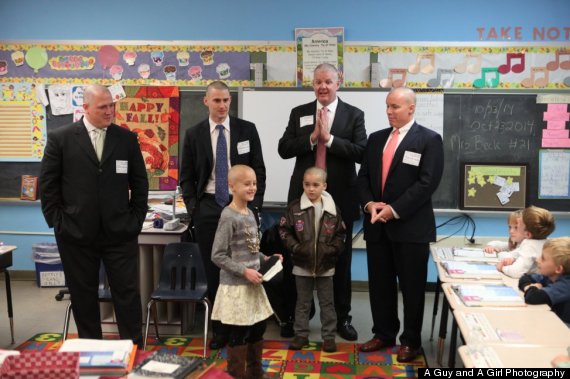 As for the parents' concerns about teasing, four Merrill Lynch businessmen who had also participated in the shave event escorted Hannah to school the next day to tell her class that she was a "hero," Andrea writes in her blog post about the experience. When Hannah walked into her classroom, all of the children applauded.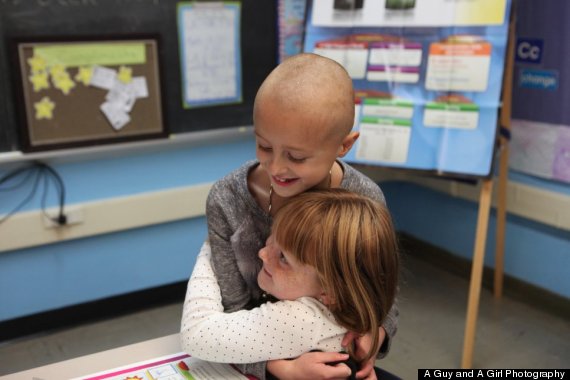 Like Us On Facebook |

Follow Us On Twitter |

Contact HuffPost Parents
Related
Before You Go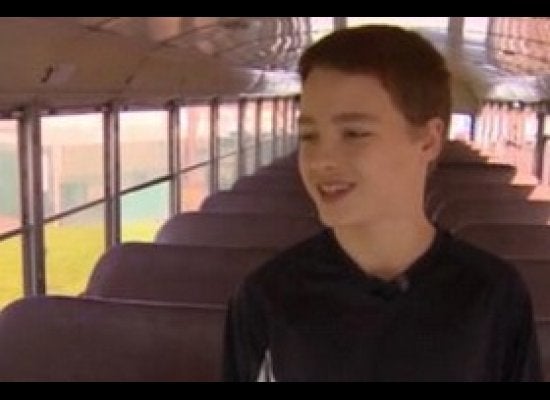 Kid Heroes