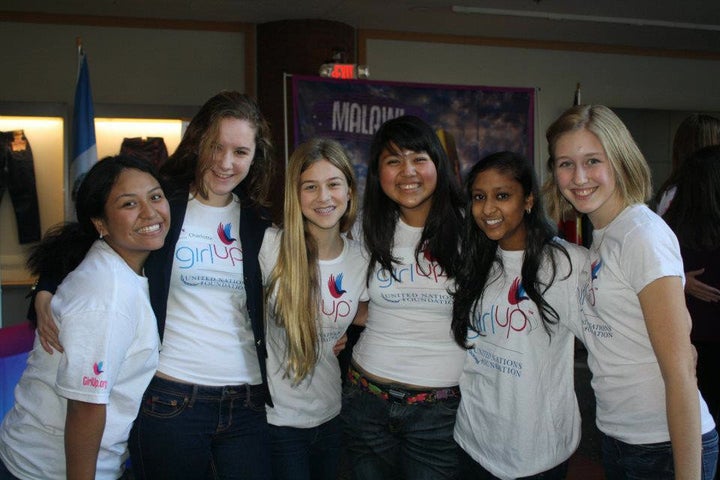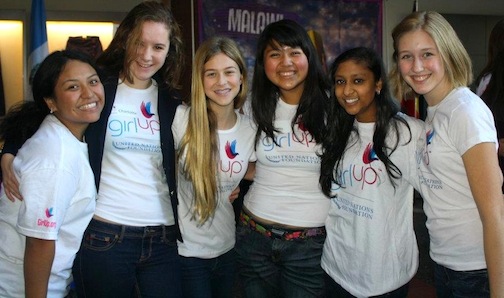 Annie Gersh (third from left) with some of her fellow Girl Up Teen Advisors at the "Unite for Girls Tour" in San Francisco. Photo courtesy of Annie Gersh.
Annie Gersh is a Teen Advisor with Girl Up, a United Nations Foundation campaign designed to harness the energy and compassion of girls in the United States to help girls in developing countries. Annie is 13 years old and attends Marlborough School in Los Angeles. Her school is an independent all-girls school for grades 7 through 12 that is dedicated to helping young women develop self-confidence, creativity, moral decisiveness and a sense of responsibility as active global citizens. Annie is one of 16 young women from around the country that was chosen by the United Nations Foundation to serve as a Teen Advisor for the Girl Up campaign.
I had the pleasure of meeting Annie this fall at The Feminine Light in the Middle East Conference in Los Angeles, where I moderated a panel called "Girls Make a Difference." Annie was on the panel and spoke about the impact of social media and how girls her age can make a difference in the Middle East, and for that matter, in the world.
What follows is my recent interview with Annie.
Tabby Biddle: Why do you think girls' leadership is so important for our world?

Annie Gersh: Girls' leadership is important because girls are half of the world's population. When they are given the opportunity to be educated, they strive to make a difference in their communities and change the paths their families will take in the future. There are a few statistics that stand out to me: Girls reinvest 90 percent of what they make back into their families as opposed to men who reinvest only 30 to 40 percent; when a girl is educated she is more likely to marry later, have fewer children, and educate her children; and a child born to an educated mother is 50 percent more likely to reach the age of five.
It's important that girls here in the U.S. take a stand and raise awareness for their counterparts in developing countries because we all have the same dreams and aspirations. We all desire to go to college, have productive jobs, and raise healthy families. Our only difference is the place that we were born. It's not fair that a girl who is born in the rural areas of Ethiopia or the slums of Malawi doesn't have the same chance to fulfill her dreams and aspirations.
TB: As a Teen Advisor, you are a leader in the Girl Up community. Tell me about some of the ways you have expressed your leadership.
AG: Since my tenure began with Girl Up in September, I've already taken action in a variety of ways. I helped form a Girl Up club at my school, Marlborough. We engage girls at our school by learning about the issues and doing activities - such as encouraging them to write letters to girls in Malawi, Ethiopia, Guatemala, and Liberia during lunchtime. [These are the four countries where Girl Up is currently engaged.]
Additionally, I attended a private event and spoke to about 80 elementary school girls about the campaign and how young girls can get involved. I also spoke at a conference called The Feminine Light in the Middle East, which was hosted by the Institute of Women's Enlightenment. I participated on a panel and my role was to focus on how girls can make a difference in the Middle East and how social media has an impact.

This fall I had the opportunity to plan my own fundraiser for Girl Up. I came up with the idea for the event and then planned, organized, and sold tickets to teens to attend a private movie screening of a recently released film. The evening was hosted by one of the young actors on the hit TV show "Glee." I had solicited a popular local clothing store to donate several items that were raffled off to raise additional funds. Girls enjoyed the film, learned facts about the campaign and wrote letters to their counterparts. I was excited to hold my first fundraiser and to have it be a success. We raised over $800.
TB: Congratulations on the success of your fundraiser. Can you explain what happens to the money once it is raised?
AG: The way it works is that Girl Up raises funds to support UN Foundation programs on the ground to take them to scale in the four countries [Malawi, Ethiopia, Guatemala and Liberia]. There are already programs there established through groups like UNICEF and UNESCO. We raise the funds to take them to scale - to make them bigger, better, and to make sure that they have all the resources they need.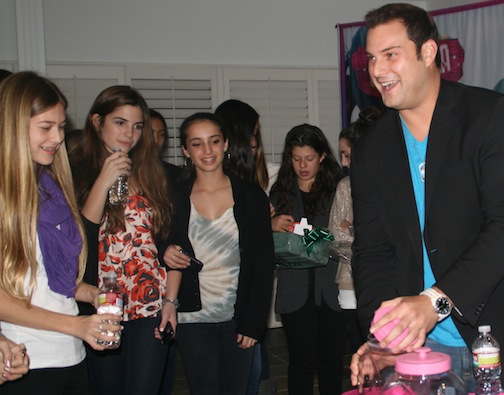 "Glee" cast member Max Adler teamed up with Annie as the celebrity host of Annie's first Girl Up fundraiser. That night Annie raised over $800 for the Girl Up campaign.
TB: What are some of the most pressing issues facing girls in these four countries?

AG: In Ethiopia, which is right next to Somalia, there are a lot of issues with the refugees. There are so many girls there, and because they are refugees, they don't get to go to school. Not being able to go to school is really hard on the girls in all of the countries. Tons of girls are not able to go to school because they are spending 4 to 6 hours a day getting water, because they are getting married so young, and because if there family doesn't have a lot of money, and they have just enough to send one kid, they are going to choose to send the son.
"Men don't reinvest in their families as much as women do. In these countries that are so impoverished, women are a huge part of the solution because if women are educated and can get good jobs, they'll reinvest in their families."
TB: What inspired you to get involved with Girl Up?
AG: About a year ago, I attended a Girl Up "Unite for Girls Tour" at my school. Queen Rania of Jordan gave an inspirational speech about the importance of educating girls and how to get involved. I was blown away to learn that there are girls just like me that lack opportunities, which I have always taken for granted. For instance, I never realized that some girls my age can't go to school because they spend hours a day retrieving clean water - or that girls my age are forced to marry. It was almost unimaginable to me. Two former Teen Advisors spoke about their role with the campaign. Immediately I was inspired to become involved. I followed up with the community service director at my school and asked how I could play a role in the campaign. She suggested I help start a Girl Up club. A few months later she urged me to apply to become a Teen Advisor.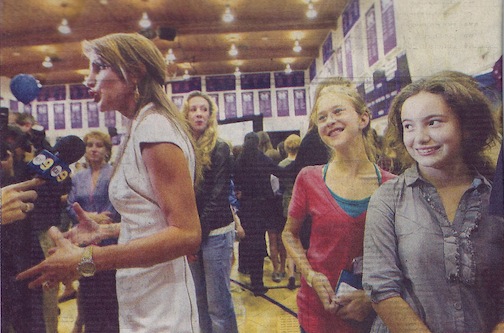 Annie was captured in this photo admiring Queen Rania at the Girl Up "Unite for Girls Tour" at the Marlborough School in Los Angeles. This photo was then published in the Los Angeles Times. Photo credit: Christina House.

TB: You recently met up with your fellow Teen Advisors from around the country. Tell me about that.
AG: One of the highlights of my involvement with Girl Up was attending the San Francisco "Unite for Girls Tour". It was an unforgettable experience. I had the opportunity to spend the weekend with my fellow Teen Advisors who I had only met on video during our monthly webinars. I never imagined I could grow so close to a group of girls in just three days but we all share the same passion and interests. I had the chance to sit down with United Nation Foundation's staff and learned a tremendous amount. We listened to several fascinating speakers and hosted our own Unite for Girls Tour for local San Francisco teens.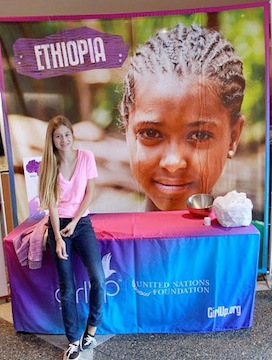 TB: What is a "Unite for Girls Tour" exactly?
AG: There have been seven in major cities across the U.S. Basically what happens is that it's a big pep rally where there are five kiosks - four for the four countries we focus on, and the fifth one is the U.S. You are given a passport, and at each kiosk you do an activity and write down a fact that you learned about each country. You don't get your passport stamped unless you write down the facts. For instance, at the Unite for Girls Tour in San Francisco, I was at the Ethiopia kiosk. So I was telling girls about the Stop Child Marriage Campaign, and about how in Ethiopia 1 out of every 7 girls is married before she turns 15. I was telling them just how crazy it was that girls who are close to their age are getting married to men that are the age of their fathers. To take a stand against child marriage, we had petitions at the kiosk that said: "I don't," instead of "I do." So I encouraged all the girls to sign them.
Also at the Unite for Girls Tour a group called Project Girl Performance Collective performs. They are a theater group that raises awareness for women's rights issues through their music. There are also celebrity speakers. The tour is just a great opportunity for girls who don't know about the issues to learn and have fun by going to all of the different kiosks and participating in the activities. It's great for girls to do these interactive things to understand what's really going on.
TB: In terms of getting involved with the girls' and women's rights movement, were you influenced by any one in particular?

AG: Yes, my sister. She is 25, and she is a teacher at a charter school in Newark, New Jersey. She is a huge education advocate here in the U.S. She really inspired me to help. In my family, I've been so fortunate to get such a great education, but there are so many people who aren't given that opportunity. She helped open my eyes to the fact that not only in this country, but also in Malawi, Ethiopia, Liberia, and Guatemala, the girls aren't as fortunate and don't get to go to school every day.
"To know that as a young girl I can be making a change means so much to me. It fuels me to want to continue to do more, to keep doing things in my community, and to tell more people about Girl Up."

TB: What do you think is the key to motivating girls in the U.S. to get involved with helping girls in developing countries?
AG: I think the biggest thing is opening their eyes because most girls don't know what's going on with their counterparts. I think that once girls are aware, once girls know the facts and hear the statistics and the stories, they'll be more inspired to make a change. I think raising awareness is really the biggest thing. And then once girls know, they can easily post things on their Facebook and on their Twitter, do lemonade stands, ask for five dollars, ask people to sponsor them, and make GirlRaisers.
TB: The UN Foundation uses the term "philanthro-teen" to describe the young women involved with the Girl Up campaign. How would you describe a philanthro-teen?
AG: A philanthro-teen is a girl who is motivated and inspired to make a difference. A girl who is globally minded and fascinated by what is going on around her. She is confident that she can make a change and strives to get her friends involved in the cause by using her voice and social media to spread the word. I believe I am a philanthro-teen and hope to inspire many other girls to be the same.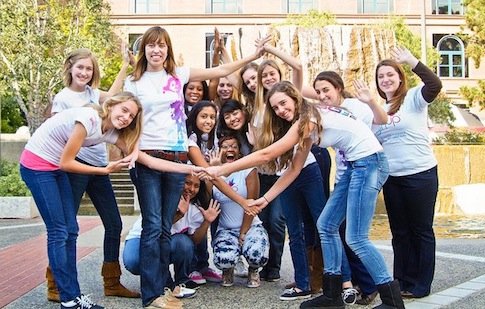 "It makes me really excited to know that I'm part of this huge women's rights grassroots movement with not just people in my own country, but people all over the world," says Annie. Photo courtesy of Annie Gersh.
TB: Where do you see yourself in 5 years?
AG: Hopefully going to college [laugh] ... Definitely going to college. I think I'm going to stick with women's rights and civil rights. I'll hopefully be going into politics so my voice will really be heard. More specifically, I'm probably going to want to go into Foreign Affairs. I'll probably want to continue my work with the United Nations, maybe as an intern. If Girl Up isn't still around, probably with other women's rights and civil rights campaigns that are a part of the UN.
TB: How do you see the future of Girl Up?
AG: Hopefully in 10 or maybe fewer years all of the programs will have taken off and some of these issues will barely be issues anymore. That's just all I can hope for - that there won't even be a need because so many girls will be represented in these countries. They'll be able to go to school and to have regular health check-ups. I really hope one day there's a world where girls all over the world can go to school and get wonderful opportunities.
TB: If you had a loudspeaker that could be heard by girls around the world, what message would you want to impart?
AG: I would want them to know that because they are girls, they are all important. I want them to know that although they may be going through tough times, they will definitely overcome them and make it through if they persevere. I want them to know that there is a big group of girls in the U.S. that are fighting for them - for their rights, for their education, and for their safety. I want them to know that one day we'll all be able to unite and all be able to have amazing educations. Although we may look different and speak different, we are all girls.
TB: What are some different ways people can get involved with Girl Up?
AG: First off, I urge everybody regardless of age, gender or anything else to go on the website and learn the facts and read some stories. Visit the Facebook page and Twitter page. I also urge people to make GirlRaisers, which are personalized web pages that you can post on your different social media and ask to get donations for Girl Up. Also there is the Girl Up Gear. You can buy it on the website. I think it's neat when people walk around wearing their "Ask Me About Girl Up" pins or their Girl Up t-shirts. It's a really good way to spread the word, and they are cute things.
To find out all the ways you can get involved with Girl Up, visit www.girlup.org.
All photos courtesy of Annie Gersh.