A big-hearted 7-year-old girl is using some remarkable good luck to help others in need.
Second grader Phoebe Brown was running errands with her mother last week in Independence, Missouri when she came across a winning, $100 scratch-off ticket, just lying on the ground.
Instead of using the money to treat herself, however, she decided to spend it on food for those in need, KSHB reported.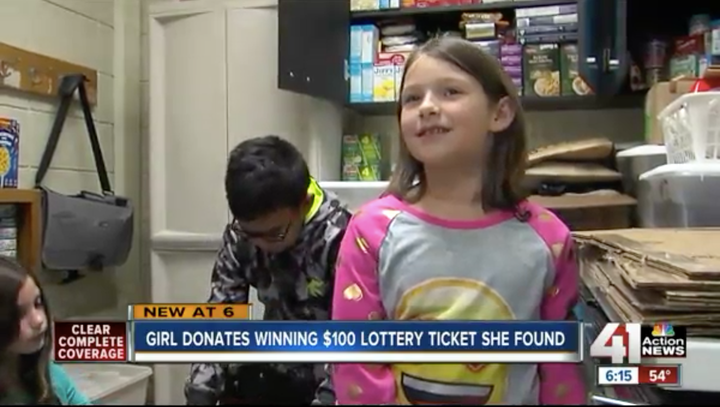 "You wonder if our kids these days, if that's how they're thinking," her father, Joshua Brown, told the Kansas City station. "And this just goes to show, ya they are thinking that, and that's a real good thing."
Phoebe confessed that the idea of buying toys with her windfall did occur to her. But once she heard about her school's canned food drive, she was sold.
The family went to Walmart where they purchased an assortment of canned goods. Phoebe's father also matched whatever his daughter spent, KSHB reported.
By the end of the food drive, Phoebe's class had collected 541 items of food, making them her school's winner.
Phoebe's father said he knows first hand what this could mean to a family in need.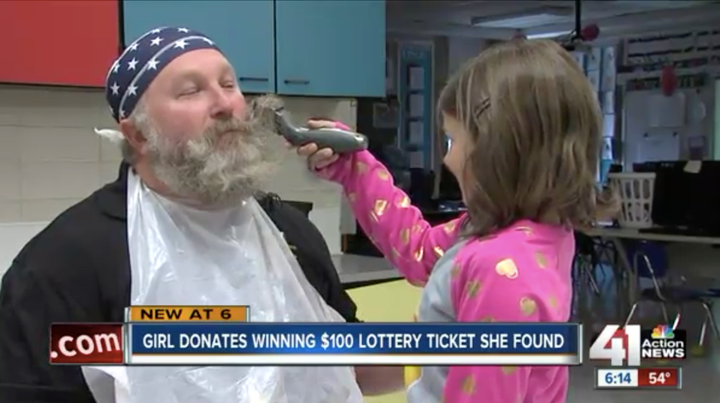 "There have been times where I've been out of work, and we had nowhere to stay and our family's taken us in, and helped us out," he told WDAF. "We're thankful for our friends and our family."
As a fun reward, Phoebe and her classmates were invited to shave their gym teacher's beard, which appeared to be an exciting treat for the kids who were heard squealing with delight.
"We could shave Mr. Horeman's beard and we could also help other families," Phoebe told KSHB of their prize.