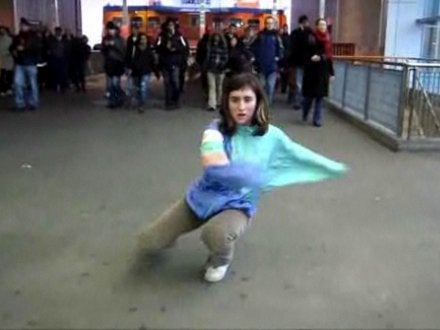 "Girl Walk//All Day"-- the epic, Kickstarted 71-minute dance music video following a rogue ballet dancer's escape to New York City-- is complete and will premiere on December 8 at the Brooklyn Masonic Temple.
Set to Girl Talk's 'All Day' album (available for free download here), the project gained online attention earlier this year for a video of Anne Marsen, who plays the video's main character, dancing on the Staten Island Ferry.
After receiving so much press, director Jacob Krupnik started a Kickstarter hoping to raise $4,800 to help him and his collaborators finish the video. As of this writing, 577 people have donated $24,817 to the project.
As you'll see in the trailer below, the completed video follows Marsen's adventure in Manhattan, where she courts a gentleman and is chased by a creep in a skeleton hoodie. Meanwhile, and at some very recognizable landmarks, she slowly inspires all of Gotham to dance.
How does "Girl Walk//All Day" compare to other epic music videos? Wired puts it in historical context:
In case you're wondering, this probably doesn't qualify as the longest music video ever. While it's longer than the longest video for an individual song (Michael Jackson's 39-minute video for Ghosts takes that prize), this is more of a video for an album so it's more directly comparable with the likes of The Who's Tommy and Quadrophenia, Pink Floyd's The Wall, Daft Punk's Interstella 5555 and even stage musicals.
The first and second chapters of the film are available online (and the whole film will eventually be released online by Gothamist). And if you can't make it to the Brooklyn Masonic Temple for the premiere, request a screening of your own here.
Calling all HuffPost superfans!
Sign up for membership to become a founding member and help shape HuffPost's next chapter