One girl broadcasted some perspective to her fellow students.
Keira Meikus, a 9-year-old student at Our Lady of Sorrows Catholic School in Homewood, Alabama, was diagnosed with autism when she was 4 years old, ABC News reported.
In honor of April's Autism Awareness Month, the fourth-grader recently delivered a powerful speech regarding her condition to the entire student body during the morning announcements.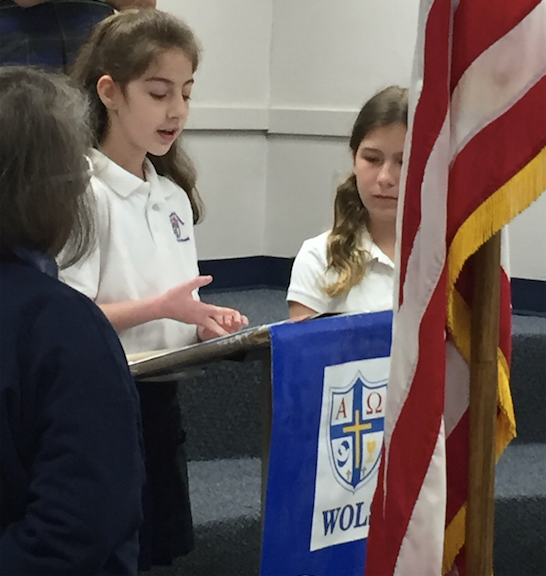 "I have autism. I am like you. ... I like music and playing with my friends. I am also different [from] you," the 9-year-old said in her speech. "I can't speak for everyone who has autism, but I'm sure that most want what every typical person wants -- to be accepted and to belong. Autism is just part of who we are."
In her speech, Keira explained that the disorder is on a spectrum:
"A person who has autism has a brain that works differently [from] a typical brain. Neither is better -- they are just different," she said. "There is a spectrum, like a number line. One person with autism may be like a 1 on the spectrum so you only notice a little difference, but someone else may be a 10 with lots of differences."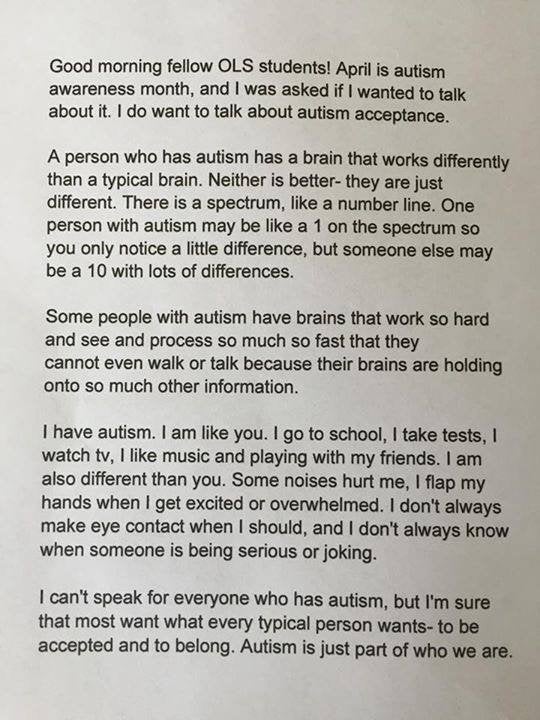 She also told her fellow students how she's individually affected by the disorder.
"Some noises hurt me, I flap my hands when I get excited or overwhelmed," she said in her speech. "I don't always make eye contact when I should, and I don't always know when someone is being serious or joking."
Ultimately, her goal was to get students to become aware and more accepting of those with autism. And according to principal Mary Jane Dorn, that's exactly what the speech did.
"She is an amazing little girl, and our students have been just as amazing in accepting Keira," Dorn told The Huffington Post. "We wanted our students to understand more about autism and to understand their classmate's story. It has helped her classmates understand some of her behaviors."
The 9-year-old's message has since moved people beyond the walls of her school. Various media outlets have picked up the fourth-grader's speech and Dorn hopes that Keira's story will uplift others with autism.
"We hope all the media coverage will not only serve to inspire, but will also empower those who are affected by autism."