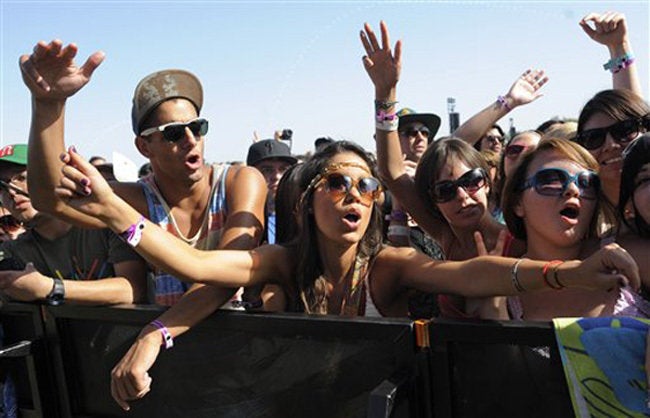 Ok, so maybe I wasn't really the very oldest person at the three-day festival in the Indio desert last weekend, but I was certainly the most improbable person in the daily crowd of 78,000. I missed Woodstock, but in my teens I had more than my share of dusty and reckless rock bacchanalias. I saw Hendrix burn his guitar and Janis wail and once stood frozen in terror between a battalion of police officers and a gang of Hell's Angels who were throwing bottles and rocks at them.

Those experiences may look colorful in my autobiography someday, if I can remember them by the time I get around to writing such a thing, but they strike me now as hideous cocktails of second degree sunburns, more dust than a tractor pull, the specter of LSD lacing everything from drinking water to cookies and juice and the inevitable lust and violence that drugs, alcohol and utter exhaustion inspire in young people-or old people for that matter.

So when I was invited to attend and share a hotel room by my girlfriend Wanda, also a mother old enough to know better, I couldn't decline quickly enough.
But when I heard that another of our great friends was going out to keep a benign eye on her son and several of his friends, I felt like I was surrendering to the inertia and caution of the aged by not going. I called Wanda back and enthusiastically announced I would, indeed, join the party.

My bravado was largely insincere, but since I've become single again after nearly 30 years, my weekends largely consist of reading, knitting and waiting for one teen child or another to finally come home (that's just between us, of course!) and I thought this might be a kick start to my Third Act. The fact that I went to bed at 7pm on Sunday night and wanted to sleep much of Monday to recover is probably a sign that it wasn't, but...

Three of my four kids, ages 18, 20 and 22 (the youngest having gone for a day last year and succumbing to allergic asthma from the dust, wisely had sworn off such gatherings) were going, for the fourth or fifth year, so I texted them all to let them know I'd be joining in all the fun. My announcement inspired absolute silence in all of them, except the youngest, who told me I didn't belong there and shouldn't chase my youth so pathetically. She also admonished me not to make eye contact or greet any of her friends, should I run into them, since I would be a walking humiliation to our family.

Here's the good news: The crowds of teens and young adults who amassed there didn't display the depravity I remember from my own youth. This may be attributed to the rigid security that outlawed bringing in or taking off the premises any beverages. Margaritas and beer flowed freely for those who had been duly carded and given a wristband designating them to be over 21. I stood in line to get a wristband and was not even asked for i.d.-in fact the young woman in charge didn't even make eye contact with me, probably for fear of laughing or showing her disdain. I jokingly asked her if she needed to see my driver's license and she just smirked.

At one point we were admitted to an area called Backstage. It had no access to any of the three stages and offered nothing that the other areas didn't, except a few picnic tables-places to sit above the ground, which existed nowhere else. It also had something I've never seen at a rock concert, a "safe haven" tent devoted to "Friends of Bill W", a euphemism for members of Alcoholics Anonymous. Not a soul was in there, but my guess was that sober people were already sleeping on some friend's floor or acting as designated drivers for those folks Bill W. didn't know.

I might have fit in better with my few peers who attended had I stopped coloring my hair about three years ago and worn Birkenstock sandals and a peasant skirt with a fanny pack. Wanda and I tried to dress down and inconspicuously, with our SPF 30 and lip gloss in place, our cashmere wraps and designer knock-offs of the trendy clothes the teens bought for about $10 a pound at American Apparel and cut with scissors rather than altered. Our purses, alone, pegged us for middle-aged semi-affluence. Perhaps the fact that I also carried a Costco-sized bottle of Excedrin in one fist was the biggest giveaway.

I might have looked cranky, too, since we'd parked so far from the venue that it took over 20 minutes of wandering in absolute darkness and through such a fine and clinging dust that my feet looked like I was wearing brown socks. If my car hadn't responded to the beeper on my keychain, I would still be wandering like Moses.
Once we finally got in to the VIP area, which gave absolutely no indication of being any more exclusive than the Selective Service, it was entertaining to watch how young people behave in their natural habitat. Those not old enough for a legal-drinking wristband seemed to have gotten their parties started in the parking lots and cars and wherever they were crashing for the night.
Youth is so beautiful and I was reminded again of this at Coachella. The girls with their faintly sunburned cheeks looked as ripe and fresh as nectarines and most of the boys still had faint traces of the baby faces they'd had six or seven years ago. They all looked "at home" in this unlikely part of the world and certain that they were exactly where they should be (even if their parents might have disagreed.)
If I'd known at their age what I know now, I would have been so much kinder and accepting of myself. I would have surrendered myself to the crazy community of my strange peers. That's what the festival most revealed to me; the sweet and rowdy fun of kids willingly giving three days of their lives to join the crowd, hear the tunes and slide from scene to scene as if they were jellyfish on a gentle tide. It looked intoxicating.
I, on the other hand, changed into my running shoes with slip-in orthotics by the second day to ease the strain on my lower back. I was not bobbing on any tide, but forever swimming against it. I was constantly taking inventories of where my keys were, where Wanda was, how my kids were, if I was actually standing where I should, if there was a place to sit nearby and when I should leave to avoid the mass exit and resulting two-hour gridlock in the parking lots.
Beneath the chaos of my monkey brain ran the refrain, "Who are all these people?" These people were surely asking themselves, "Is she a narc? Does she know my parents?" Yes, as a matter of fact, I did know some of their parents, but what happened in Indio stays in Indio, and I'd appreciate it if they'd extend the same courtesy to me.