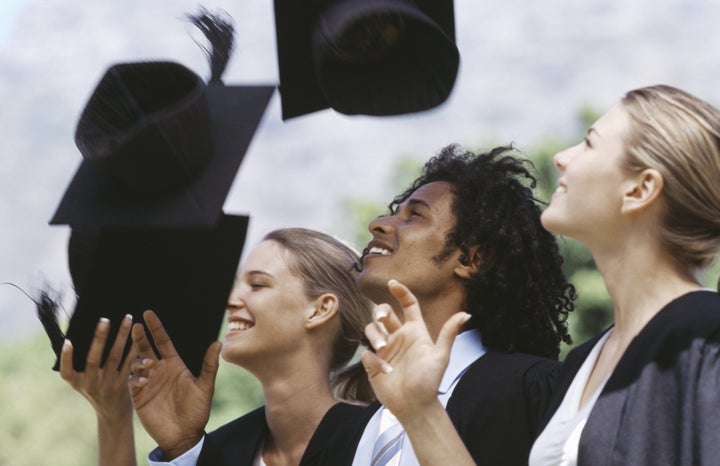 I never pictured myself one of those sentimental mothers who would add emotional significance to Senior Prank Night or Mystery Night. I felt more contemporary than that. I could relate to the excitement and sense of anarchy that accompanied the sigh of relief and pride in surviving the gauntlet of high school and college. But I was delusional.
I should have known I was a goner when I burst into tears at my first child's preschool Halloween Parade, 20 years ago. I've cried at any parade or processional ever since. I feel like I've been on a rotisserie and repeatedly basted with loss, pride, fear and joy for the last 10 years and I've still not built up a thick skin. My children have attended a school where everything they've done has been memorialized in professionally recorded DVDs, and what is irritatingly evident in every soundtrack has been my laughter and my absolute delight in their existence. I'm like the Devoted Mommy version of Roseanne Barr singing the national anthem.
This year is a perfect storm of graduations for me. I have a high school senior of my own graduating. His girlfriend is graduating from another school a week before him. My younger daughter's boyfriend is graduating with my high school son; my college sophomore's boyfriend is graduating from college, as is my niece and my oldest son's best friends and my firstborn's girlfriend.
I could just die. Don't get me wrong; I'm not your typical empty nester fretting about my kids leaving me. With two already living away and a third on his way to New York in the fall, I'm kind of relishing the freedom--particularly since I've become single this last year, as well. No, what kills me is their beauty, their optimism and their relief in their accomplishments. It's a beautiful thing to behold.
As many of you know, my next book is called the Girfriends' Guide to Teenagers, and my focus for the last couple of years has been the scary, alarming, pray-to-God moments of motherhood. Yet today, in this perfect storm, I am at the peaceful center. I am amazed that most of them have survived ADHD, drunken driving, love affairs and irresponsibility. What a relief to know that their DNA has driven them to survive and succeed--in spite of my mistakes in mothering them and the world's vicious slights like oil spills, terrorist threats and unemployment.
So far, no felons or pregnancies in the lot! Not only that, but their spirits are still vivid and optimistic and eager. It reminds me of the movie I saw on Mother's Day, "Babies." Four newborns were compelled to feed themselves, crawl and eventually rise up on two feet--no matter how much or how little their parents were involved. It's a beautiful thing, Mother Nature; she makes sure that our offspring proceed on that inexorable progression into their own futures. As I wrote in my book, the Girlfriends' Guide to Surviving the First Year of Motherhood, a mother can tell she's done a good enough job raising her children when they feel free to leave her. They are, sadly, meant to leave the nest and fly.
And fly they do. Over the next few weekends, millions of our babies will be launching themselves out of the nest. Most of them know that they can retreat to the nest from time to time, but they are inimitably driven to discover their own futures and prove themselves independent from us, their 'rents.
If I could bottle that courage and optimism, along with their naïve beauty and vigor, I'd be bigger than the "Sham-Wow" and Donald Trump combined.
Happy Graduation, everyone! And thank you, Mother Nature!