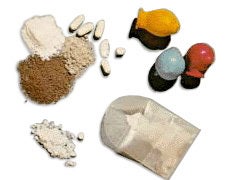 Anthony Powell was a 41-year-old inmate at the Oregon State Penitentiary in Salem serving a life sentence for an aggravated murder conviction for fatally stabbing his mother-in-law. In June last year, he received a "privileged contact" visit from his girlfriend Melissa Ann Blair.
Thought to help promote family stability, privileged contact visits allow inmates and visitors to share some physical contact, such as holding hands, cradling small children, or exchanging brief hugs and kisses at the start and end of a visit. Shortly before leaving Powell, Blair planted a lingering kiss on his mouth.
It soon turned out to be lethal; during a later security check, Powell was discovered alone and dead in his cell. An autopsy showed Powell's stomach contained seven small multicolored balloons stuffed with methamphetamine. Two balloons had broken open inside Powell's stomach, releasing enough of the drug to kill him.
Investigators soon determined Blair had used her kiss to transfer the contraband balloons into Powell's mouth. She was charged with being part of a drug drug-smuggling conspiracy, along with several others, including two Salem inmates and two relatives, who passed messages, bought and stored drugs, and delivered them to Blair before her next visit.
Powell and the other contraband ringleaders had planned to smuggle drugs into the prison, for sale and their own use. After reviewing a recording of a phone conversation one of the inmates had with his sister, in which he asked her help with an unnamed errand, investigators tracked down the sister and got her confession that she had found a source for the drug rolled up into balloons, bought it, and gave it to another relative to hold for Blair.
Prison visitors are screened as they enter and are not allowed to hand anything to inmates; the plan was for Blair to slip the balloons into her mouth before kissing Powell, who would swallow them and later recover them after excretion.
Blair and the other co-conspirators were indicted under the federal Anti-Drug Abuse Act of 1988, also popularly known as the "Len Bias law," after the University of Maryland All-American basketball player who died of a cocaine overdose two days after having been selected by the then-champion Boston Celtics as the second athlete taken in the 1986 NBA draft.
That Reagan-era law, aimed largely at crack cocaine, sets a 20-year mandatory minimum, and a maximum life sentence for selling illegal drugs which cause someone else's death; no showing of malicious intent is required. Facing that stringent prospect, all defendants eventually reached plea bargains on lesser charges that will put Blair — an admitted meth user but not an addict — in federal prison for two years, and is expected to add even more years to the terms already being served by the Salem inmates. Blair, who admitted being a methamphetamine user herself, had pleaded to the charge, although her lawyer maintained outside the court that even while imprisoned Powell held a "Svengali-type" control over her. In handing down Blair's sentence this November, the sentencing judge also ordered her to participate in mental health and drug counseling programs while incarcerated.
Christopher Zoukis is the author of Federal Prison Handbook: The Definitive Guide to Surviving the Federal Bureau of Prisons, College for Convicts: The Case for Higher Education in American Prisons (McFarland & Co., 2014) and Prison Education Guide (Prison Legal News Publishing, 2016). He can be found online at ChristopherZoukis.com and PrisonerResource.com.
Related
Popular in the Community