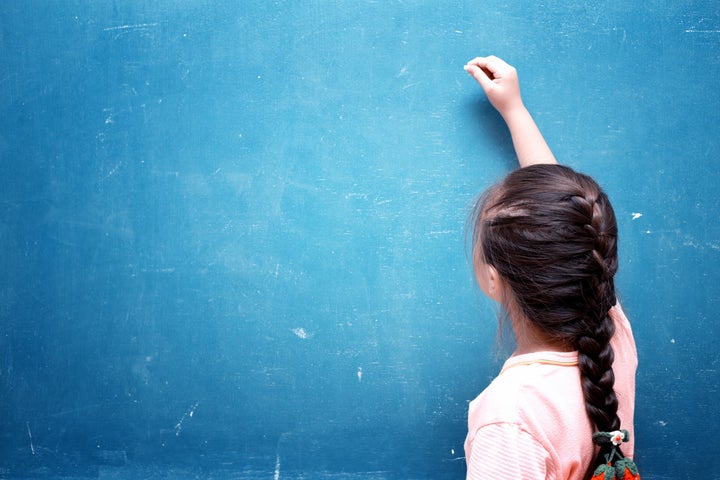 Young girls are less likely to think they're "really, really smart" compared to their male counterparts as early as the age of 6, according to a new study released Thursday. The paper, published in the journal Science, sheds new light on girls' ability to defy stereotypes about fields traditionally dominated by men, particularly careers in math and the sciences, researchers say.
Lin Bian, a doctoral student at the University of Illinois at Urbana-Champaign and a lead researcher behind the project, said the results show an urgent need to intervene in children's education "as early as possible" before gendered notions about what girls and boys can accomplish set in.
Bian and her colleagues at New York University and Princeton devised a series of four tests ― each had a sample size ranging from 64 to 144 ― to measure a child's perception of brilliance and gender. In order to speak about the notion in "a child-friendly way," they used the phrase "really, really smart" to gauge how young children perceived intelligence.
One test involved a story with kids that featured a genderless, but bright, protagonist. Participants, aged 5, 6 and 7, where then asked to select one of four images of the character they thought they were hearing about, two of whom were male and two female. While the 5-year-old kids each thought their own gender was intelligent in equal measure, researchers found that by the time they turned 6, girls were less likely to think their own gender was the brilliant protagonist in the story than boys.
Another test asked children to play a game that was either for "really, really smart" people or one that was for children who "try really, really hard." The study found girls were less interested in the "smart" game and had more of a preference toward the one associated with hard work.
While the authors didn't investigate just why children develop these gendered notions about their own intelligence, they write that "the results suggest that children's ideas about brilliance exhibit rapid changes over the period from ages 5 to 7."
While initiatives have tried to buck the trend, women are still noticeably absent from STEM (science, technology, engineering and math) fields. Women make up just 29 percent of the workforce in those sectors, according to the National Science Foundation, and some fields, like electrical and mechanical engineering, only have women in about 10 percent of roles.
The study's results show an urgent need to help young girls develop broader interests early on in the education system, according to Bian. Novel approaches could include a focus on hard work to appeal to young girls, who were more interested in the game featuring that ability in one of the study's tests, she said.
"Certainly we need to do more," she said. "Given what we've found, we need to intervene as early as possible; we can't wait for them to reach adulthood."
Related