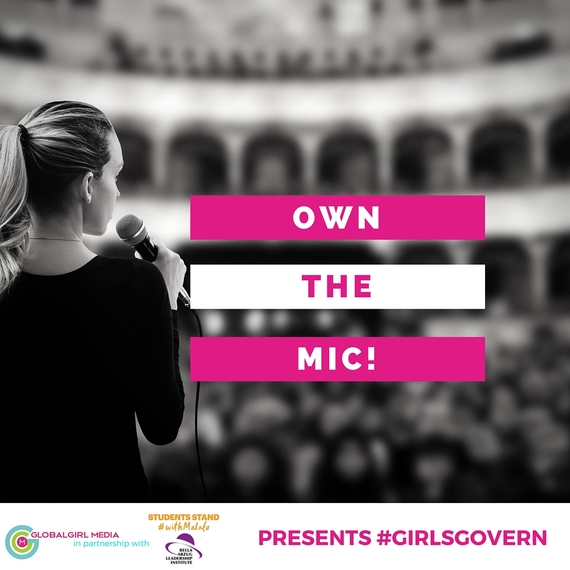 When I was in middle school, I never thought much about politics. I wasn't old enough to vote, and therefore thought my voice wouldn't matter much in a political conversation. I also was a girl, and girls at that time weren't particularly encouraged to develop their political voice nor given much import for their public opinion. At least where I grew up in suburban Philadelphia.
Thirty years later, girls are still struggling to be included in the political conversation. The voices of young women, and particularly young women from low-income communities and rural communities across America, are largely absent from all the political platforms.
Last week Global Girl Media, with the support of over 30 like-minded organizations, launched a nationwide, non-partisan campaign to make sure girls' voices and girls' rights are a larger part of the 2016 political election dialogue. #GirlsGovern gives girls and young women, middle school through college age, an opportunity to bring their voice and their concerns into the national election.
"This election cycle is a wake-up call to all of us working to improve the lives and livelihoods of women and girls globally," said Amie in an email interview with me.
Amie believes that young people can be mobilized to hold elected officials accountable to issues relevant to marginalized girls, such as reproductive rights, violence against women, education reform, discrimination and immigration rights.
Rocío Ortega, 22, is a first-generation Mexican American who grew up in East Los Angeles. When Rocío was in high school, she got involved with Global Girl Media. She quickly learned about the concepts of female empowerment and feminism, and as she says, "I was hooked."
Global Girl Media taught her how to make a video, blog, social media post, and other tools of citizen journalism to get the attention of local and national leaders.
"Global Girl Media helped me realize that the issues that I was passionate about such as immigration reform, higher education accessibility for minority groups like Latinos, and empowering girls to be leaders in their communities... was political," said Rocio in an email interview. "As soon as I was handed over a microphone, I felt empowered to share my thoughts and opinions about these issues and how I really can make a difference."
Rocío believes there's space for girls to be part of a political dialogue, and "as young women of color, it is our social responsibility to exercise our voice and encourage other girls to join us," she says.
Rocio believes that one of the issues being left out of the national elections conversation is about gender. "Every issue that you can think of whether it's immigration reform, raising the minimum wage, lowering college debt, has a gender lens," she says. "We are having mothers being deported who can't see their families; we have working mothers who are barely surviving to make ends meet and with more women in college now, we have to think about college affordability."
"It's great that these issues are debated by our political candidates, but where is the gender perspective on this?" she asks.
Today one in almost three American children live below the poverty line or on its brink, and one in three American women live in poverty, paycheck to paycheck, scared, unemployed, abused, alone and disconnected.
"And there is a millionaire presidential candidate saying all these outrageous things about women," says Amie Williams. "It seemed like a great opportunity to not only bring these girl's voices forward, but stand strongly behind their message."
Today, the U.S. ranks 95th in the world for percentage of women in its national legislature, behind countries like Saudia Arabia, Pakistan and Kenya. Unlike 63 other nations, the U.S. has never had a female head of state.
#GirlsGovern is here to say that although some girls are not yet old enough to vote, they can still be - and need to - be part of the national election process. By increasing accessibility and awareness of the issues at stake, the campaign is offering a way for more girls to find their voices and realize how much power they have.
Since Rocío first got involved with Global Girl Media, she has worked for passage of child marriage legislation in California; has interned for U.S. Congresswoman Grace Napolitano; has served as a U.S. House of Representatives Page; and played an important role in President Obama signing the Girls Count Act into law, which makes getting girls a birth certificate a priority of U.S. foreign policy. Without a birth certificate, millions of girls in developing countries cannot go to school, vote, work, have a passport or access healthcare.
Last year, Rocío was honored to introduce First Lady Michelle Obama at the inaugural Girl Up Leadership Summit in Washington, D.C., where girl advocates from the around the world met to give voice to the issues they care about most and lobby on Capitol Hill.
Imagine a world where girls' voices are listened to and respected. Perhaps encouraging girls to engage in the political conversation starting as early as middle school (and I'd say even younger) will lead to a natural gender parity in political leadership sooner than later. It's about time.
Rocío, now recently graduated from Wellesley College, said she learned that you are never too young to get involved and start making a change. "There's too much at stake for the 2016 elections and we need every young woman's voice in the political process," she says. "It's time young women and girls are prioritized."
#GirlsGovern is providing that platform and support that young women and girls need to start getting out there and get heard. What do you want to tell the next president?
Tabby Biddle, M.S.Ed., is a women's rights advocate, writer and leadership coach, specializing in helping women find their voice. She is the author of the #1 Amazon Bestseller, Find Your Voice: A Woman's Call to Action, now available in paperback. Learn more here.
Top image: courtesy of Global Girl Media
Popular in the Community