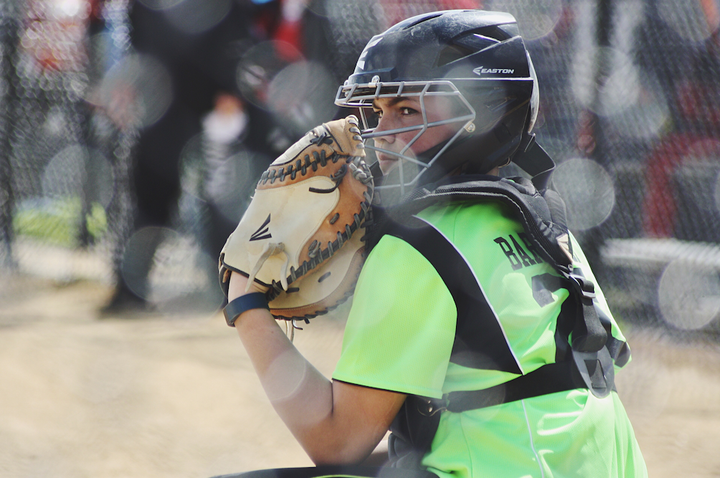 She loves her team, her captains and her coach.
She loves the win and, even more, that breathless moment before the win.
So...why is she quitting?
It is a question that parents and coaches everywhere are asking themselves. You - our sunny, scrappy middle school athlete - seem happiest on the field. On a court. On a team. Your smile, glinting with braces, is a mile wide and your clenched fists and uplifted chin are a vision to behold. You are strength, loyalty and leadership rolled into one magnificent package, and you don't need cheering sidelines to know you belong out there. So when you tell us, eyes downcast, that you are quitting...we need to know why.
Help us understand why you are leaving something you love.
Explain why you would cut yourself from a roster you were so proud to make.
Why would a girl who never gives up on the court...quit?
Reasons speculated include gender stereotypes, feeling self-conscious about their bodies, fear of being judged and not feeling empowered. This is where we want to sweep everything off the kitchen table and stand on it. But, because we want to model constructive behavior and, frankly, because standing on furniture should be reserved for more celebratory moments, we'll pull up a chair and try to explain a few things.
Like, why you should be the exception to that statistic.
Gender stereotypes - let's get that one out of the way right now. "Boys are faster than girls." "Nobody wants to date the sporty girl." "OMG gross, she's like always in cleats." Okay, no. Just...no. Boys are not always faster than girls - just ask Mia Hamm. And if the "sporty girl" is the one surrounded by her teammates, laughing and radiating joy, then everyone wants to date her. And we'd rather be the girl in cool cleats than in wobbly heels any day of the week. Any day.
Now, we hear you on the body thing. Women everywhere feel self-conscious about their bodies at one point or another. And middle school can be a tricky time - we get it. But then we think about Nepal's Gaurika Singh who, as the youngest competitor in the Rio 2016 Olympics, hopped into the pool in front of thousands of cameras at age 13. And we see Serena Williams, who just won the U.S. Open while she was pregnant. So while we understand the I-feel-weird-in-my-body-today thing, sorry...#nogympass for that one.
Fear of being judged. Oh girls, if this is going to knock you off your game now, how will you handle raising your hand in a high school class? College applications? That first job interview?
Nope, this is a fear best overcome early, and being surrounded by a supportive team is just the place to start. Yes, your coach may scream directions from the bench in a less than helpful manner. And yes, some bleacher parents may display a startling lack of manners. But girls, showing up with a strong backbone and a thick skin is as important as remembering your shin guards. Bring your game, your equipment and a firm resolve to play your best no matter what the sidelines say. Suiting up like this will serve you well in any locker room, classroom or board room. We promise.
And now, the most important part...feeling empowered. Stop for a minute and think about how you feel when you are standing in that goal. Poised under the basket. Stretching high to serve. In that suspended moment before the game-winning, clock-stopping, net-skimming play, how do you feel?
That's playing your position and owning the moment. We see you, nodding slowly. You get it. Want more? Watch the riveting #WhenIPlay video from our heroes at espnW and let the words hang in the air: "When I play, I know who I am."
Why would you give up a chance to feel like that?
Encouragement and inspiration are everywhere. Check out what these collegiate and Olympic athletes have to say about sticking with it. Listen to girls across the globe in the Always #LikeAGirl - Keep Playing campaign as they beg you not to quit. If you ask them, female athletes at every level will tell you - if at all possible, stick with your sport.
It's not just that regular exercise is good for you - although a recent report noted that fewer than one third of kids today are "active to a healthy level." And it's not that girls with good sportsmanship are more likely to be valued team members in the workplace, although the EY/espnW global study of female executives showed sports to be a clear indicator of leadership and career achievement.
It's that you should stay true to the things you love...and you should start now. Developing an authentic sense of yourself means recognizing the things that bring you joy and finding ways to build them into your life. Yes, it takes balance. No question, it requires prioritizing. But you know what you love...and we see it on your face.
So much more than the score depends on it.
Calling all HuffPost superfans!
Sign up for membership to become a founding member and help shape HuffPost's next chapter