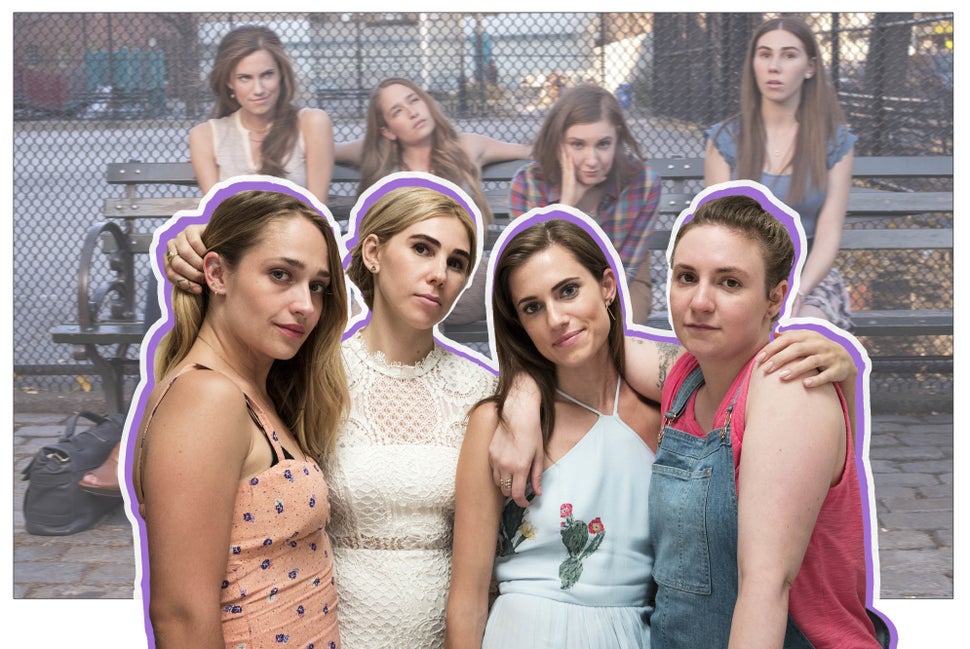 "We were all just doing our best." –Hannah
"Our best was awful." –Jessa
"Girls" is the Hillary Clinton of TV shows: You can't admit you like it without acknowledging that it's not perfect. So let's get that out of the way, and acknowledge that "Girls" was far from perfect, from its hamfisted approach to race, to its over-emphasis on millennial laziness. 
I've grown up with the Girls. When the show first premiered, my colleagues and I recapped each episode by G-chat, and during our season 1, episode 3 recap I wrote: "I am literally the target demographic."
Fans of "Girls" don't tend to identify with one specific character on the show ― "I'm a Hannah" or "a Marnie" never entered our lexicon the way "I'm a Carrie" or "a Charlotte" did in the '90s. And that's because the girls/women of "Girls" have never been glamorous archetypes to aspire to. The show didn't make a generation of young women dream of being columnists who run around in ridiculously expensive shoes and have fabulous (or at the very least, entertaining) sex in New York City.
"Girls" is less aspirational, full of unsettlingly realistic bad sex, friendships that ebb and flow and sometimes end, career opportunities that pop up and then result in failure. It's like a fun house mirror that reflects back a distorted, somewhat terrifying version of what life as a white, financially comfortable, Brooklyn 20-something might look like, and the show's "unlikable" protagonists often reflected its target audience's worst impulses and most selfish thoughts. 
The actresses who play the Girls are about my age ― Lena Dunham (Hannah) and Jemima Kirke (Jessa) are slightly older, and Zosia Mamet (Shosh) and Allison Williams (Marnie) are slightly younger. Although they are supposed to be a few years younger than their real-life ages and my own on the show, these women's journeys from fresh-faced NYC newcomers to more actualized human beings seemed to mirror my own. (The four actresses who play the Girls also underwent their own real-life transformations as the show progressed, from virtual unknowns to bonafide celebrities.)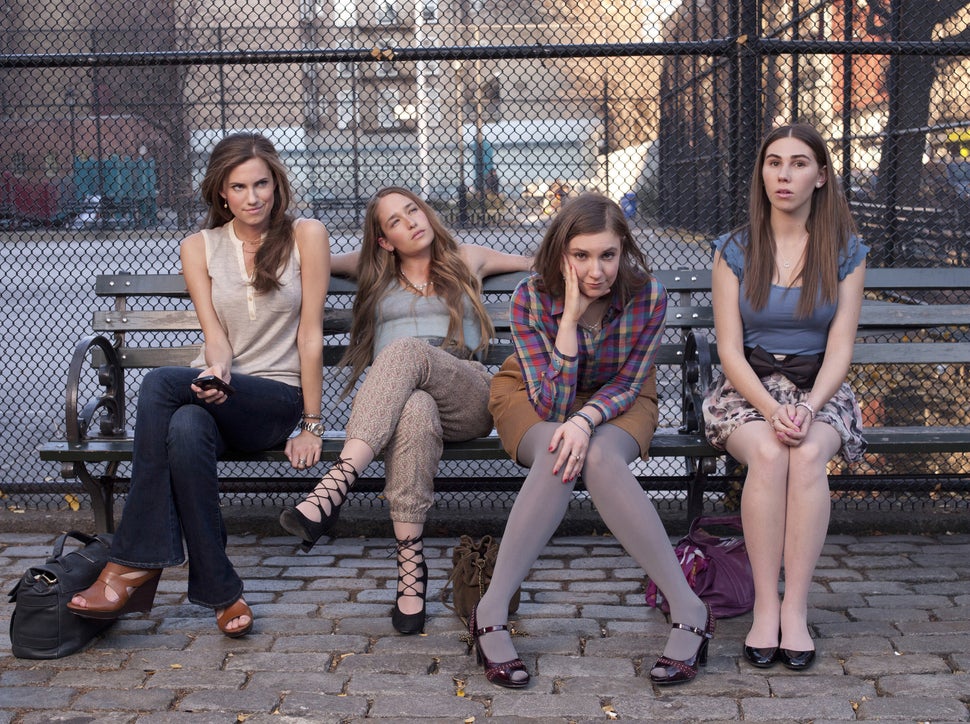 When "Girls" premiered in April of 2012, I was in my last few months of my early 20s, writing listicles about the things I had learned heading into 25. I was just establishing myself as a writer, my therapist was helping me tackle my dating anxieties and imposter syndrome, my Upper East Side apartment was furnished with the IKEA furniture I had bought in college, and I had recently returned from my first truly "adult-feeling" vacation with one my best friends.
As "Girls" ends in April 2017, I'm staring down 30 and reflecting on how much has changed and how much has not.
I suppose I have "established" my career, though what you learn as you get older is that you never quite feel established ― the finish line just keeps moving. The same therapist who coached me out of my imposter syndrome while I was looking for a journalism job is now coaching me through impostor syndrome as I write a book. I still have anxiety (about dating, and otherwise), though I no longer have crappy furniture or an apartment on the Upper East Side. I live in a slightly nicer, significantly better furnished apartment in Williamsburg, the Brooklyn neighborhood where much of "Girls" takes place. 
Mostly, my issues remain my issues, just as the girls' issues ― lack of professional fulfillment, selfish impulses, wells of emotional emptiness that beg to be filled ― remain theirs. This "baggage," as Shosh put it in season 1, might manifest in different ways, but getting a job or a relationship or a better apartment doesn't fix you, it just brings your issues out in new and exciting (challenging? terrifying?) forms.
It turns out that much of "growing up" is about how you react to the obstacles that life inevitably throws your way. And despite the one step forward, two steps back nature of "Girls," in this way, our protagonists have grown over the six seasons we've known them.
We see this manifest itself in the penultimate episode of the series, when Hannah shows up to Shosh's apartment, only to find that Shosh is hosting her own engagement party ― one that she was not invited to. All four girls begin sniping at each other, which causes Marnie to usher them into the bathroom for a "group meeting." But rather than some friends forever (and ever and ever) moment, which would have felt false and forced, Shosh unleashes some harsh wisdom. 
"We can't hang out together anymore, because we cannot be in the same room without one of us making it completely and entirely about ourselves," she says. "I have come to realize how exhausting, narcissistic and completely boring this whole dynamic is."
This is the second time we've seen Shosh fed up. She gave a similar lecture in season 3 at the beach house, which ended with the other girls hearing her feedback but still forcing themselves back together. As in real life, accepting that you've grown apart from friends you once felt you might be connected to forever is hard. But three seasons later, they are ready to "call it." And this ultimately allows them to enjoy the rest of the party, dancing around but not with each other. It's a devastating moment, but not a tragic one. 
One of my favorite quotes of the series comes during the premiere of season 3 when Hannah says: "It's really liberating to say 'no' to shit you hate."
In some ways, the best and hardest part of getting older is learning when to say "no" and when to bow out ― of friendships, jobs, relationships, cities, and that sketchy bar where drunk 22-year-olds will inevitably spill their vodka-unknown-syrup cocktails on you after 1:30 a.m. Growing up means learning what no longer makes you feel good or fulfilled or useful, and stepping back from those things in order to make way for the things that do.
When I think back on six years of "Girls," what comes to mind first isn't the much-discussed nudity or the more outlandish plot points. What stays with me are the moments of emotional truth; the pieces of dialogue that epitomize a feeling I've had or something I've said, or something I never had the guts to say but wanted to and kind of wish I had.
I think about that perfect scene where Marnie and Hannah dance in their shared apartment to Robyn's "Dancing On My Own," because dancing it out is sometimes the only and best answer to a bad day.
I think about the heartbreaking monologue Hannah delivers at Adam's door when she admits that, "I just want someone who wants to hang out all the time, and thinks I'm the best person in the world, and wants to have sex with only me."
I think about a delusional and coked-up Hannah declaring that "it's a Wednesday night, baby, and I'm alive!" 
I think about the beautiful three-day relationship Hannah has with Patrick Wilson's Joshua, and their sex scene which Emily Nussbaum described at the time as "so intimate that it felt invasive: raw and odd and tender."
I think about the moment Hannah realizes that Jessa and Adam are involved, and her face perfectly mirrored the stomach-dropping feeling you have when you realize someone you love has moved on without you. 
I think about Jessa finally letting her "cool girl" guard down as she cries at the relationship with Adam she thinks she has lost, and whimpers, "I don't want you" to the man who she's trying to use to stave off her heartbreak.
I think about Hannah and Jessa's tearful tiptoe into reconciliation, because sometimes friendships that break up do come back together when the timing is right.
I think about the penultimate episode, where Hannah sees two younger women excitedly planning out their new NYC apartment, and realizes that she is no longer the same as them.
That realization in particular felt wrenchingly real. I am no longer new to my city or my job or my adult life. I am still young, but not the youngest. I don't know everything, but I know something.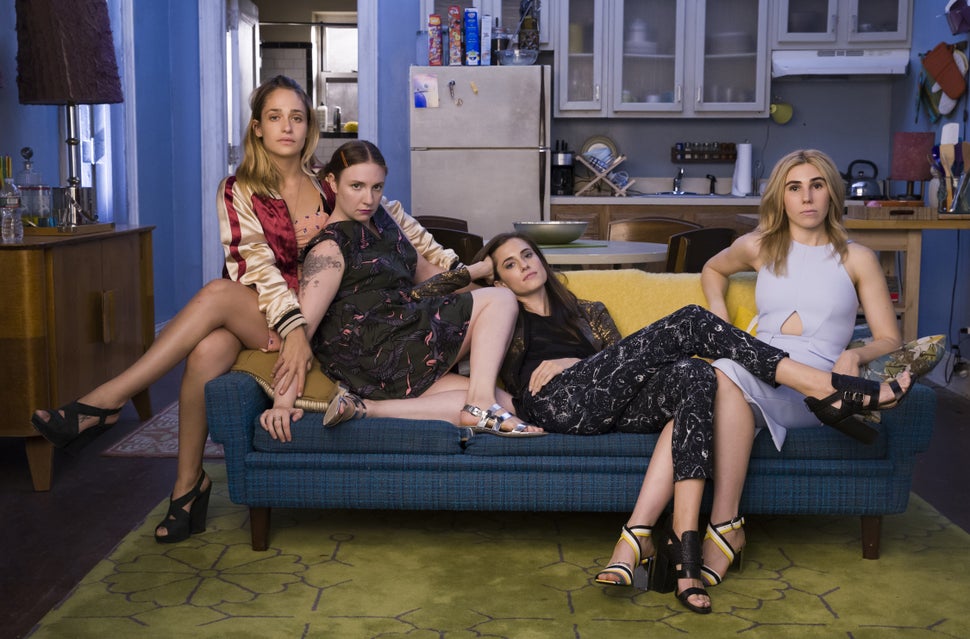 "Girls" was never meant to represent all women ― something Dunham has been explicit about ― but the way the media spoke about the show during those first few seasons often assumed that she wanted it to. As more women-led TV shows made it on the air ― "Insecure," "Broad City," "Orange is the New Black," "Unbreakable Kimmy Schmidt," "Being Mary Jane," "Jane The Virgin," "Crazy Ex-Girlfriend," "Queen Sugar," "Unreal," "Sweet/Vicious," "Big Little Lies," "Harlots," the list goes on ― the constant dissection of "Girls" tapered off.
Perhaps this is part of what has made the last two seasons of "Girls" two of the show's very finest. As the TV landscape finally began to reflect the reality that no show can speak for or to every woman (nor should it), "Girls" was able to exist as art, separate from the scrutiny attached to its title or its creators. And in this new space, I found myself connecting to the show all over again, in a more poignant and deeply emotional way.
It's only appropriate that "Girls" didn't end with some neat wrap-up, the four women skipping down a Brooklyn street together, well-dressed and giggly. We left our girls ― and guys ― in stages, mimicking the way we tend to fade away from real-life relationships. First Ray and Adam, then Elijah, Jessa and Shosh. And finally, Marnie and Hannah. 
The finale episode felt less like the season 6 finale, and more like the beginning of season 7 ― a story we see a glimpse of, but will never see run its course. There are no neat endings for Hannah and Loreen and Marnie and baby Grover. 
Growing up does not mean things get easier or that your problems get solved in neat little packages. As Loreen tells Hannah, "You know who's in emotional pain? Fucking everyone!" 
But what "Girls" fans did get to see is hope. Hope that Marnie will strike out on her own and meet up with her cute personal trainer upstate. Hope that Hannah and Marnie's friendship, the most fraught and lasting love story of the series, will find a stable place. Hope that Hannah will, despite all of her flaws, raise a fine son. Hope that even the most mundanely messed up women can eventually find their way.
For now, it's time for the Girls (and us girls) to move on to next chapter ― as all adventurous women do. 
Calling all HuffPost superfans!
Sign up for membership to become a founding member and help shape HuffPost's next chapter
BEFORE YOU GO